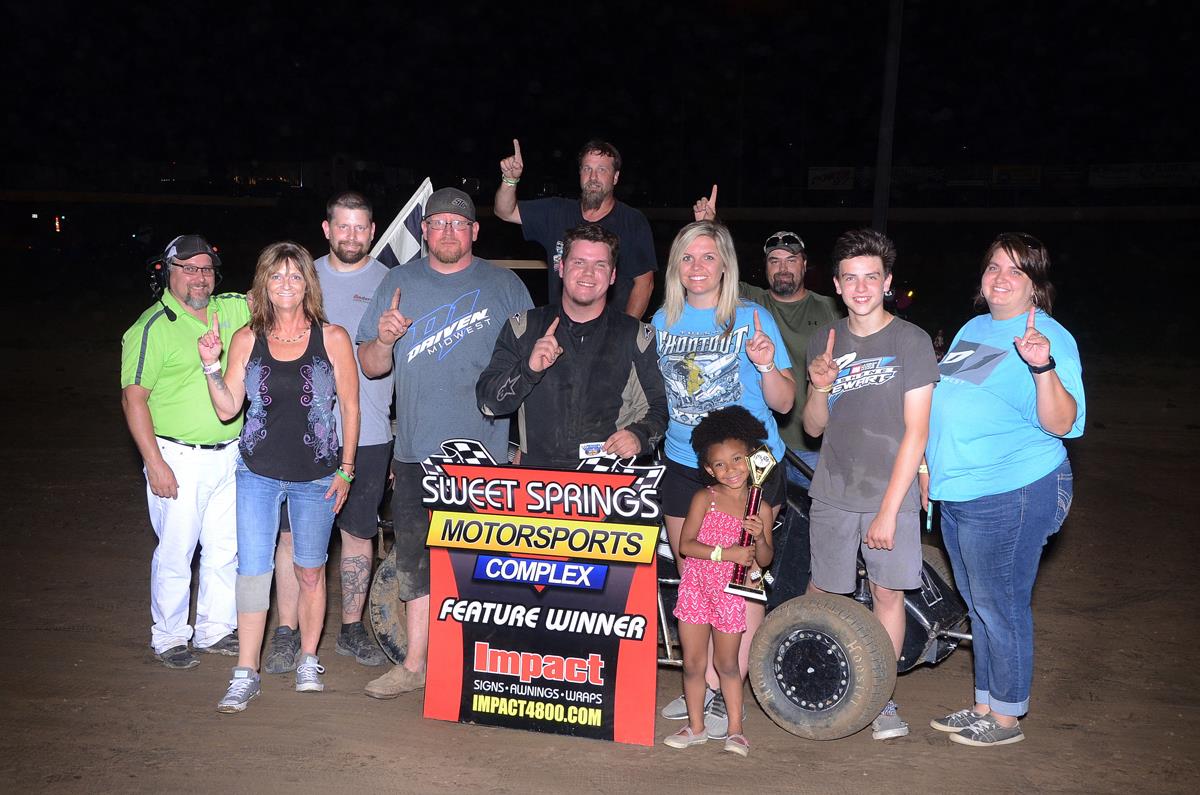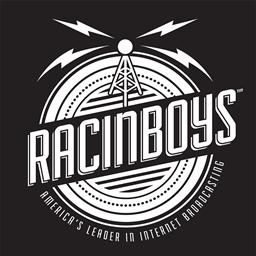 ---
Kadous, Benson headline at Sweet Springs
By Chris Hale (Sweet Springs, MO) -- Hot and humid weather did not keep the fans and racers away from the track this Saturday in Sweet Springs.
In his rookie season in the flag stand, our young flagman Harlan Fletcher is looking like a veteran. He is exciting to watch and is a welcome addition to our action-packed show!
PHOTO: Quinton Benson following his Non-Wing victory Saturday night at Sweet Springs Motorsports Complex--CREDIT: Chris Hale
Dylan Kadous took off to a commanding lead in the Winged Outlaw class when 10th-starting Willie Urish ran him down. Then the fireworks started! They started throwing some nasty sliders at each other until Urish came up short and they banged wheels. The lead was exchanged a few more times before Kadous took the win. Urish was second and Riley Goodno came home in third.
Chase Brown beat a very challenging race track and points leader Braden Knipmeyer for the Restrictor win. Xavier Doney was a very close third.
Garrett Hulsey won the Winged A class main but not without a fight from veteran driver Stanley Kreisel. They both banged off a very tall cushion exchanging the lead many times. Dustin March was a strong third.
The Non Wing main looked like old times. Powri War Sprint car driver Quinton Benson came back to his home track and got in the Knipmeyer 17K to put on an epic battle with Chris Koch. The two battled wheel-to-wheel throughout the race with Benson getting the win. Chad Winfrey was third.
Trey Zorn came all the way from Russell,Kansas to become just the third winner in the Junior class this season. Freddy Rowland was second and Natalie Doney was third.
Since Eric Perkins started in the Sportsman cars he has been on a roll. Perkins got another win with Bill Killion getting second and Perkin's dad Daryl coming in third.
The heat and humidity was terrible but that didn't keep anyone in attendance from having a great time. We hope to see everyone next Saturday night at the Sweet Springs Motorsports Complex.
6/9/2018 at Sweet Springs Motorsports Complex
Outlaw
A Feature 1 (30 Laps): 1. 21H-Dylan Kadous, [1]; 2. 15U-Willie Urish, [10]; 3. 11G-Riley Goodno, [3]; 4. 5K-Nathan Killion, [4]; 5. 3J-Jordan Howell, [14]; 6. 88G-Garrett Hulsey, [12]; 7. 321-Chad Winfrey, [6]; 8. 18-Stanley Kreisel, [9]; 9. 47R-Tyler Rennison, [15]; 10. 2-Chase Porter, [11]; 11. 17-Quinn Jones, [2]; 12. 25-Lane Wilson, [5]; 13. 27J-Justin Johnson, [18]; 14. 35-Aubrey Smith, [8]; 15. 14-Christian Ray, [7]; 16. 8-Jeff Wingate, [19]; 17. (DNF) 23T-Travis Rewerts, [13]; 18. (DNF) 05-Bryant Paver, [23]; 19. (DNF) 1S-Dustin Shaner, [17]; 20. (DNF) 23P-David Pruett, [21]; 21. (DNF) 11E-Jon Poivre, [22]; 22. (DNF) 4-Vince Williams, [20]; (DNS) 11-Austin O'neal,
Heat 1 (10 Laps): 1. 17-Quinn Jones, [1]; 2. 14-Christian Ray, [2]; 3. 15U-Willie Urish, [3]; 4. 88G-Garrett Hulsey, [5]; 5. 3J-Jordan Howell, [4]; 6. 11-Austin O'neal, [6]; 7. 27J-Justin Johnson, [7]; 8. 8-Jeff Wingate, [8]
Heat 2 (10 Laps): 1. 21H-Dylan Kadous, [3]; 2. 35-Aubrey Smith, [2]; 3. 5K-Nathan Killion, [5]; 4. 25-Lane Wilson, [7]; 5. 47R-Tyler Rennison, [4]; 6. (DNF) 4-Vince Williams, [8]; (DNS) 05-Bryant Paver, ; (DNS) 11E-Jon Poivre,
Heat 3 (10 Laps): 1. 11G-Riley Goodno, [1]; 2. 18-Stanley Kreisel, [2]; 3. 2-Chase Porter, [3]; 4. 321-Chad Winfrey, [7]; 5. 23T-Travis Rewerts, [5]; 6. 1S-Dustin Shaner, [4]; 7. (DNF) 23P-David Pruett, [6]
Restrictor
A Feature 1 (25 Laps): 1. 55-Chase Brown, [4]; 2. 17K-Braden Knipmeyer, [1]; 3. 3D-Xavier Doney, [5]; 4. 5-Brody Bay, [2]; 5. 18-Wyatt Siegel, [7]; 6. 48-Hunter Creason, [3]; 7. 8K-Tyler Kuykendall, [9]; 8. 5H-Blake Howard, [10]; 9. 18X-Jace Boney, [6]; 10. 94-Sophie Frazier, [11]; 11. 10-Chasity Younger, [8]; 12. 8-Camryn Wingate, [13]; 13. (DNF) 49-Tyler Devenport, [12]
Heat 1 (10 Laps): 1. 55-Chase Brown, [1]; 2. 17K-Braden Knipmeyer, [4]; 3. 48-Hunter Creason, [6]; 4. 18X-Jace Boney, [7]; 5. 5H-Blake Howard, [5]; 6. 49-Tyler Devenport, [2]; 7. 8-Camryn Wingate, [3]
Heat 2 (10 Laps): 1. 3D-Xavier Doney, [1]; 2. 5-Brody Bay, [4]; 3. 18-Wyatt Siegel, [3]; 4. 8K-Tyler Kuykendall, [2]; 5. 10-Chasity Younger, [6]; 6. 94-Sophie Frazier, [5]
A Class
A Feature 1 (30 Laps): 1. 88G-Garrett Hulsey, [1]; 2. 18-Stanley Kreisel, [8]; 3. 25M-Dustin March, [2]; 4. 15-Chris Koch, [9]; 5. 47R-Tyler Rennison, [7]; 6. 15S-Cale Schaaf, [3]; 7. 5-Brody Bay, [14]; 8. 21H-Keegan Brewer, [5]; 9. 35-Aubrey Smith, [13]; 10. 44-Branigan Roark, [11]; 11. 007-Robert Talley, [15]; 12. 4J-Christian Singer, [12]; 13. (DNF) 41B-MacKenzie Baccus, [10]; 14. (DNF) 11-Austin O'neal, [4]; 15. (DNF) 14B-Willie Urish, [6]; 16. (DNF) 7K-Kenton Brewer, [17]; (DNS) 21L-Dylan Kadous,
Heat 1 (10 Laps): 1. 11-Austin O'neal, [1]; 2. 21H-Keegan Brewer, [2]; 3. 47R-Tyler Rennison, [3]; 4. 14B-Willie Urish, [6]; 5. 18-Stanley Kreisel, [7]; 6. 15-Chris Koch, [9]; 7. 35-Aubrey Smith, [8]; 8. 5-Brody Bay, [5]; 9. 007-Robert Talley, [4]
Heat 2 (10 Laps): 1. 88G-Garrett Hulsey, [8]; 2. 25M-Dustin March, [5]; 3. 15S-Cale Schaaf, [7]; 4. 41B-MacKenzie Baccus, [4]; 5. 44-Branigan Roark, [1]; 6. 4J-Christian Singer, [6]; 7. (DNF) 7K-Kenton Brewer, [2]; (DNS) 21L-Dylan Kadous,
Non-Wing
A Feature 1 (30 Laps): 1. 17K-Quinton Benson, [3]; 2. 15-Chris Koch, [1]; 3. 321-Chad Winfrey, [6]; 4. 27N-Nathan Brookshier, [5]; 5. 5K-nathan killon, [9]; 6. 10-Thomas Hassler, [7]; 7. 24K-Kyle Gray, [8]; 8. 44-Branigan Roark, [12]; 9. 81B-Blake Bennington, [10]; 10. Y3-Kevin York, [13]; 11. (DNF) 8-Brian Lunsford, [4]; 12. (DNF) 7K-Kenton Brewer, [2]; 13. (DNF) 27J-Justin Johnson, [11]; (DNS) 21H-Dylan Kadous,
Heat 1 (10 Laps): 1. 17K-Quinton Benson, [1]; 2. 27N-Nathan Brookshier, [2]; 3. 8-Brian Lunsford, [5]; 4. 321-Chad Winfrey, [6]; 5. 5K-nathan killon, [4]; 6. 81B-Blake Bennington, [7]; (DNS) 21H-Dylan Kadous,
Heat 2 (10 Laps): 1. 15-Chris Koch, [6]; 2. 7K-Kenton Brewer, [7]; 3. 10-Thomas Hassler, [3]; 4. 24K-Kyle Gray, [4]; 5. 27J-Justin Johnson, [1]; 6. 44-Branigan Roark, [2]; 7. (DNF) Y3-Kevin York, [5]
Jr. Sprint
A Feature 1 (20 Laps): 1. 3Z-Trey Zorn, [1]; 2. 5F-Freddy Rowland, [3]; 3. 17-Natalie Doney, [9]; 4. 21H-Levi Hinck, [5]; 5. 46-Peyton White, [16]; 6. 8-Logun Lunsford, [7]; 7. 8T-Tyler Barker, [10]; 8. 9Z-Kinsey Zorn, [12]; 9. 7JR-Brock Waters, [11]; 10. 14JR-Adam Paul, [14]; 11. (DNF) 10T-Talin Turner, [4]; 12. (DNF) 25B-Chevy Boyer, [17]; 13. (DNF) 2R-Remmington Butolph, [8]; 14. (DNF) 97-Ashlyn Pilburn, [15]; 15. (DNF) 2-Garrett Benson, [2]; 16. (DNF) 3P-Dane Palmer, [6]; (DNS) 72-Fisher Creason,
Heat 1 (8 Laps): 1. 5F-Freddy Rowland, [1]; 2. 10T-Talin Turner, [3]; 3. 3P-Dane Palmer, [4]; 4. 8-Logun Lunsford, [6]; 5. 8T-Tyler Barker, [5]; 6. 9Z-Kinsey Zorn, [2]; 7. 72-Fisher Creason, [7]; 8. 97-Ashlyn Pilburn, [8]; 9. (DNF) 25B-Chevy Boyer, [9]
Heat 2 (8 Laps): 1. 2-Garrett Benson, [2]; 2. 21H-Levi Hinck, [1]; 3. 3Z-Trey Zorn, [7]; 4. 17-Natalie Doney, [4]; 5. 2R-Remmington Butolph, [8]; 6. 7JR-Brock Waters, [6]; 7. 14JR-Adam Paul, [5]; 8. 46-Peyton White, [3]
Sportsman
A Feature 1 (25 Laps): 1. 55P-Eric Perkins, [4]; 2. 9-Bill Killion, [3]; 3. 07P-Daryl Perkins, [2]; 4. 6-Robert Bledsoe, [5]; 5. 32K-Noah Killion, [1]; 6. 23B-Matt Botts, [7]; 7. 20C-Chris Brown, [6]; 8. 2-Shanon Vaught, [10]; 9. (DNF) 16B-Jeff Ballenger, [11]; 10. (DNF) 4E-Jordan Evans, [9]; (DNS) 26-Marcus Mendez,
Heat 1 (10 Laps): 1. 07P-Daryl Perkins, [1]; 2. 6-Robert Bledsoe, [2]; 3. 32K-Noah Killion, [6]; 4. 26-Marcus Mendez, [3]; 5. (DNF) 2-Shanon Vaught, [5]; 6. (DNF) 16B-Jeff Ballenger, [4]
Heat 2 (10 Laps): 1. 9-Bill Killion, [1]; 2. 55P-Eric Perkins, [3]; 3. 20C-Chris Brown, [2]; 4. 23B-Matt Botts, [5]; 5. 4E-Jordan Evans, [4]
Powered by MyRacePass
---
Submitted By: Kirk Elliott
Back to News