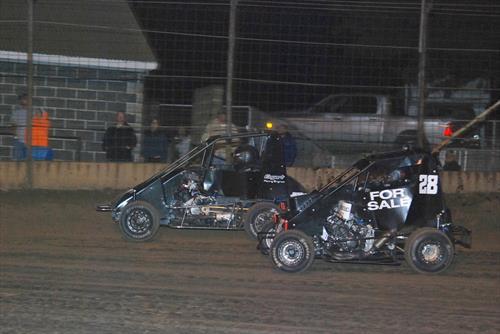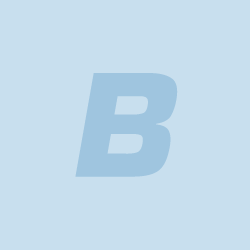 9/23/2015
---
Boyles Leads Early, Finishes Second
(Photo by Hale Photography)
SWEET SPRINGS, Mo. – A week removed from a controversial finish on September 11 at Valley Speedway in which Clinton Boyles was credited with second place, the Greenwood, Mo. driver was a runner-up once again on Saturday. A rally from 12th to first in 11 short laps, in most instances, would nearly guarantee a victory, but Boyles was unable to clinch the win at Sweet Springs Motorsports Complex after doing just that.
A super-sized field of 25 entries were on tap for Boyles and the Ramey Racing team. In the final of three heat races in the nonwing class, Boyles wasted no time in flexing his muscle, powering from last on the grid into a third-place finish.
To close out the night's action at the speedway, 30 laps were on tap for the nonwing main event. A blistering pace from outside row six helped Boyles maneuver the modified Factor 1 Chassis past several competitors in a hurry. Eight opponents had already fallen to the No. 28 by the completion of lap five to take over fourth. Boyles closed the gap between himself and the top three over the next four laps, earning third on lap ten. Putting the final two drivers away in quick fashion netted him the lead, but a caution delayed his charge and relegated Boyles to third. Nevertheless, he picked up where he left off and hustled to the top spot on the restart. Boyles swiftly checked out from the field, but the lead would shrink just as quickly as it had been built. 23rd-starting point leader Quinton Benson was closing in on his rear bumper. By lap 18, the margin was gone and the pair engaged in a energetic battle for the lead. Benson seized the position with nine laps remaining. Following the final yellow flag a lap later, Boyles attempted a slidejob to recapture the lead, but when the move was unsuccessful, and completed the remaining laps in second place.
Boyles would like to thank Aaron Moon with Moon Construction, and Hinchman Racing Uniforms, as well as his fans and family for their continued support.
Boyles is next scheduled to compete on September 25 at Sweet Springs Motorsports Complex in Sweet Springs, Mo. in the No. 28 600cc micro sprint entry, and with the POWRi West Midget Series on September 26 at Port City Raceway in Tulsa, Okla. In the No. 98 midget entry.
Quick Results
September 19 – Sweet Springs, MO – 600cc Nonwing – Heat: 3rd (8); Feature: 2nd (16)
2015 Stats
11 races, 9 features, 1 win, 5 top fives, 7 top tens, 2 DNFs
Social Media
Twitter: www.twitter.com/cbtheenforcer
Facebook: www.facebook.com/clinton.boyles.5
Instagram: www.instagram.com/clinton_boyles
---
Article Credit: Redbeard Promotions
Back to News