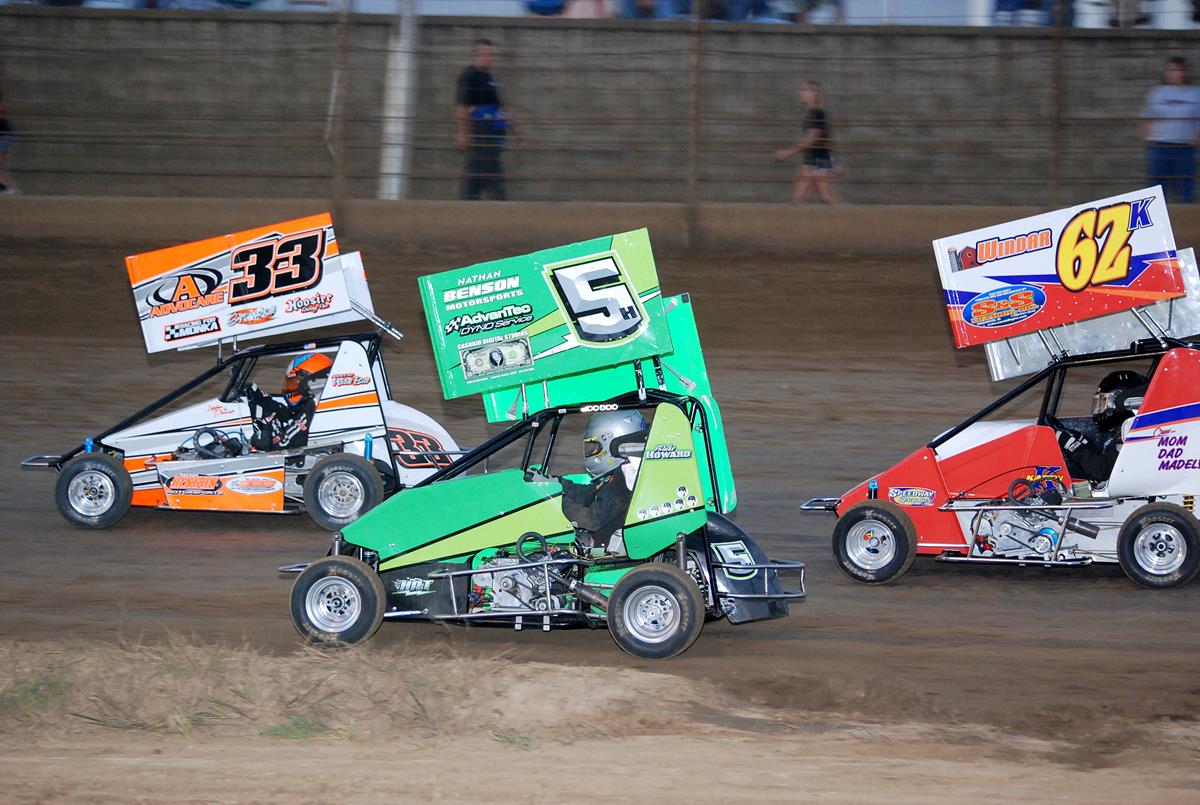 11/2/2015
---
Season Summary: Howard Racing Team
(Photo by Hale Photography)
STILWELL, Kan. – When describing the season that brothers Luke and Blake Howard had, the word "dominating" sums it up well. Though starting near the rear of the field every race due to their high point average and Sweet Springs Motorsports Complex's full invert on that statistic, the drivers still managed to tally seven wins apiece, finishing in the top three an astounding 29 times in their combined 39 races. On three occasions, the duo each won their main events on the same night. Luke's season was especially impressive in that, in 16 feature finishes in the regular season, the youngster finished either first or second all 16 times.
The season began for "Lightning" Luke on April 25, taking a runner-up finish in his restrictor division. "Thunder" Blake joined him the following weekend, racing in the junior sprint class. The doubleheader weekend featured Blake earning two seconds, while Luke won the Friday night portion before finishing second on Saturday.
On June 6, dual features were contested due to a rainout following heat races on May 23. Though Luke narrowly missed the win in the makeup in his No. 2 Pace Chassis entry, he cashed in for his second win in the regularly scheduled race. Blake earned fourth-place results in both events. A streak of four consecutive runner-up finishes for Luke began the following week, while Blake's only finish outside the top five came the same night, a seventh-place run. Howard Racing Team truly began to dominate starting on June 27. While Luke's second-place streak continued, Blake earned his first win of the year.
Blake earned two more podium finishes before both brothers paired up for their first double-down, each winning on July 18. Blake went on a tear for over a month in the VooDoo Chassis No. 5H, winning four more in a row. The final night of that streak, the Redd Davidson Classic on August 22, Luke also won and avenged his DNF the previous weekend. The last Saturday of August was the only race all season in which neither brother finished on the podium; Blake still took fifth-place, while Luke suffered his second DNF.
For Luke, it would be the last time during the regular season that he did not win. Three wins to close the season clinched the restrictor championship a week early, on September 19 and Blake's win that night clinched his first junior sprint championship as well. With both championships in hand, the team took the doubleheader finale weekend off.
Only the end-of-season Show-Me Showdown remained and HRT looked to repeat their wins from 2014, when Luke captured both the junior sprint and restrictor crowns. Though both Blake and Luke earned quick time awards for the fastest qualifying laps in their respective divisions, circumstances wouldn't allow either driver to earn victories. Blake captured third place in both preliminary and main event action. After taking seventh in his opening night race, Luke was the victim of a catastrophic crash on lap one of Saturday's feature race. Though he was unhurt and the car was structurally sound, heavy damage to the wings and front axle severely impaired the handling. Attempting to rally back through the field, the end result was a 16th-place finish and a frustrating end to a commanding 2015 campaign.
Howard Racing Team would like to thank Canyon Stone, Cash Kid Digital Studios, Fairfield Motor Sports, Beard Motorsports, Nathan Benson Motorsports, AdvanTec Dyno Services, and Schure Built Suspension for their continued support.
2015 Stats
Luke: 20 races, 20 features, 7 wins, 16 podiums, 16 top fives, 17 top tens, 2 DNFs
Blake: 19 races, 19 features, 7 wins, 13 podiums, 17 top fives, 18 top tens, 1 DNF
---
Article Credit: Redbeard Promotions
Article Media
Back to News