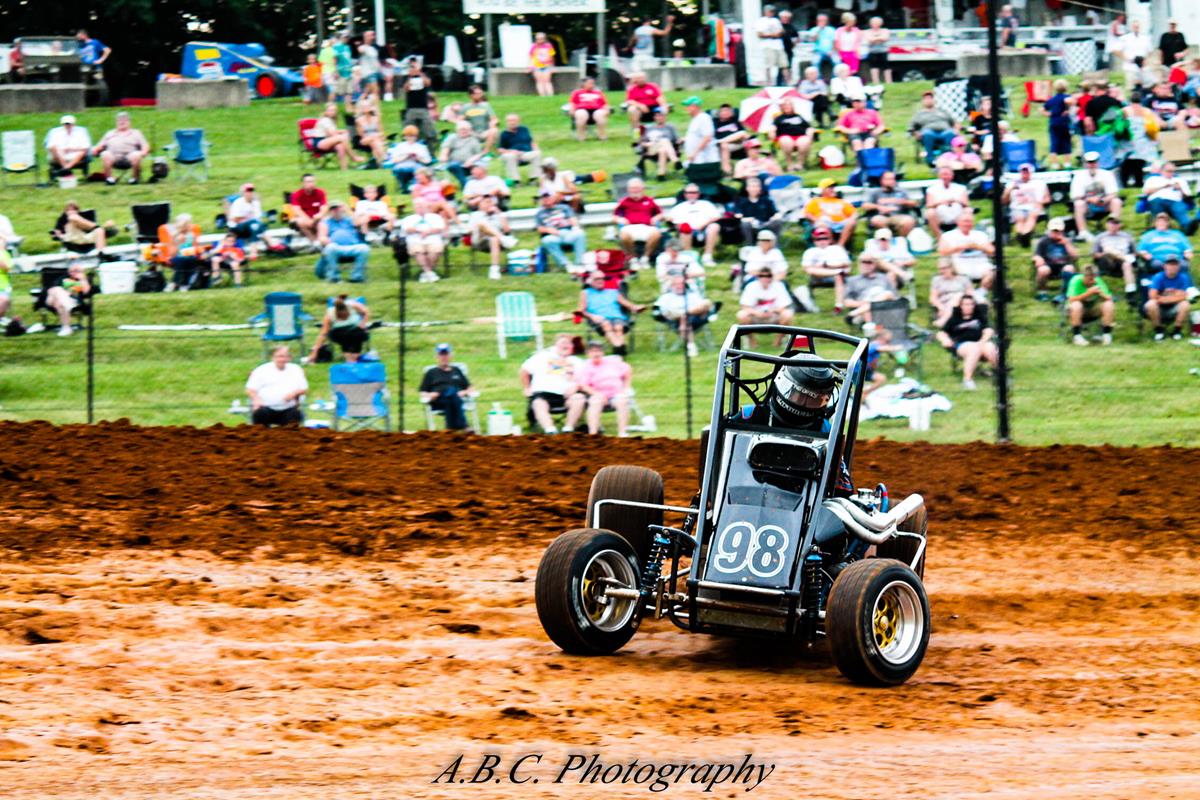 11/2/2015
---
Season Summary: Clinton Boyles
(Photo by A.B.C. Photography)
GREENWOOD, Mo. – After a late start to his 2015 season, which didn't get into full effect until July, Clinton Boyles still turned in impressive stats over the course of the year. Though capturing just one win, Boyles came within inches of two more, and produced a total of eight podium finishes in his 16 feature starts.
Boyles began the season with the top two midget series in the country; on May 1, he made his POWRi National Midget debut at Valley Speedway, and narrowly missed out on a transfer into the main event. Six weeks later, on June 12, the Greenwood, Mo. native took a crack at the USAC National Midget Indiana Sprint Week event at Bloomington Speedway in Indiana. There, he beat two former series champions in his heat race, but his lackluster qualifying time forced him into the C-Main and he was unable to recover.
Back in Missouri, he picked up his first top-five of the year on Independence Day weekend at Central Missouri Speedway in Warrensburg with a fourth-place result. One week later, Boyles was making his debut shaking down Chris and Tyler Ramey's No. 28 nonwing micro sprint at Sweet Springs Motorsports Complex, but mechanical issues sidelined him in the main event.
Boyles' big breakthrough came on August 7, where he led every lap of racing in heat and feature action at Valley to earn his first midget win, in dominating fashion. Returning to the Ramey's entry the following weekend, he put together a sixth-place effort. Sweet Springs hosted the Redd Davidson Classic on August 22, featuring 100-lap main events. Boyles ran in the top-three for much of the event, but ran out of fuel on lap 99 and came just short of finishing.
Redemption came two weeks later, when he took his first podium in the Ramey No. 28 on September 5. The team traveled to Washington Speedway in Kansas the next afternoon, and Boyles took a sixth-place finish. On September 11, Boyles returned to midget action and appeared to snag another win, but was said to have been beaten to the finish line and was credited with second. At Sweet Springs on September 19, he improved on his previous finish in the Ramey car, earning them a runner-up. To round out September and the Sweet Springs regular season with a doubleheader weekend, the results weren't what Boyles would've hoped for: sixth on Friday night and 15th on Saturday.
The track's Show-Me Showdown over the second weekend of October loomed on the calendar, and Boyles took it head-on. In the outlaw nonwing division on the Thursday night portion, he came just one spot short of a win, taking second. Friday in stock nonwing, a ninth-place finish put him just outside the invert for Saturday, but still locked him into both mains. Boyles put on a show in both events in the finale, driving inches away from the outside wall to second- and third-place finishes in the respective classes. His season would conclude one week later where it had begun at Valley. After leading 19 of the 20 laps with brake issues, he couldn't hold off the second-running car, and wound up second.
Boyles would like to thank Aaron Moon with Moon Construction, and Hinchman Racing Uniforms, as well as his fans and family for their continued support.
2015 Stats
18 races, 16 features, 1 win, 8 podiums, 9 top fives, 13 top tens, 2 DNFs
Social Media
Twitter: www.twitter.com/cbtheenforcer
Facebook: www.facebook.com/clinton.boyles.5
Instagram: www.instagram.com/clinton_boyles
---
Article Credit: Redbeard Promotions
Back to News