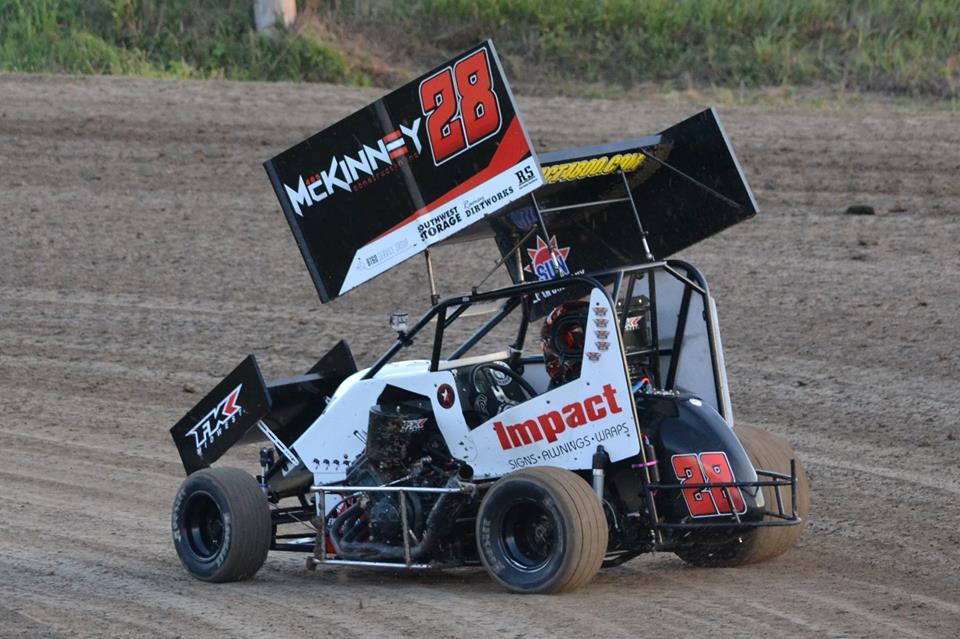 11/4/2015
---
Season Summary: Gunner Ramey
(Photo by Jeff Cooley)
NEWCASTLE, Okla. – Now three seasons deep into his micro sprint career, Gunner Ramey continues to show patience and excellence on the track. The Sedalia, Mo. native entered 29 races, starting and completing every main event. Along the way, Ramey compiled six victories and 18 podium finishes. Even more remarkably, he captured 27 top-tens, a 93 percent rate, while competing mainly at Sweet Springs (Mo.) Motorsports Complex.
The Ramey Racing crew started their season off right, earning a victory in their first race with a new Pace Chassis on April 25. Spring rains washed away several events early in the season, but nothing would cool off Ramey's season. Ramey followed a fourth-place finish on May 1 with third-place runs in each of his next three races.
The next time Ramey took the track, he battled power steering issues and for the only time all year in Sweet Springs restrictor action, he finished outside the top-five, in seventh. Redemption came quickly, however; Consecutive triumphs on June 27 and July 3 led into a non-points race on Independence Day, and Ramey elected to join the A-Class division for the night, collecting a 12th-place finish.
Back in restrictor action, Ramey secured a win the following weekend, then a third-place finish came before victory at Sweet Springs on July 25 and a Friday night score at KAM Raceway in Hastings, Neb. on August 7, his first trip to another track in 2015. The next night, a fourth-place finish was Ramey's first time off the podium in a month and a half. The top-fives continued to roll in, including two runner-up results before a Sunday afternoon trip to Washington (Kan.) Speedway with the Jayhusker Racing series netted Ramey his first outlaw podium finish, taking third.
In the four remaining points races at Sweet Springs, Ramey three times captured second-place, while closing the other race with a fourth-place finish. The impressive regular season didn't end with a points championship for Ramey, but he handily took second place overall in the restrictor class and was the only competitor to complete every lap of action over the course of the season.
Into October, Ramey traveled to Port City Raceway in Tulsa, Okla. for the "Pete Frazier Memorial," a two-day event. While finishing 11th on night one, he impressed many at the de facto micro sprint capital on night two with a fourth-place run. Back at Sweet Springs for the Show-Me Showdown, Ramey put his No. 28 on the podium in both the preliminary feature and Saturday night main event, each time finishing in second.
With his family set to move to the Oklahoma City area, Ramey again traveled southwest down Interstate 44 to Port City for another two-day event, this time the "Halloween Classic." A point invert format was implemented, and without competing in a point race at the eighth-mile this season, Ramey started 18th on night one and forged his way to tenth place on a lightning quick track. For the last outdoor race of the season, Ramey raced in a B-Main but won to move into the main event. Similarly to the night before, he gained eight positions to finish ninth.
With his outdoor racing season over, Ramey plans to compete at the "Outlaw Kart Winter Nationals" that includes micro sprints on the card at Lazy E Arena in Guthrie, Okla. on December 4 and 5.
Ramey would like to thank Impact Signs Awnings & Wraps, Sure Coat Powdercoating, Rob Sneed Shorthorns, McKinney Construction, Ramey Dirtworks, Southwest Storage, 8760 Service Group, Rod End Supply, Factory Kahne Midwest, MYCHRONTOM, and Quick Engineering, as well as his family and the Renfro, Houston, and Cornell families for their continued support.
2015 Stats
29 races, 29 features, 6 wins, 18 podiums, 24 top fives, 27 top tens, 0 DNFs
Social Media
Facebook: http://www.facebook.com/RameyRacing28
Twitter: http://www.facebook.com/28Ramey
Instagram: http://www.instagram.com/g_ramey28
---
Article Credit: Redbeard Promotions
Back to News