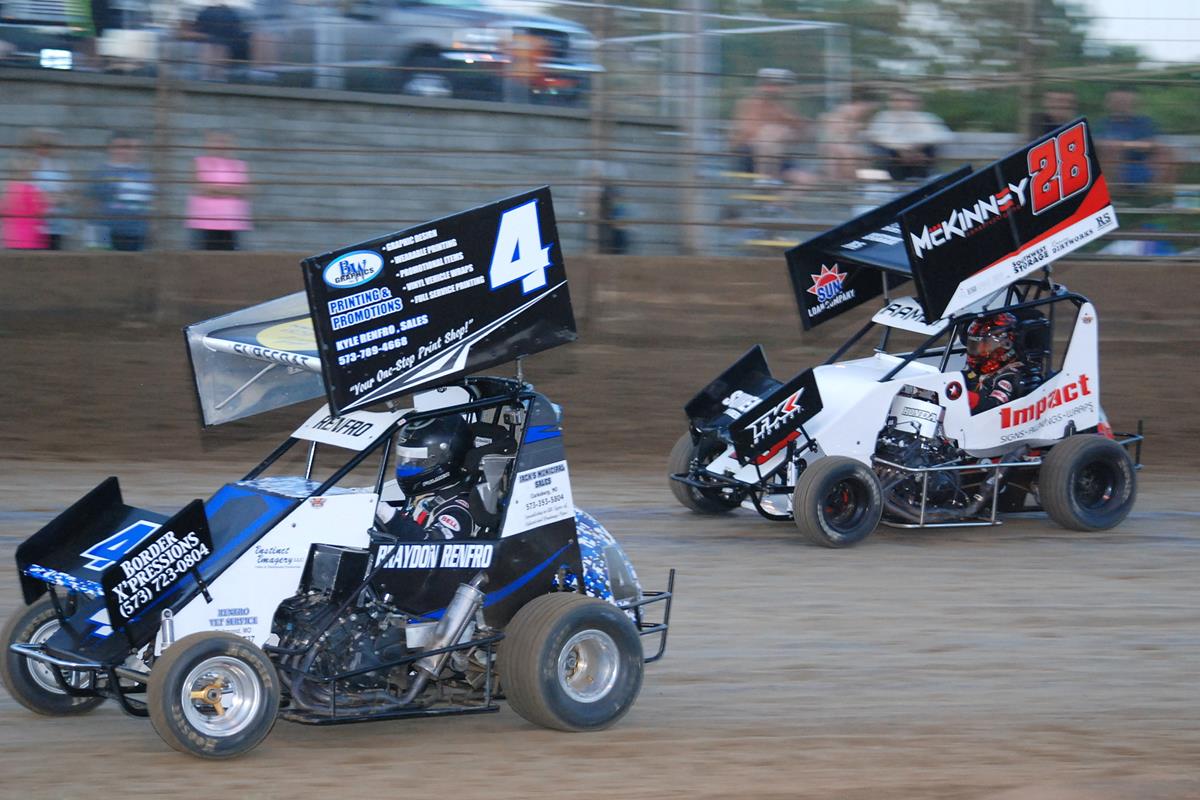 11/6/2015
---
Season Summary: Braydon Renfro
(Photo by Hale Photography)
TIPTON, Mo. – After his rookie season in 2014, there was no sophomore slump for Braydon Renfro this year. Renfro competed weekly for points at Sweet Springs (Mo.) Motorsports Complex, and picked up an early season win, plus a total of eight top-five and 15 top-ten finishes in his 18 races there. Even though he missed multiple races, Renfro still corralled fourth place in the season point championship.
Although the season began with a DNF on April 25, Renfro captured a victory a week later to get 2015 back on track. After nearly a month and a half off due to rain and prior commitments, the BRR No. 4 returned to the sixth-mile oval with an eighth-place run on June 20.
In his next two races as spring turned to summer, Renfro took fourth-place finishes both times. On July 11, Renfro appeared primed for another triumph before his scoring transponder came loose and relegated him to the rear of the field. He still charged back to finish sixth. More bad luck came later in the month, and Renfro failed to finish on July 25.
Renfro's first two races in August both resulted in eighth-place finishes, but his best finish of the month was at the "Redd Davidson Classic." In an extended main event, Renfro rallied to a third-place finish after starting tenth. He then closed out the month on August 29, finishing fifth.
With four more points races on his schedule, Renfro scored consecutive fourth-place finishes at the start of September, the latter of which came after starting in 13th. The final regular season weekend at Sweet Springs was a Friday/Saturday doubleheader; though Renfro could only come away with 15th on Friday, he was back in form for Saturday's event, taking home fourth place both in the main event and in the point standings.
In October, Renfro made his first trip south to Port City Raceway in Tulsa, Okla. Against some of the stiffest micro competition in the country, he narrowly missed out on feature starts both nights of the "Pete Frazier Memorial." After that, Renfro returned to Sweet Springs for the "Show-Me Showdown." In preliminary action on Friday, the young driver combated early trouble, rallying from restarting 22nd to an eighth-place finish, good enough for the redraw for the Saturday finale. In that race, Renfro would run in third initially, but the brakes aboard his Factor 1/Yamaha entry began to fade. After spinning halfway through the race, he again hustled back from the tail of the field to a seventh-place run. Closing out his season back at Port City on October 24, Renfro made the main event with a sixth-place heat race finish, but took a DNF after being collected in a late crash.
Renfro would like to thank BW Graphics, Jack's Municipal Sales, Dennis Devine and Associates Real Estate, Comfort Inn, Finish Line Dump Truck Services, Border Xpressions, Instinct Imagery, and Renfro Vet Service, as well as his family and crew for their continued support.
2015 Stats
21 races, 19 features, 1 win, 2 podiums, 8 top fives, 15 top tens, 3 DNFs
Social Media
Facebook: https://www.facebook.com/pages/Braydon-Renfro-Racing/649869155083329
Twitter: https://twitter.com/renfurno4
Instagram: http://www.instagram.com/50_shades_of_bray_4
---
Article Credit: Redbeard Promotions
Back to News