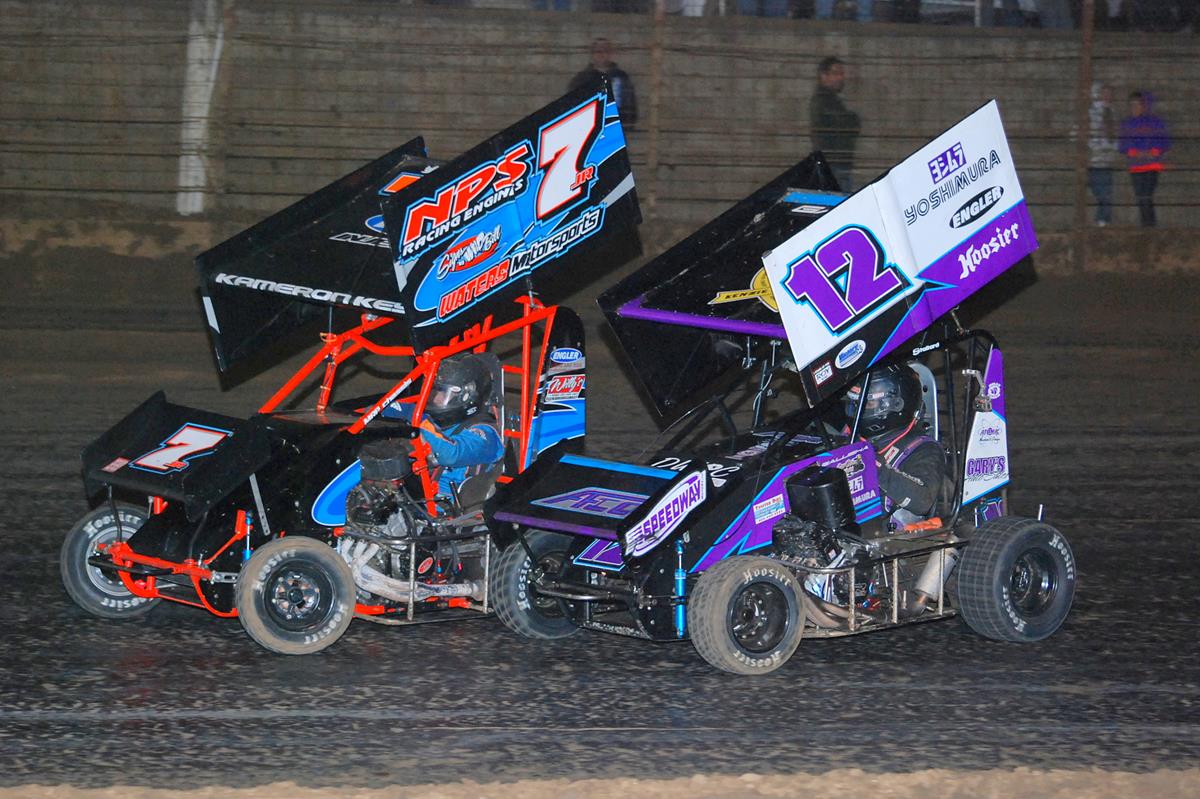 11/6/2015
---
Season Summary: Kameron Key
(Photo by Hale Photography)
WARRENSBURG, Mo. – Transitioning from micro sprints to full-size sprint cars next season, Kameron Key moved micro racing aside for much of 2015. The University of Central Missouri sophomore was unable to win in his ten nights of racing this year, but the campaign was a successful one, bagging three runner-up finishes and three additional top-tens at Sweet Springs (Mo.) Motorsports Complex.
Key's shortened season began late, with sporadic appearances. He first rolled his Stallard Chassis No. 21 out of the trailer on June 20, but overheating issues sidelined him before completing the main event. On Independence Day, Key returned, with a much better result: a second-place run in the "John Hinck Memorial." Making his first attempt of the year in JL Waters' No. 7JR MRP/NPS Suzuki outlaw class entry, but the shakedown of the new car held the team out of the main event.
Bringing his own car back out on August 29, Key led for much of the main event, but was bumped aside and ultimately finished in second. His final regular-season start of the season two weeks later again concluded with a second-place effort. Stepping back into the Waters machine, this time with a stock powerplant under the hood, Key competed in the nonwing and outlaw divisions on a doubleheader weekend show on September 25 and 26. Struggling for a good feel for the car in nonwing, Key finished 17th on both nights, but guided the machine to a ninth-place outcome in outlaw on Saturday night.
Over the three days of the "Show-Me Showdown" on October 8-10, Key would turn nearly 200 laps. The weekend began in the Waters outlaw nonwing entry on Thursday, with a fresh NPS engine and new Engler fuel injection system installed. Key was still searching for comfort in the car all night, and missed the main event. On Friday night, for the third straight year, Key replaced the No. 21 decals on his machine with the No. 98, in memory of his late grandfather. In that car, as well as the Waters car with the wings, Key was fast throughout the night. Brake issues kept him from starting the nonwing feature after winning the B-Main, but he posted an 11th-place finish in the outlaw division.
Running all three classes on Saturday night, Key was locked into the winged outlaw feature, but had to move through both nonwing B-Mains to make the shows in those divisions. He was on the move in both, finishing second from sixth in the stock class and rallying from 11th to finish fourth in the outlaw variant. Key remained steadfast without the wings in the features, finishing tenth in his own entry and piecing together a charismatic run from 19th up to the seventh finishing position in the Waters car. Re-installing the wings on that entry, Key narrowly missed out on a top-ten finish, taking 11th to close out his year.
Looking ahead to 2016, Key plans to race his No. 21 Mach 1 Chassis 360ci sprint car weekly at Double-X Speedway in California, Mo. as well as select ASCS Warrior Region races. Key is currently seeking sponsorship for his sprint car entry. Any inquiries regarding sponsorship can be directed to Key or to Redbeard Promotions.
Key would like to thank Bybee Lawn Care as well as all of his fans for their continued support.
Season Stats
15 races, 13 features, 0 wins, 3 podiums, 3 top fives, 6 top tens, 3 DNFs
Social Media
Twitter: www.twitter.com/kameronkey_21
Facebook: www.facebook.com/kameron.key.9
Instagram: www.instagram.com/kameronkey_21
---
Article Credit: Redbeard Promotions
Back to News