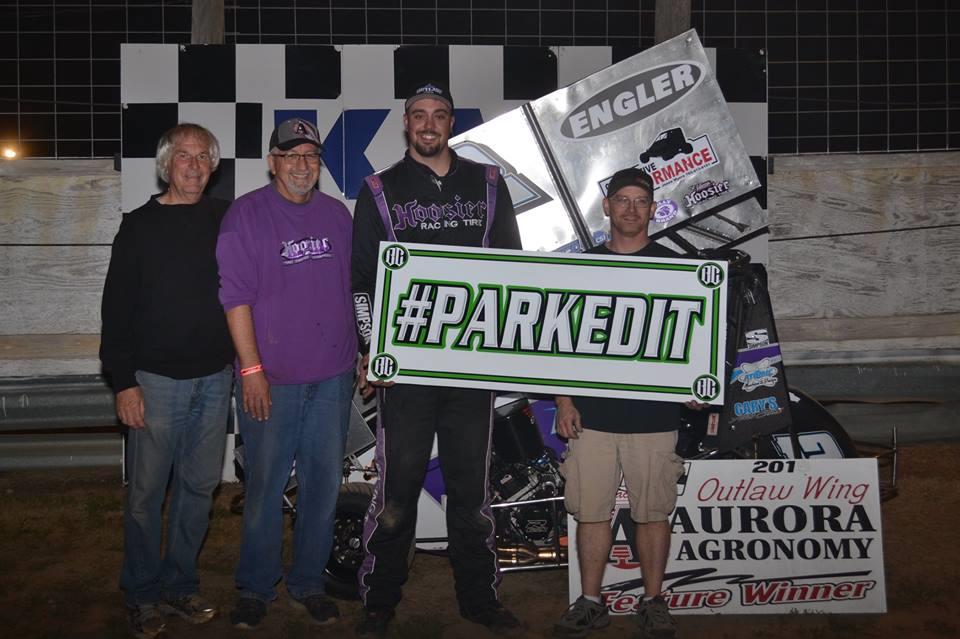 8/31/2016
---
Galusha Back To Winning Ways After Rough Patch
(Photo by Jeff Cooley)
SWEET SPRINGS, Mo. – Though he had won five races by the beginning of May this year, the beginning of the summer months were filled with agony for Frank Galusha. The Lincoln, Neb. driver endured a month-long stretch without a podium finish, and was kept out of the winners circle for over two months. A win at his home track, KAM Raceway in Hastings, Neb., was just what he needed to reignite the spark on his season. Since, he has picked up three more victories to bring his season tally to nine.
Galusha also attended the prestigious "Terry Sprague Memorial" at Southern Illinois Raceway in Marion. There, he collected a seventh-place finish among 80 of the top nonwing micro sprint drivers in the country competing for the $5,000 top prize.
It was just three days later where Galusha continued his dominance of micro sprint racing in the state of Nebraska, earning the Jayhusker victory alongside the USAC National Midgets in Jefferson County Raceway's "Tuesday Night Thunder" event. Starting on the pole, it was smooth sailing for the Stallard Chassis No. 12 entry. Galusha led every lap to claim the win.
After a break for work at the Knoxville Nationals sprint car event, Galusha returned to action with a new engine package from Competitive Performance. The Competitive-built Suzuki engine left no doubt that Galusha was once more the "guy to beat" at KAM, as he charged to triumphs from the 10th and 12th starting positions, respectively, on two consecutive weekends.
A trip south to Sweet Springs (Mo.) Motorsports Complex one night later, on August 27, would end the win streak at three, but it certainly wasn't because Galusha fell flat. Starting the main event deep in the field, in 18th, it took just nine circuits for him to rally into the top five. Though the electric run through the field began to level out, Galusha kept pushing forward. Making his final pass of the event, he took over the third position on lap 27 of the 30-lap show.
"Jason Myers at Competitive Performance is building the hammers now. He can build power and I think my results speak for themselves," Galusha reflected on the recent success. "I have to send a shout-out to him. We will be dangerous with what comes out of [his] shop."
Frank Galusha Racing would like to thank EMi, Stallard Chassis and Components, Speedway Motors, AFCO Performance Group, Competition Suspension Inc, Hoosier Racing Tire, Engler Machine and Tool, Competitive Performance, Cornhusker Chiropractic, Vahlco Wheels, Outlaw Wings, Chalk Stix, BullyBrand Gear, Gary's Auto Sales, Atomic Machine & Design, Proglide Coatings, and Twisted Dirt Custom Headers, as well as all of his family, friends, and fans for their continued support.
Galusha is next scheduled to be in action on September 3 at Washington (Kan.) Speedway with the Jayhusker Racing Series, and on September 4 at Stuart (Iowa) Speedway, both in the No. 12 600cc micro sprint entry.
Quick Results
July 22 – Hastings, NE – 600cc Micro Sprint – Heat: 2nd (6); Feature: 1st (10)
July 29 – Marion, IL – 600cc Nonwing Micro Sprint – Heat: 2nd (3); Qualifier: 4th (4); Feature: 13th (19)
July 30 – Marion, IL – 600cc Nonwing Micro Sprint – Heat: 1st (2); Qualifier: 1st (3); Feature: 7th (9)
August 2 – Fairbury, NE – 600cc Nonwing Micro Sprint – Heat: 2nd (8); Feature: 1st (1)
August 20 – Hastings, NE – 600cc Micro Sprint – Heat: 2nd (7); Feature: 1st (10)
August 26 – Hastings, NE – 600cc Micro Sprint – Heat: 2nd (7); Feature: 1st (12)
August 27 – Sweet Springs, MO – 600cc Micro Sprint – Heat: 2nd (3); Feature: 3rd (18)
2016 Stats
28 races, 26 features, 9 wins, 16 podiums, 16 top-fives, 21 top-tens, 4 DNFs
Social Media
Website: www.frankgalusha.com
Twitter: www.twitter.com/fgalusha12
Facebook: www.facebook.com/frankgalusharacing
YouTube: www.youtube.com/channel/UCAWNDVGPu49ddnCe3NaqzkA
---
Article Credit: Redbeard Promotions
Back to News