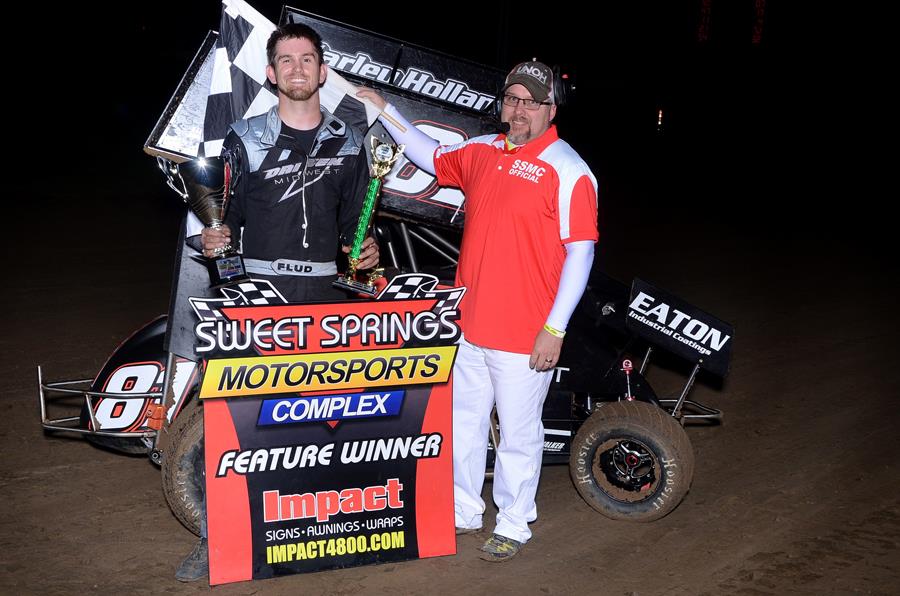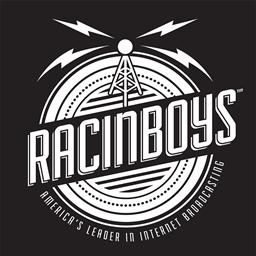 ---
Flud, Galusha. Spicer triumph at Sweet Springs
(Sweet Springs, MO) -- The Annual Show Me Showdown at Sweet Springs Motorsports Complex is underway as three Micro Sprint classes completed qualifying for Saturday night's main events.
PHOTO: Frank Flud in victory circle--CREDIT: Chris Hale
In the Outlaw Non-Wing class, Frank Galusha took advantage of race-long leader Austin Schaeffer making contact with a lap car and spinning as the white flag was displayed. Galusha held on over Andrew Bishop at the checkered flag as Dylan Kadous came in third.
Frank Flud powered his way past pole sitter Nathan Benson and cruised to an easy win in A Class, while Curtis Spicer triumphed in the Sportsman class.
Action continues on Friday night with Outlaw Wing, Restrictor, Stock Non-Wing, and Junior Sprint classes in competition. Time Trials get underway at 6:30 p.m..
RacinBoys will provide FREE Live Audio coverage.
10/12/2017 at Sweet Springs Motorsports Complex
A Class
A Feature 1 (25 Laps): 1. 81-Frank Flud, 12:20.160[5]; 2. 2B-Nathan Benson, 12:22.863[1]; 3. 21L-Dylan Kadous, 12:23.103[9]; 4. 98P-Miles Paulus, 12:24.336[6]; 5. 11-Tom Curran, 12:26.351[8]; 6. 88G-Garrett Hulsey, 12:28.463[3]; 7. 2-Chase Porter, 12:28.772[13]; 8. 5W-Vance Weber, 12:29.592[10]; 9. 47R-Tyler Rennison, 12:29.815[2]; 10. 11X-Riley Goodno, 12:30.329[4]; 11. 21H-Kameron Key, 12:30.558[15]; 12. 54-Trey Gropp, 12:30.871[11]; 13. 25M-Dustin March, 12:30.989[18]; 14. 7K-Kenton Brewer, 12:31.868[7]; 15. 38-Jackson Frisbee, 12:19.201[17]; 16. 12C-Jesse Crank, 12:20.027[16]; 17. 44-Branigan Roark, 12:28.564[22]; 18. 55-Brent McMillan, 12:19.856[19]; 19. 24K-Sean Killion, 12:20.916[24]; 20. 07-Zackary Nelson, 12:24.862[23]; 21. (DNF) 17J-Quinn Jones, 05:39.032[12]; 22. (DNF) 4-Braydon Renfro, 05:31.338[20]; 23. (DNF) 7JR-Gregory Bledsoe, 05:33.515[21]; 24. (DNF) 32-Trey Marcham, 05:17.929[14]
B Feature 1 (15 Laps): 1. 2-Chase Porter, 09:58.139[13]; 2. 32-Trey Marcham, 09:59.166[2]; 3. 21H-Kameron Key, 09:59.628[5]; 4. 12C-Jesse Crank, 10:00.450[7]; 5. 38-Jackson Frisbee, 10:01.699[8]; 6. 25M-Dustin March, 10:02.988[12]; 7. 55-Brent McMillan, 10:03.612[1]; 8. 4-Braydon Renfro, 10:03.666[18]; 9. 7JR-Gregory Bledsoe, 10:04.598[14]; 10. 44-Branigan Roark, 10:04.759[4]; 11. 07-Zackary Nelson, 10:06.633[11]; 12. 24K-Sean Killion, 10:07.298[15]; 13. 48S-Trey Schleicher, 02:18.689[6]; 14. (DNF) 3-Ayrton Gennetten, 03:17.402[10]; 15. (DNF) 27J-Justin Johnson, 03:21.160[9]; 16. (DNF) 777-Dylan Larsen, 02:18.689[20]; (DNS) 4X-Braydon Cromwell, 02:18.689; (DNS) 4R-Randy Roberts, 02:18.689; (DNS) 15S-Cale Schaaf, 02:18.689; (DNS) 35D-Dylan Sillman, 02:18.689
Qualifier 1 (10 Laps): 1. 81-Frank Flud, [1]; 2. 5W-Vance Weber, [2]; 3. 11-Tom Curran, [4]; 4. 2B-Nathan Benson, [9]; 5. 32-Trey Marcham, [5]; 6. 17J-Quinn Jones, [7]; 7. 88G-Garrett Hulsey, [6]; 8. 44-Branigan Roark, [3]; 9. 07-Zackary Nelson, [10]; 10. (DNF) 48S-Trey Schleicher, [8]
Qualifier 2 (10 Laps): 1. 98P-Miles Paulus, 03:14.284[6]; 2. 47R-Tyler Rennison, 03:18.104[5]; 3. 21L-Dylan Kadous, 03:18.769[4]; 4. 55-Brent McMillan, 03:20.275[2]; 5. 54-Trey Gropp, 03:20.630[1]; 6. 7K-Kenton Brewer, 03:20.776[7]; 7. 11X-Riley Goodno, 03:20.974[8]; 8. 27J-Justin Johnson, 03:26.406[9]; 9. (DNF) 4R-Randy Roberts, 01:54.845[10]; (DNS) 21H-Kameron Key, 01:54.845
Heat 1 (8 Laps): 1. 81-Frank Flud, 02:13.000[8]; 2. 44-Branigan Roark, 02:14.543[2]; 3. 32-Trey Marcham, 02:14.854[3]; 4. 17J-Quinn Jones, 02:15.481[5]; 5. 2B-Nathan Benson, 02:15.988[7]; 6. 12C-Jesse Crank, 02:17.031[6]; 7. 25M-Dustin March, 02:17.495[4]; (DQ) 777-Dylan Larsen, 02:17.495[1]
Heat 2 (8 Laps): 1. 54-Trey Gropp, 02:49.571[4]; 2. 21H-Kameron Key, 02:50.836[5]; 3. 47R-Tyler Rennison, 02:53.131[8]; 4. 7K-Kenton Brewer, 02:54.620[7]; 5. 27J-Justin Johnson, 02:55.262[2]; 6. 38-Jackson Frisbee, 02:55.711[6]; 7. 15S-Cale Schaaf, 02:57.669[1]; (DNS) 35D-Dylan Sillman, 02:57.669
Heat 3 (8 Laps): 1. 5W-Vance Weber, 03:51.123[4]; 2. 11-Tom Curran, 03:52.118[6]; 3. 88G-Garrett Hulsey, 03:52.596[8]; 4. 48S-Trey Schleicher, 03:55.330[3]; 5. 07-Zackary Nelson, 03:56.311[1]; 6. (DNF) 7JR-Gregory Bledsoe, 00:56.639[2]; 7. (DNF) 3-Ayrton Gennetten, 00:58.128[5]
Heat 4 (8 Laps): 1. 55-Brent McMillan, 02:10.015[2]; 2. 21L-Dylan Kadous, 02:10.870[5]; 3. 98P-Miles Paulus, 02:11.205[6]; 4. 11X-Riley Goodno, 02:11.617[7]; 5. 4R-Randy Roberts, 02:12.351[3]; 6. 4-Braydon Renfro, 02:12.617[8]; 7. 24K-Sean Killion, 02:15.666[1]; (DNS) 4X-Braydon Cromwell, 02:15.666
Time Trials. 81-Frank Flud, 00:11.412[5]; 2. 47R-Tyler Rennison, 00:11.510[26]; 3. 88G-Garrett Hulsey, 00:11.530[2]; 4. 11X-Riley Goodno, 00:11.561[9]; 5. 2B-Nathan Benson, 00:11.574[22]; 6. 7K-Kenton Brewer, 00:11.607[30]; 7. 2-Chase Porter, 00:11.608[23]; 8. 98P-Miles Paulus, 00:11.647[31]; 9. 12C-Jesse Crank, 00:11.656[27]; 10. 38-Jackson Frisbee, 00:11.665[8]; 11. 11-Tom Curran, 00:11.682[25]; 12. 21L-Dylan Kadous, 00:11.704[10]; 13. 17J-Quinn Jones, 00:11.761[14]; 14. 21H-Kameron Key, 00:11.769[18]; 15. 3-Ayrton Gennetten, 00:11.770[17]; 16. 4X-Braydon Cromwell, 00:11.809[32]; 17. 25M-Dustin March, 00:11.858[7]; 18. 54-Trey Gropp, 00:11.918[15]; 19. 5W-Vance Weber, 00:11.940[12]; 20. 4R-Randy Roberts, 00:11.943[19]; 21. 32-Trey Marcham, 00:11.950[29]; 22. 35D-Dylan Sillman, 00:12.018[20]; 23. 55-Brent McMillan, 00:12.171[16]; 24. 48S-Trey Schleicher, 00:12.171[24]; 25. 44-Branigan Roark, 00:12.191[13]; 26. 27J-Justin Johnson, 00:12.196[28]; 27. 7JR-Gregory Bledsoe, 00:12.254[21]; 28. 24K-Sean Killion, 00:12.300[1]; 29. 777-Dylan Larsen, 00:12.304[6]; 30. 15S-Cale Schaaf, 00:12.308[11]; 31. 07-Zackary Nelson, 00:12.308[3]; (DNS) 4-Braydon Renfro, 00:12.308
Sportsman
Feature 1 (15 Laps): 1. 44-Curtis Spicer, 04:14.137[1]; 2. 07P-Daryl Perkins, 04:17.518[2]; 3. 9-Bill Killion, 04:20.659[6]; 4. 2V-Josh Voorhees, 04:21.325[4]; 5. 1-Dustin Shaner, 04:22.676[5]; 6. 32K-Noah Killion, 04:24.019[3]; 7. 4-Braydon Cromwell, 04:24.334[8]; 8. 87-Mitchell Rengstorf, 04:17.303[7]
Heat 1 (8 Laps): 1. 2V-Josh Voorhees, 03:22.125[4]; 2. 44-Curtis Spicer, 03:22.236[7]; 3. 1-Dustin Shaner, 03:24.213[2]; 4. 4-Braydon Cromwell, 03:24.377; 5. 07P-Daryl Perkins, 03:25.040[6]; 6. 32K-Noah Killion, 03:25.536[3]; 7. 9-Bill Killion, 03:26.776[5]; 8. 87-Mitchell Rengstorf, 03:29.005[1]
Time Trials: 1. 44-Curtis Spicer, 00:12.541[4]; 2. 07P-Daryl Perkins, 00:13.047[5]; 3. 9-Bill Killion, 00:13.121[2]; 4. 2V-Josh Voorhees, 00:13.146[3]; 5. 32K-Noah Killion, 00:13.179[8]; 6. 1-Dustin Shaner, 00:13.196[1]; 7. 87-Mitchell Rengstorf, 00:13.879[6]; 8. 4-Braydon Cromwell, 00:13.879[7]
Outlaw NonWing
A Feature 1 (25 Laps): 1. 12-Frank Galusha, 15:57.597[3]; 2. 42-Andrew Bishop, 15:57.659[5]; 3. 21H-Dylan Kadous, 15:58.095[1]; 4. 8-Brian Lunsford, 15:58.470[7]; 5. 3G-Garet Williamson, 15:58.786[6]; 6. 55B-Brandon Anderson, 15:59.306[9]; 7. 3-Ayrton Gennetten, 15:59.623[11]; 8. 54-Trey Gropp, 15:59.967[17]; 9. 51-Matt Ward, 16:00.302[21]; 10. 32-Trey Marcham, 16:00.485[24]; 11. 5K-Nathan Killion, 16:00.581[14]; 12. 28-Gunner Ramey, 16:00.947[20]; 13. 27-Nathan Brookshier, 16:01.332[19]; 14. 6A-Holden Anderson, 16:01.624[12]; 15. (DNF) 71S-Austin Schaeffer, 13:08.021[2]; 16. (DNF) 32K-Chris Koch, 09:55.633[18]; 17. (DNF) 15-Jase Randolf, 09:58.158[13]; 18. (DNF) 22-Curtis Jones, 09:58.361[22]; 19. (DNF) 23T-Travis Rewerts, 09:43.345[16]; 20. (DNF) 22S-Jordan Howell, 09:46.954[23]; 21. (DNF) 2-Chase Porter, 06:42.690[8]; 22. (DNF) 9-Cole Bodine, 03:38.376[10]; 23. (DNF) 11-Tom Curran, 03:12.809[4]; (DNS) 4X-Braydon Cromwell, 03:12.809
B Feature 1 (15 Laps): 1. 15-Jase Randolf, 16:03.995[2]; 2. 5K-Nathan Killion, 16:04.585[8]; 3. 4X-Braydon Cromwell, 16:04.713[1]; 4. 23T-Travis Rewerts, 16:04.983[3]; 5. 54-Trey Gropp, 16:05.160[13]; 6. 32K-Chris Koch, 16:05.449[10]; 7. 27-Nathan Brookshier, 16:05.596[5]; 8. 28-Gunner Ramey, 16:05.893[17]; 9. 51-Matt Ward, 16:06.319[23]; 10. 22-Curtis Jones, 16:07.886[18]; 11. 22S-Jordan Howell, 16:08.167[11]; 12. 32-Trey Marcham, 16:08.339[6]; 13. 74-Mike Martin, 16:08.509[12]; 14. 87-Jesse Edwards, 16:09.074[15]; 15. 10-Thomas Hassler, 16:09.394[21]; 16. (DNF) 82-Jared Klubunde, 13:55.966[19]; 17. (DNF) 76-Kale Mueller, 04:08.244[4]; 18. (DNF) 83-Jim Woods, 04:09.536[7]; 19. (DNF) 7S-Skylar Hunter, 04:10.294[9]; 20. (DNF) 77-Denver Larsen, 04:11.203[14]; 21. (DNF) 25-Logan Berthelson, 03:36.310[20]; (DNS) 35-Dwayne Benson, 03:36.310; (DNS) 15B-Quinton Benson, 03:36.310; (DNS) 52S-Jeremiah Sillman, 03:36.310
Qualifier 1 (10 Laps): 1. 8-Brian Lunsford, 02:39.000[3]; 2. 2-Chase Porter, 02:39.930[6]; 3. 76-Kale Mueller, 02:40.096[2]; 4. 32K-Chris Koch, 02:40.748[5]; 5. 3-Ayrton Gennetten, 02:41.073[4]; 6. 42-Andrew Bishop, 02:41.128[9]; 7. 32-Trey Marcham, 02:41.387[10]; 8. 3G-Garet Williamson, 02:41.963[7]; 9. 5K-Nathan Killion, 02:42.399[8]; 10. 4X-Braydon Cromwell, 02:43.081[12]; 11. 6A-Holden Anderson, 02:43.692[13]; 12. 87-Jesse Edwards, 02:46.970[11]; 13. (DNF) 21H-Dylan Kadous, 00:35.048[1]
Qualifier 2 (10 Laps): 1. 12-Frank Galusha, 06:25.580[1]; 2. 71S-Austin Schaeffer, 06:25.902[2]; 3. 9-Cole Bodine, 06:26.455[6]; 4. 11-Tom Curran, 06:28.869[7]; 5. 23T-Travis Rewerts, 06:31.078[3]; 6. 54-Trey Gropp, 06:31.324[11]; 7. 27-Nathan Brookshier, 06:31.546[9]; 8. 15-Jase Randolf, 06:32.646[12]; 9. 22S-Jordan Howell, 06:32.788[4]; 10. 74-Mike Martin, 06:33.053[8]; 11. 77-Denver Larsen, 06:33.345[5]; 12. (DNF) 55B-Brandon Anderson, 01:11.050[10]
Heat 1 (8 Laps): 1. 21H-Dylan Kadous, 02:53.420[6]; 2. 23T-Travis Rewerts, 02:55.738[3]; 3. 2-Chase Porter, 02:56.117[5]; 4. 74-Mike Martin, 02:57.296[2]; 5. 87-Jesse Edwards, 02:58.889[1]; 6. (DNF) 83-Jim Woods, 02:19.258[7]; 7. (DNF) 25-Logan Berthelson, 01:30.827[8]; (DNS) 15B-Quinton Benson, 01:30.827
Heat 2 (8 Laps): 1. 12-Frank Galusha, 02:47.680[6]; 2. 3-Ayrton Gennetten, 02:50.492[4]; 3. 9-Cole Bodine, 02:51.394[5]; 4. 42-Andrew Bishop, 02:51.597[7]; 5. 54-Trey Gropp, 02:51.682[2]; 6. 28-Gunner Ramey, 02:52.290[3]; 7. 10-Thomas Hassler, 02:54.633[1]
Heat 3 (8 Laps): 1. 76-Kale Mueller, 06:43.273[3]; 2. 22S-Jordan Howell, 06:43.628[2]; 3. 3G-Garet Williamson, 06:43.788[7]; 4. 27-Nathan Brookshier, 06:44.125[4]; 5. 4X-Braydon Cromwell, 06:44.454[5]; 6. (DNF) 7S-Skylar Hunter, 01:47.325[6]; (DNS) 35-Dwayne Benson, 01:47.325
Heat 4 (8 Laps): 1. 71S-Austin Schaeffer, 02:10.676[7]; 2. 32K-Chris Koch, 02:11.909[2]; 3. 11-Tom Curran, 02:12.689[6]; 4. 32-Trey Marcham, 02:13.267[4]; 5. 15-Jase Randolf, 02:13.842[5]; 6. 82-Jared Klubunde, 02:15.605[1]; 7. 22-Curtis Jones, 02:15.947[3]
Heat 5 (8 Laps): 1. 8-Brian Lunsford, 04:22.264[5]; 2. 77-Denver Larsen, 04:23.285[1]; 3. 5K-Nathan Killion, 04:23.663[3]; 4. 55B-Brandon Anderson, 04:23.971[7]; 5. 6A-Holden Anderson, 04:24.532[6]; 6. 52S-Jeremiah Sillman, 04:25.290[4]; (DNS) 51-Matt Ward, 01:58.173
Time Trials : 1. 83-Jim Woods, 00:11.780[23]; 2. 42-Andrew Bishop, 00:11.855[9]; 3. 3G-Garet Williamson, 00:11.900[5]; 4. 71S-Austin Schaeffer, 00:11.969[22]; 5. 55B-Brandon Anderson, 00:12.002[8]; 6. 21H-Dylan Kadous, 00:12.074[31]; 7. 12-Frank Galusha, 00:12.085[30]; 8. 7S-Skylar Hunter, 00:12.108[19]; 9. 11-Tom Curran, 00:12.115[2]; 10. 6A-Holden Anderson, 00:12.126[21]; 11. 2-Chase Porter, 00:12.137[25]; 12. 9-Cole Bodine, 00:12.189[17]; 13. 4X-Braydon Cromwell, 00:12.234[34]; 14. 15-Jase Randolf, 00:12.241[1]; 15. 8-Brian Lunsford, 00:12.256[3]; 16. 15B-Quinton Benson, 00:12.265[6]; 17. 3-Ayrton Gennetten, 00:12.265[33]; 18. 27-Nathan Brookshier, 00:12.279[13]; 19. 32-Trey Marcham, 00:12.307[14]; 20. 52S-Jeremiah Sillman, 00:12.315[24]; 21. 23T-Travis Rewerts, 00:12.319[15]; 22. 28-Gunner Ramey, 00:12.362[26]; 23. 76-Kale Mueller, 00:12.385[29]; 24. 22-Curtis Jones, 00:12.449[7]; 25. 5K-Nathan Killion, 00:12.461[11]; 26. 74-Mike Martin, 00:12.484[28]; 27. 54-Trey Gropp, 00:12.491[27]; 28. 22S-Jordan Howell, 00:12.517[12]; 29. 32K-Chris Koch, 00:12.518[35]; 30. 51-Matt Ward, 00:12.526[18]; 31. 87-Jesse Edwards, 00:12.548[16]; 32. 10-Thomas Hassler, 00:12.577[32]; 33. 35-Dwayne Benson, 00:12.625[10]; 34. 82-Jared Klubunde, 00:12.627[4]; 35. 77-Denver Larsen, 00:12.722[36]; 36. 25-Logan Berthelson, 00:12.722[20]
Powered by MyRacePass
---
Submitted By: Kirk Elliott
Back to News