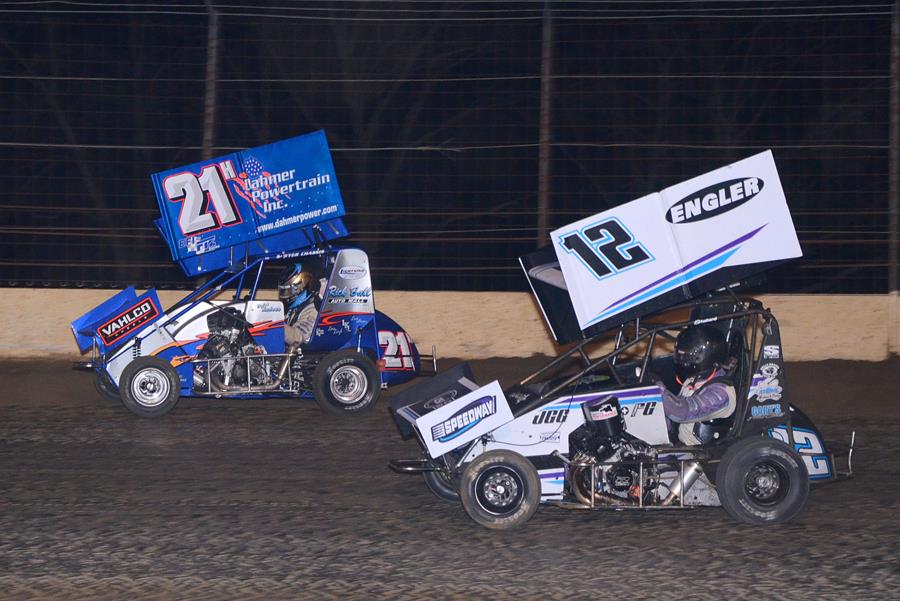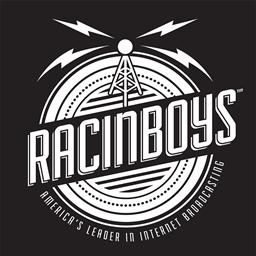 ---
Thrilling Show Me Showdown at Sweet Springs in the books
(Sweet Springs, MO) -- Frank Flud capped off a thrilling three-day Show Me Showdown with a 30-lap winning run in the Winged Outlaw Class Saturday evening at Sweet Springs Motorsports Complex. The event ended just before torrential rains hit the facility. The final day's program was pushed up to a noon start because of the looming weather forecasts.
PHOTO CREDIT: Chris Hale
Andrew Bishop was handed the Outlaw Non-Wing victory after apparent race winner Dylan Kadous was disqualified due to being light at the scales. Kadous did collect the A Class top prize.
Other winners were Grady Mercer in Restrictor, Chris Koch in Stock Non-Wing, Garrett Benson in Junior Sprints, and Dustin Shaner in Sportsman.
Nearly 240 cars were entered in this year's Showdown.
Full event Audio Archives are posted for FREE Listening and Saturday A-Main Video Archives for RBN Premium Members are posted in the Archives section. Click "Archives" on the Menu Bar to view or listen.
Friday night's Features will be posted in the Premium video section as soon as we can get them turned around on Sunday.
SATURDAY RESULTS
10/14/2017 at Sweet Springs Motorsports Complex
Outlaw
A Feature 1 (30 Laps): 1. 81-Frank Flud, 18:58.922[3]; 2. 21H-Dylan Kadous, 19:01.301[1]; 3. 12-Frank Galusha, 19:01.483[5]; 4. 2B-Nathan Benson, 19:02.513[4]; 5. 83-Jim Woods, 19:03.128[11]; 6. 10-Brock Berreth, 19:03.711[6]; 7. 42-Andy Bishop, 19:04.082[9]; 8. 6A-Holden Anderson, 19:04.823[15]; 9. 15U-Willie Urish, 19:05.232[13]; 10. 2-Chase Porter, 19:05.868[22]; 11. 55B-Brandon Anderson, 19:05.992[20]; 12. 11X-Riley Goodno, 19:06.498[19]; 13. 35X-Aubrey Smith, 19:08.180[23]; 14. 26B-Nick Rasa, 19:08.310[18]; 15. 88G-Garrett Hulsey, 19:09.141[16]; 16. 82-Jared Klubunde, 19:09.878[8]; 17. 2S-Cooper Smith, 19:10.295[10]; 18. 4R-Randy Roberts, 19:10.748[21]; 19. (DNF) 47R-Tyler Rennison, 14:55.040[2]; 20. (DNF) 76-Kale Mueller, 14:12.529[24]; 21. (DNF) 1-Bryan Grimes, 04:32.151[12]; 22. (DNF) 23T-Travis Rewerts, 04:32.315[14]; (DNS) 12C-Jesse Crank, 04:32.315; (DNS) 3G-Garet Williamson, 04:32.315
B Feature 1 (15 Laps): 1. 15U-Willie Urish, 04:44.144[1]; 2. 6A-Holden Anderson, 04:45.317[2]; 3. 3G-Garet Williamson, 04:45.624[3]; 4. 11X-Riley Goodno, 04:46.844[8]; 5. 4R-Randy Roberts, 04:47.383[5]; 6. 35X-Aubrey Smith, 04:47.737[4]; 7. 7S-Skylar Hunter, 04:47.830[13]; 8. 35-Charles Aman, 04:48.837[11]; 9. 15-Jase Randolph, 04:49.124[6]; 10. 31-Joe Dent, 04:49.337[7]; 11. 19X-Marcus Kennedy, 04:49.656[9]; 12. 44-Branigan Roark, 04:51.478[10]; (DNS) 27J-Justin Johnson, 04:20.386; (DNS) 98P-Miles Paulus, 04:20.386
B Feature 2 (15 Laps): 1. 23T-Travis Rewerts, 06:45.211[1]; 2. 88G-Garrett Hulsey, 06:45.754[2]; 3. 26B-Nick Rasa, 06:48.460[4]; 4. 55B-Brandon Anderson, 06:49.130[5]; 5. 2-Chase Porter, 06:49.602[14]; 6. 76-Kale Mueller, 06:51.816[3]; 7. 14-Tim Koch, 06:51.865[9]; 8. 27-Nathan Brookshier, 06:52.247[7]; 9. 66-Edmund Bishop, 06:54.999[12]; (DNS) 22S-Jordan Howell, 06:54.999; (DNS) 77-Denver Larsen, 06:54.999; (DNS) 777-Dylan Larsen, 06:54.999; (DNS) 52S-Jeremiah Sillman, 06:54.999; (DNS) 5W-Weber Vance, 06:54.999
Restrictor
A Feature 1 (30 Laps): 1. 42-Grady Mercer, [4]; 2. 11K-Shawn Mahaffey, [5]; 3. 5-Brody Bay, [18]; 4. 00-Preston Scheulen, [13]; 5. 18-Wyatt Siegel, [24]; 6. 9R-Chase Hyland, [23]; 7. 17K-Braden Knipmeyer, [7]; 8. 97-Xavier Doney, [9]; 9. 5H-Luke Howard, [1]; 10. 8K-Tyler Kuykendall, [15]; 11. 72C-Kayden Cole, [17]; 12. 08E-Elizabeth Phillips, [22]; 13. 22-Dylan Pendergrass, [8]; 14. 5A-Ava Gropp, [16]; 15. 15S-Cale Schaaf, [19]; 16. 7A-Aaron Jesina, [20]; 17. (DNF) 5T-Ryan Timms, [10]; 18. (DNF) 11-Austin O'neal, [6]; 19. (DNF) 35-Aubrey Smith, [2]; 20. (DNF) 33-Landon Danuser, [21]; 21. (DNF) 59-Brody Mclaughlin, [11]; 22. (DNF) 49-Tyler Devenport, [14]; 23. (DNF) 55-Chase Brown, [3]; 24. (DNF) 8-Gunner Bowden, [12]
B Feature 1 (15 Laps): 1. 00-Preston Scheulen, 08:03.004[10]; 2. 49-Tyler Devenport, 08:06.425[2]; 3. 8K-Tyler Kuykendall, 08:06.707[3]; 4. 5A-Ava Gropp, 08:09.482[1]; 5. 72C-Kayden Cole, 08:10.693[6]; 6. 5-Brody Bay, 08:10.696[8]; 7. 15S-Cale Schaaf, 08:12.652[14]; 8. 7A-Aaron Jesina, 08:13.106[5]; 9. 33-Landon Danuser, 08:13.837[4]; 10. 08E-Elizabeth Phillips, 08:14.465[9]; 11. 9R-Chase Hyland, 08:14.495[11]; 12. 18-Wyatt Siegel, 08:16.545[12]; 13. 11S-Evan Spaulding, 08:17.177[13]; 14. (DNF) 2A-Ace Bodenhamer, 01:22.067[7]
A Class
A Feature 1 (30 Laps): 1. 21L-Dylan Kadous, 17:46.804[4]; 2. 88G-Garrett Hulsey, 17:47.347[1]; 3. 2B-Nathan Benson, 17:48.139[3]; 4. 47R-Tyler Rennison, 17:49.242[9]; 5. 11X-Riley Goodno, 17:50.027[10]; 6. 5W-Vance Weber, 17:50.678[8]; 7. 17J-Quinn Jones, 17:50.832[15]; 8. 54-Trey Gropp, 17:51.069[12]; 9. 7K-Kenton Brewer, 17:51.069[14]; 10. 3-Ayrton Gennetten, 17:51.069[20]; 11. 21H-Kameron Key, 17:51.069[11]; 12. 55-Brent McMillan, 17:51.069[16]; 13. 4R-Randy Roberts, 17:51.069[21]; 14. 44-Branigan Roark, 17:51.069[19]; 15. 07-Zackary Nelson, 17:51.069[22]; 16. (DNF) 81-Frank Flud, 17:51.069[5]; 17. (DNF) 32-Trey Marcham, 17:51.069[18]; 18. (DNF) 12C-Jesse Crank, 17:51.069[24]; 19. (DNF) 25M-Dustin March, 17:51.069[13]; 20. (DNF) 24K-Sean Killion, 17:51.069[17]; 21. (DNF) 2-Chase Porter, 17:51.069[7]; 22. (DNF) 7JR-Gregory Bledsoe, 17:51.069[23]; (DNS) 11-Tom Curran, 17:51.069; (DNS) 98P-Miles Paulus, 17:51.069
B Feature 1 (15 Laps): 1. 25M-Dustin March, 05:27.693[1]; 2. 17J-Quinn Jones, 05:28.296[5]; 3. 24K-Sean Killion, 05:28.306[4]; 4. 44-Branigan Roark, 05:28.539[3]; 5. 4R-Randy Roberts, 05:28.887[9]; 6. 7JR-Gregory Bledsoe, 05:29.122[6]; 7. 48S-Trey Schleicher, 05:29.661[7]; 8. 8-Gunner Bowden, 02:21.036; (DNS) 4X-Braydon Cromwell, 02:21.036; (DNS) 38-Jackson Frisbee, 02:21.036; (DNS) 27J-Justin Johnson, 02:21.036
B Feature 2 (15 Laps): 1. 7K-Kenton Brewer, [1]; 2. 55-Brent McMillan, [3]; 3. 32-Trey Marcham, [6]; 4. 3-Ayrton Gennetten, [7]; 5. 07-Zackary Nelson, [4]; 6. 12C-Jesse Crank, [2]; 7. 777-Dylan Larsen, [8]; 8. (DNF) 4-Braydon Renfro, [5]; 9. (DNF) 35D-Dylan Sillman, [10]; (DNS) 15S-Cale Schaaf,
NonWing
A Feature 1 (30 Laps): 1. 32K-Chris Koch, [2]; 2. 8-Brian Lunsford, [3]; 3. 21H-Kameron Key, [8]; 4. 32-Trey Marcham, [6]; 5. 17K-Quinton Benson, [11]; 6. 57-Cole Bodine, [10]; 7. 7K-Kenton Brewer, [13]; 8. 21L-Dylan Kadous, [1]; 9. 54-Trey Gropp, [9]; 10. 51-Matt Ward, [20]; 11. 74-Mike Martin, [14]; 12. 28-Gunner Ramey, [18]; 13. 48S-Trey Schleicher, [23]; 14. (DNF) 81-Frank Flud, [5]; 15. (DNF) 41-Allan Koch, [12]; 16. (DNF) 81B-Blake Bennington, [24]; 17. (DNF) 55P-Eric Perkins, [15]; 18. (DNF) 25-Logan Berthelson, [22]; 19. (DNF) 3-Ayrton Gennetten, [7]; 20. (DNF) 35D-Dylan Sillman, [17]; 21. (DNF) 22-Curtis Jones, [16]; 22. (DNF) 10-Thomas Hassler, [19]; 23. (DNF) 2-Chase Porter, [21]; (DNS) 11-Tom Curran,
B Feature 1 (15 Laps): 1. 7K-Kenton Brewer, [3]; 2. 55P-Eric Perkins, [2]; 3. 35D-Dylan Sillman, [4]; 4. 10-Thomas Hassler, [9]; 5. 2-Chase Porter, [5]; 6. 48S-Trey Schleicher, [8]; 7. 77X-Dillon Conrad, [10]; 8. 7D-Dalton Conrad, [7]; 9. 4X-Braydon Cromwell, [1]; 10. 52S-Jeremiah Sillman, [6]; 11. 7S-Skylar Hunter, [13]; 12. 27J-Justin Johnson, [12]; 13. 17J-Quinn Jones, [11]
B Feature 2 (15 Laps): 1. 74-Mike Martin, 07:17.729[1]; 2. 22-Curtis Jones, 07:19.482[2]; 3. 28-Gunner Ramey, 07:19.735[5]; 4. 51-Matt Ward, 07:20.108[3]; 5. 25-Logan Berthelson, 07:20.276[4]; 6. 81B-Blake Bennington, 07:20.665[7]; 7. 27-Nathan Brookshier, 07:20.739[6]; 8. 07-Zack Nelson, 07:22.234[10]; 9. 87-Jesse Edwards, 07:22.821[8]; 10. 7JR-Gregory Bledsoe, 03:57.599[9]; (DNS) 35-Dwayne Benson, 03:57.599; (DNS) 88J-Nick Payne, 03:57.599
Jr. Sprint
A Feature 1 (25 Laps): 1. 2-Garrett Benson, [3]; 2. 5T-Ryan Timms, [2]; 3. 5F-Freddy Rowland, [5]; 4. 122-Lane Warner, [1]; 5. 17-Natalie Doney, [9]; 6. 10-Chasity Younger, [12]; 7. 46-Peyton White, [21]; 8. 05C-Chas Walster, [18]; 9. 97-Ashlyn Pilburn, [17]; 10. 3P-Dane Palmer, [16]; 11. 7D-Dayton Rein, [10]; 12. 21H-Levi Hinck, [14]; 13. 63-Jack Thomas, [6]; 14. 45-Megan Thomas, [24]; 15. 5L-Landon Jesina, [15]; 16. 00-Parker Scheulen, [8]; 17. 09L-Lilly Walster, [20]; 18. 8-Logun Lunsford, [19]; 19. 9-Abigayle Lett, [23]; 20. (DNF) 99-Trae Hoener, [7]; 21. (DNF) 2R-Remmington Butolph, [13]; 22. (DNF) 10T-Tallin Turner, [11]; 23. (DNF) 10J-Aaron Towne, [22]; (DQ) 25B-Chevy Boyer, [4]
B Feature 1 (15 Laps): 1. 2R-Remmington Butolph, [2]; 2. 5L-Landon Jesina, [6]; 3. 97-Ashlyn Pilburn, [5]; 4. 8-Logun Lunsford, [7]; 5. 46-Peyton White, [4]; 6. 9-Abigayle Lett, [8]; 7. 11-Peyton Towne, [9]; 8. (DNF) 75-Trey Sharp, [3]; 9. (DNF) 99J-Jackson Atherton, [1]; 10. (DNF) 3Z-Trey Zorn, [10]
B Feature 2 (15 Laps): 1. 21H-Levi Hinck, [8]; 2. 3P-Dane Palmer, [2]; 3. 05C-Chas Walster, [3]; 4. 09L-Lilly Walster, [5]; 5. 10J-Aaron Towne, [6]; 6. 45-Megan Thomas, [1]; 7. 7JR-Brock Waters, [9]; 8. (DNF) 94-Sophie Frazier, [4]; (DNS) 9C-Cole Stella,
Sportsman
A Feature 1 (25 Laps): 1. 1-Dustin Shaner, 05:03.873[5]; 2. 32K-Noah Killion, 05:06.342[6]; 3. 44-Curtis Spicer, 05:12.144[4]; 4. 2V-Josh Voorhees, 05:14.431[3]; 5. 9-Bill Killion, 05:05.170[1]; 6. 07P-Daryl Perkins, 05:06.083[2]; 7. 87-Mitchell Rengstorf, 04:38.696[8]; (DNS) 4-Braydon Cromwell, 04:38.696
Outlaw NonWing
A Feature 1 (30 Laps): 1. 42-Andrew Bishop, [4]; 2. 12-Frank Galusha, [1]; 3. 55B-Brandon Anderson, [3]; 4. 54-Trey Gropp, [8]; 5. 23T-Travis Rewerts, [16]; 6. 32-Trey Marcham, [10]; 7. 6A-Holden Anderson, [14]; 8. 27-Nathan Brookshier, [15]; 9. 74-Mike Martin, [19]; 10. 2-Chase Porter, [20]; 11. 4X-Braydon Cromwell, [22]; 12. 28-Gunner Ramey, [12]; 13. 5K-Nathan Killion, [11]; 14. 32K-Chris Koch, [13]; 15. 3-Ayrton Gennetten, [7]; 16. 8-Brian Lunsford, [6]; 17. 76-Kale Mueller, [21]; 18. 15-Jase Randolf, [18]; 19. 82-Jared Klubunde, [24]; 20. 25-Logan Berthelson, [23]; 21. 22-Curtis Jones, [17]; 22. 3G-Garet Williamson, [2]; 23. 51-Matt Ward, [9]; (DQ) 21H-Dylan Kadous, [5]
B Feature 1 (15 Laps): 1. 32K-Chris Koch, [2]; 2. 27-Nathan Brookshier, [1]; 3. 22-Curtis Jones, [3]; 4. 74-Mike Martin, [6]; 5. 76-Kale Mueller, [8]; 6. 25-Logan Berthelson, [10]; 7. 7S-Skylar Hunter, [9]; 8. 10-Thomas Hassler, [7]; 9. (DNF) 22S-Jordan Howell, [4]; 10. (DNF) 57-Cole Bodine, [12]; (DNS) 15B-Quinton Benson, ; (DNS) 11-Tom Curran,
B Feature 2 (15 Laps): 1. 6A-Holden Anderson, 03:52.230[1]; 2. 23T-Travis Rewerts, 03:52.561[3]; 3. 15-Jase Randolf, 03:52.835[2]; 4. 2-Chase Porter, 03:53.344[4]; 5. 4X-Braydon Cromwell, 03:54.247[5]; 6. 82-Jared Klubunde, 03:55.854[7]; 7. 87-Jesse Edwards, 03:56.175[6]; 8. 83-Jim Woods, 03:56.595[8]; 9. 77-Denver Larsen, 04:00.314[9]; (DNS) 35-Dwayne Benson, 04:00.314; (DNS) 52S-Jeremiah Sillman, 04:00.314
Powered by MyRacePass
---
Submitted By: Kirk Elliott
Back to News