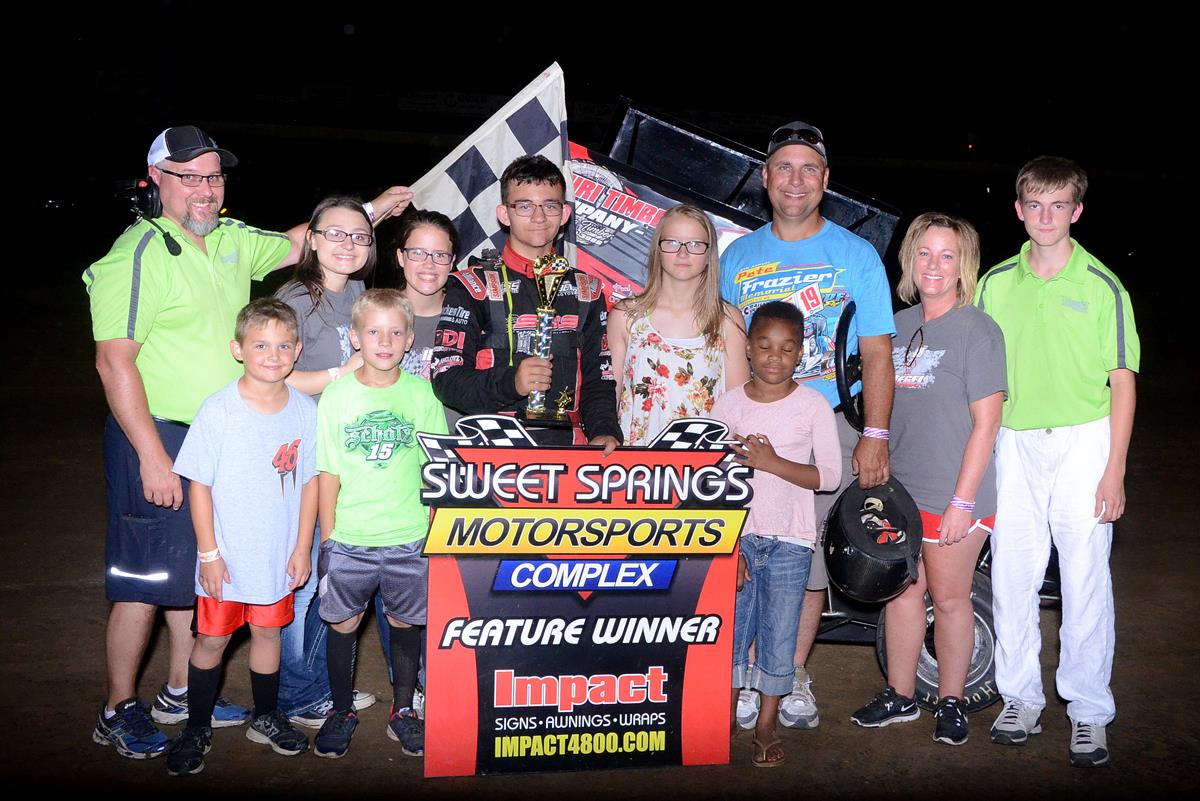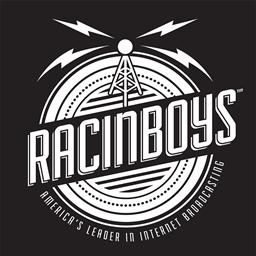 ---
Porter, Koch, Siegel score at Sweet Springs
By Chris Hale (Sweet Springs, MO) -- With 94 entries and a great racing surface the crowd knew that they were in for a treat!
Chase Porter, Quinn Jones and Willie Urish battled for most of the Winged Outlaw main when late in the race Jones spun out. Porter took the checkered flag with Urish finishing second and Hulsey third. This was Porter's first win of the season.
PHOTO: Restrictor class winner Wyatt Siegel--CREDIT: Chris Hale
In the Restrictor main, Wyatt Siegel started on the pole. Siegel took off and hid, getting his first main event win in dominating fashion. Ace Bodenhamer came in second getting his best finish in the Restrictor class. Braden Knipmeyer came from eleventh to get third.
In the Winged A class, Chris Koch crossed the line first but didn't pass tech so the win went to Garrett Hulsey. Tyler Rennison was second and Brody Bay crossed the line third.
Freddy Rowland continued to dominate the Junior class by getting another convincing win. Chevy Boyer came in second with Garrett Benson a close third.
Chris Koch started on the pole of the Non Winged main. They took the green flag and Koch went into turn two and spun out, causing a yellow flag. With thirty laps remaining Koch put on a passing clinic and got the win! Brian Lunsford and Kenton Brewer rounded out the podium.
Eric Perkins got another win in the Sportsman class. Veterans Bill Killion and Daryl Perkins were second and third.
We look forward to seeing everyone again next Saturday night at the Sweet Springs Motorsports Complex!
6/23/2018 at Sweet Springs Motorsports Complex
Outlaw
A Feature 1 (30 Laps): 1. 2-Chase Porter, [1]; 2. 15U-Willie Urish, [3]; 3. 88G-Garrett Hulsey, [6]; 4. 2S-Cooper Smith, [8]; 5. 5K-Nathan Killion, [5]; 6. 321-Chad Winfrey, [4]; 7. 47R-Tyler Rennison, [7]; 8. 17-Quinn Jones, [2]; 9. 11G-Riley Goodno, [16]; 10. 27W-Matthew Watkins, [19]; 11. 77W-Tyler Watkins, [9]; 12. 3O-Michael Oldham, [15]; 13. 87-Jake Galusha, [12]; 14. 23T-Travis Rewerts, [11]; 15. 1S-Dustin Shaner, [18]; 16. (DNF) 14S-Trey Schleicher, [10]; 17. (DNF) 23P-David Pruett, [17]; 18. (DNF) 35-Aubrey Smith, [13]; 19. (DNF) 27J-Justin Johnson, [14]
Heat 1 (10 Laps): 1. 2-Chase Porter, [5]; 2. 88G-Garrett Hulsey, [3]; 3. 5K-Nathan Killion, [6]; 4. 321-Chad Winfrey, [9]; 5. 87-Jake Galusha, [2]; 6. 14S-Trey Schleicher, [7]; 7. 35-Aubrey Smith, [8]; 8. 11G-Riley Goodno, [1]; 9. 1S-Dustin Shaner, [4]; 10. 23P-David Pruett, [10]
Heat 2 (10 Laps): 1. 15U-Willie Urish, [4]; 2. 47R-Tyler Rennison, [3]; 3. 17-Quinn Jones, [9]; 4. 77W-Tyler Watkins, [1]; 5. 2S-Cooper Smith, [8]; 6. 23T-Travis Rewerts, [7]; 7. 27J-Justin Johnson, [2]; 8. 3O-Michael Oldham, [6]; 9. (DNF) 27W-Matthew Watkins, [5]
Restrictor
A Feature 1 (25 Laps): 1. 18-Wyatt Siegel, [1]; 2. 14B-Ace Bodenhamer, [2]; 3. 17K-Braden Knipmeyer, [11]; 4. 7A-Aaron Jesina, [5]; 5. 49-Tyler Devenport, [4]; 6. 5-Brody Bay, [12]; 7. 8K-Tyler Kuykendall, [6]; 8. 94-Sophie Frazier, [8]; 9. 10-Chasity Younger, [10]; 10. 33K-Landen Danuser, [9]; 11. 45-Megan Thomas, [3]; 12. 3-Gage Trube, [7]
Heat 1 (10 Laps): 1. 14B-Ace Bodenhamer, [1]; 2. 45-Megan Thomas, [3]; 3. 49-Tyler Devenport, [5]; 4. 3-Gage Trube, [2]; 5. (DNF) 17K-Braden Knipmeyer, [6]; (DNS) 5-Brody Bay,
Heat 2 (10 Laps): 1. 18-Wyatt Siegel, [3]; 2. 7A-Aaron Jesina, [1]; 3. 8K-Tyler Kuykendall, [4]; 4. 94-Sophie Frazier, [2]; 5. 33K-Landen Danuser, [5]; 6. 10-Chasity Younger, [6]
A Class
A Feature 1 (25 Laps): 1. 88G-Garrett Hulsey, [1]; 2. 47R-Tyler Rennison, [2]; 3. 5-Brody Bay, [5]; 4. 11G-Riley Goodno, [3]; 5. 21H-Keegan Brewer, [10]; 6. 7K-Kenton Brewer, [7]; 7. 48S-Trey Schleicher, [9]; 8. 44-Branigan Roark, [13]; 9. 11-Austin O'neal, [4]; 10. 007-Robert Talley, [14]; 11. (DNF) 4R-Randy Roberts, [15]; 12. (DNF) 14B-Willie Urish, [8]; 13. (DNF) 25M-Dustin March, [12]; (DNS) 15S-Cale Schaaf, ; (DQ) 15-Chris Koch, [6]
Heat 1 (10 Laps): 1. 47R-Tyler Rennison, [2]; 2. 15-Chris Koch, [1]; 3. 11G-Riley Goodno, [6]; 4. 11-Austin O'neal, [8]; 5. 21H-Keegan Brewer, [3]; 6. 25M-Dustin March, [4]; 7. 44-Branigan Roark, [5]; 8. 007-Robert Talley, [7]
Heat 2 (10 Laps): 1. 88G-Garrett Hulsey, [4]; 2. 5-Brody Bay, [2]; 3. 7K-Kenton Brewer, [3]; 4. 48S-Trey Schleicher, [1]; 5. 14B-Willie Urish, [7]; 6. 15S-Cale Schaaf, [5]; 7. (DNF) 4R-Randy Roberts, [6]
Non-Wing
A Feature 1 (30 Laps): 1. 15-Chris Koch, [1]; 2. 8-Brian Lunsford, [7]; 3. 7K-Kenton Brewer, [6]; 4. 27N-Nathan Brookshier, [5]; 5. 321-Chad Winfrey, [4]; 6. 32K-Allan Koch, [9]; 7. 94-Toby Mullins, [8]; 8. 3TK-Tyler Key, [17]; 9. 6R-Rayce Rudy, [10]; 10. 24K-Kyle Gray, [3]; 11. 27J-Justin Johnson, [11]; 12. 81B-Blake Bennington, [16]; 13. 1-Charlie Crawford, [12]; 14. 21-Trevor Johnson, [14]; 15. (DNF) 44-Branigan Roark, [2]; 16. (DNF) 48S-Trey Schleicher, [13]; 17. (DNF) 25-Logan Berthelson, [15]; 18. (DNF) 7JR-Gregory Bledsoe, [18]
Heat 1 (10 Laps): 1. 321-Chad Winfrey, [1]; 2. 44-Branigan Roark, [5]; 3. 24K-Kyle Gray, [6]; 4. 32K-Allan Koch, [3]; 5. 27J-Justin Johnson, [4]; 6. 6R-Rayce Rudy, [8]; 7. 48S-Trey Schleicher, [9]; 8. 25-Logan Berthelson, [2]; 9. 81B-Blake Bennington, [7]
Heat 2 (10 Laps): 1. 27N-Nathan Brookshier, [1]; 2. 15-Chris Koch, [7]; 3. 8-Brian Lunsford, [5]; 4. 7K-Kenton Brewer, [8]; 5. 1-Charlie Crawford, [3]; 6. 94-Toby Mullins, [9]; 7. 21-Trevor Johnson, [2]; 8. (DNF) 3TK-Tyler Key, [6]; 9. (DNF) 7JR-Gregory Bledsoe, [4]
Jr. Sprint
A Feature 1 (17 Laps): 1. 5F-Freddy Rowland, [3]; 2. 25B-Chevy Boyer, [1]; 3. 2-Garrett Benson, [2]; 4. 21H-Levi Hinck, [4]; 5. 63-Jack Thomas, [6]; 6. 46-Peyton White, [7]; 7. 3P-Dane Palmer, [9]; 8. 8-Logun Lunsford, [10]; 9. 5L-Landon Jesina, [5]; 10. 9-Abigayle Lett, [11]; 11. 14JR-Adam Paul, [8]; 12. (DNF) 97-Ashlyn Pilburn, [13]; 13. (DNF) 7JR-Brock Waters, [12]
Heat 1 (8 Laps): 1. 25B-Chevy Boyer, [5]; 2. 2-Garrett Benson, [7]; 3. 63-Jack Thomas, [4]; 4. 46-Peyton White, [3]; 5. 14JR-Adam Paul, [6]; 6. (DNF) 7JR-Brock Waters, [2]; (DNS) 97-Ashlyn Pilburn,
Heat 2 (8 Laps): 1. 5F-Freddy Rowland, [3]; 2. 21H-Levi Hinck, [4]; 3. 5L-Landon Jesina, [5]; 4. 3P-Dane Palmer, [1]; 5. 8-Logun Lunsford, [2]; 6. (DNF) 9-Abigayle Lett, [6]
Sportsman
A Feature 1 (30 Laps): 1. 55P-Eric Perkins, [1]; 2. 9-Bill Killion, [2]; 3. 07P-Daryl Perkins, [5]; 4. 6-Robert Bledsoe, [7]; 5. 31C-Mackenzie Borchers, [3]; 6. 32K-Noah Killion, [6]; 7. 76-Jarmey Martin, [12]; 8. 26-Marcus Mendez, [15]; 9. 16B-Jeff Ballenger, [9]; 10. 23B-Matt Botts, [13]; 11. 80R-Roger Newcomber, [11]; 12. (DNF) 2-Shanon Vaught, [16]; 13. (DNF) 27-David Whitt, [8]; 14. (DNF) 3D-Justin Dick, [17]; 15. (DNF) 4-Vince Williams, [4]; 16. (DNF) 0-Marty Ballenger, [10]; 17. (DNF) 4E-Jordan Evans, [14]
Heat 1 (10 Laps): 1. 31C-Mackenzie Borchers, [1]; 2. 32K-Noah Killion, [2]; 3. 27-David Whitt, [3]; 4. 9-Bill Killion, [9]; 5. 16B-Jeff Ballenger, [5]; 6. 23B-Matt Botts, [4]; 7. 4E-Jordan Evans, [6]; 8. 26-Marcus Mendez, [7]; 9. 2-Shanon Vaught, [8]
Heat 2 (10 Laps): 1. 4-Vince Williams, [1]; 2. 55P-Eric Perkins, [5]; 3. 6-Robert Bledsoe, [4]; 4. 07P-Daryl Perkins, [7]; 5. 0-Marty Ballenger, [3]; 6. 80R-Roger Newcomber, [6]; 7. 76-Jarmey Martin, [8]; 8. (DNF) 3D-Justin Dick, [2]
Powered by MyRacePass
---
Submitted By: Kirk Elliott
Back to News