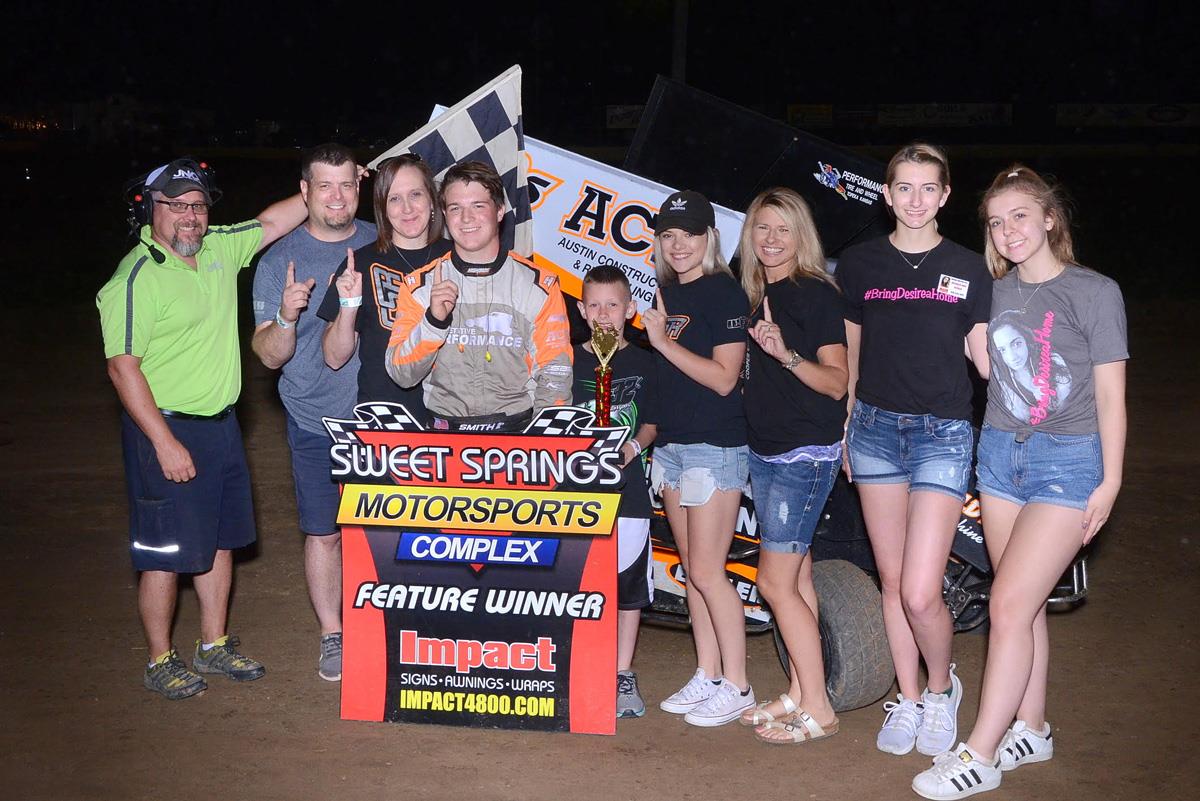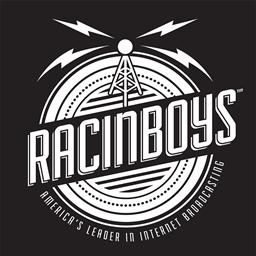 ---
Sweet Springs winners: Smith, Porter, Hulsey, Knipmeyer, Hinck, Perkins
By Chris Hale (Sweet Springs, MO) -- Cooper Smith out of Topeka Kansas got his second Winged Outlaw main in a row. Garrett Hulsey and Quinn Jones rounded out the podium.
Garrett Hulsey put a smaller top wing on the car and dominated the Wing A class.
PHOTO: Outlaw feature winner Cooper Smith--CREDIT: Chris Hale
Chase Porter and Tyler Rennison had a battle for second with Porter getting the position.
Chase Porter and Allan Koch led the field in the Non Wing class with Porter getting the win. Koch came in second. Chris Koch came from the thirteenth starting position to take third.
Levi Hinck won the Junior sprint main with Jack Thomas and Natalie Doney on the podium.
Daryl Perkins won the Sportsman class with Robert Bledsoe and Jarmey Martin close behind.
Don't forget this week our regular program will be run on Friday the 13th and on Sunday the 15th the USAC midgets will be here!
7/7/2018 at Sweet Springs Motorsports Complex
Outlaw
A Feature 1 (25 Laps): 1. 2S-Cooper Smith, [4]; 2. 88G-Garrett Hulsey, [5]; 3. 17-Quinn Jones, [1]; 4. 47R-Tyler Rennison, [2]; 5. 2-Chase Porter, [6]; 6. 81T-Rudy Reyes, [12]; 7. 27N-Nathan Brookshier, [13]; 8. 14S-Trey Schleicher, [10]; 9. 35-Aubrey Smith, [3]; 10. 23P-David Pruett, [9]; 11. 27J-Justin Johnson, [8]; 12. (DNF) 1S-Dustin Shaner, [7]; 13. (DNF) 12C-Jesse Crank, [11]
Heat 1 (10 Laps): 1. 17-Quinn Jones, [6]; 2. 47R-Tyler Rennison, [7]; 3. 1S-Dustin Shaner, [1]; 4. 2-Chase Porter, [5]; 5. 27J-Justin Johnson, [3]; 6. 23P-David Pruett, [2]; 7. 14S-Trey Schleicher, [4]
Heat 2 (10 Laps): 1. 35-Aubrey Smith, [1]; 2. 2S-Cooper Smith, [3]; 3. 88G-Garrett Hulsey, [5]; 4. (DNF) 12C-Jesse Crank, [4]; 5. (DNF) 81T-Rudy Reyes, [6]; 6. (DNF) 27N-Nathan Brookshier, [2]
Restrictor
A Feature 1 (25 Laps): 1. 17K-Braden Knipmeyer, [1]; 2. 8K-Tyler Kuykendall, [6]; 3. 3D-Xavier Doney, [8]; 4. 14B-Ace Bodenhamer, [3]; 5. 48-Hunter Creason, [2]; 6. 49-Tyler Devenport, [9]; 7. 7A-Aaron Jesina, [7]; 8. 18-Wyatt Siegel, [4]; 9. 94-Sophie Frazier, [11]; 10. 10-Chasity Younger, [5]; 11. 45-Megan Thomas, [10]; 12. (DNF) 99D-Tucker Daly, [12]
Heat 1 (10 Laps): 1. 14B-Ace Bodenhamer, [1]; 2. 18-Wyatt Siegel, [2]; 3. 8K-Tyler Kuykendall, [3]; 4. 7A-Aaron Jesina, [4]; 5. 49-Tyler Devenport, [5]; 6. 94-Sophie Frazier, [6]
Heat 2 (10 Laps): 1. 17K-Braden Knipmeyer, [5]; 2. 10-Chasity Younger, [1]; 3. 48-Hunter Creason, [6]; 4. 3D-Xavier Doney, [2]; 5. 45-Megan Thomas, [3]; 6. 99D-Tucker Daly, [4]
A Class
A Feature 1 (30 Laps): 1. 88G-Garrett Hulsey, [1]; 2. 2-Chase Porter, [6]; 3. 47R-Tyler Rennison, [5]; 4. 15-Chris Koch, [8]; 5. 7K-Kenton Brewer, [9]; 6. 5-Brody Bay, [2]; 7. 25M-Dustin March, [4]; 8. 15S-Cale Schaaf, [10]; 9. 48S-Trey Schleicher, [11]; 10. 44-Branigan Roark, [12]; 11. 007-Robert Talley, [14]; 12. (DNF) 21H-Keegan Brewer, [7]; 13. (DNF) 35-Aubrey Smith, [3]; 14. (DNF) 7JR-Gregory Bledsoe, [13]; 15. (DNF) 41B-Mackenzie Borchers, [16]; (DNS) 4J-Christian Singer,
Heat 1 (10 Laps): 1. 88G-Garrett Hulsey, [5]; 2. 5-Brody Bay, [4]; 3. 35-Aubrey Smith, [6]; 4. 47R-Tyler Rennison, [8]; 5. 48S-Trey Schleicher, [1]; 6. 44-Branigan Roark, [3]; 7. 007-Robert Talley, [2]; 8. 4J-Christian Singer, [7]
Heat 2 (10 Laps): 1. 25M-Dustin March, [1]; 2. 2-Chase Porter, [3]; 3. 21H-Keegan Brewer, [5]; 4. 15-Chris Koch, [7]; 5. 7K-Kenton Brewer, [6]; 6. 15S-Cale Schaaf, [8]; 7. 7JR-Gregory Bledsoe, [4]; 8. (DNF) 41B-Mackenzie Borchers, [2]
Non-Wing
A Feature 1 (25 Laps): 1. 2-Chase Porter, [2]; 2. 41-Allan Koch, [3]; 3. 15-Chris Koch, [13]; 4. 27N-Nathan Brookshier, [1]; 5. 7K-Kenton Brewer, [5]; 6. 111-Austin O'neal, [12]; 7. 5-Brody Bay, [7]; 8. 32K-Quinn Jones, [9]; 9. 8-Brian Lunsford, [6]; 10. 48S-Trey Schleicher, [8]; 11. 27J-Justin Johnson, [10]; 12. 007-Robert Talley, [11]; 13. (DNF) 44-Branigan Roark, [4]; (DNS) 81B-Blake Bennington,
Heat 1 (10 Laps): 1. 41-Allan Koch, [1]; 2. 27N-Nathan Brookshier, [7]; 3. 48S-Trey Schleicher, [2]; 4. 5-Brody Bay, [6]; 5. 32K-Quinn Jones, [3]; 6. 007-Robert Talley, [4]; (DNS) 81B-Blake Bennington,
Heat 2 (10 Laps): 1. 2-Chase Porter, [4]; 2. 44-Branigan Roark, [3]; 3. 7K-Kenton Brewer, [5]; 4. 8-Brian Lunsford, [7]; 5. 27J-Justin Johnson, [2]; 6. 111-Austin O'neal, [1]; 7. 15-Chris Koch, [6]
Jr. Sprint
A Feature 1 (17 Laps): 1. 21H-Levi Hinck, [1]; 2. 63-Jack Thomas, [4]; 3. 17-Natalie Doney, [2]; 4. 3P-Dane Palmer, [5]; 5. 46-Peyton White, [12]; 6. 5L-Landon Jesina, [8]; 7. 8-Logun Lunsford, [7]; 8. 2R-Remmington Butolph, [9]; 9. 9-Abigayle Lett, [10]; 10. 7JR-Brock Waters, [11]; 11. (DNF) 10T-Talin Turner, [6]; 12. (DNF) 99J-Jackson Atherton, [3]
Heat 1 (8 Laps): 1. 17-Natalie Doney, [2]; 2. 21H-Levi Hinck, [5]; 3. 99J-Jackson Atherton, [6]; 4. 2R-Remmington Butolph, [1]; 5. 9-Abigayle Lett, [3]; 6. 46-Peyton White, [4]
Heat 2 (8 Laps): 1. 63-Jack Thomas, [1]; 2. 3P-Dane Palmer, [3]; 3. 10T-Talin Turner, [4]; 4. 5L-Landon Jesina, [2]; 5. 8-Logun Lunsford, [6]; 6. 7JR-Brock Waters, [5]
Sportsman
A Feature 1 (25 Laps): 1. 07P-Daryl Perkins, [1]; 2. 6-Robert Bledsoe, [2]; 3. 76-Jarmey Martin, [10]; 4. 31C-Shawn Holt, [3]; 5. 32K-Noah Killion, [13]; 6. 55P-Eric Perkins, [12]; 7. 27-David Whitt, [8]; 8. 23B-Matt Botts, [9]; 9. 26-Marcus Mendez, [5]; 10. 16B-Mackenzie Borchers, [6]; 11. 3D-Justin Dick, [7]; 12. 20C-Chris Brown, [14]; 13. (DNF) 9-Bill Killion, [4]; 14. (DNF) 4U-Gregory Bledsoe, [11]; (DNS) 4E-Jordan Evans,
Heat 1 (10 Laps): 1. 9-Bill Killion, [2]; 2. 6-Robert Bledsoe, [7]; 3. 31C-Shawn Holt, [8]; 4. 16B-Mackenzie Borchers, [5]; 5. (DNF) 55P-Eric Perkins, [6]; 6. (DNF) 32K-Noah Killion, [4]; (DNS) 4E-Jordan Evans, ; (DNS) 20C-Chris Brown,
Heat 2 (10 Laps): 1. 07P-Daryl Perkins, [6]; 2. 26-Marcus Mendez, [3]; 3. 3D-Justin Dick, [1]; 4. 27-David Whitt, [4]; 5. 23B-Matt Botts, [5]; 6. 76-Jarmey Martin, [7]; 7. 4U-Gregory Bledsoe, [2]
Powered by MyRacePass
---
Submitted By: Kirk Elliott
Back to News