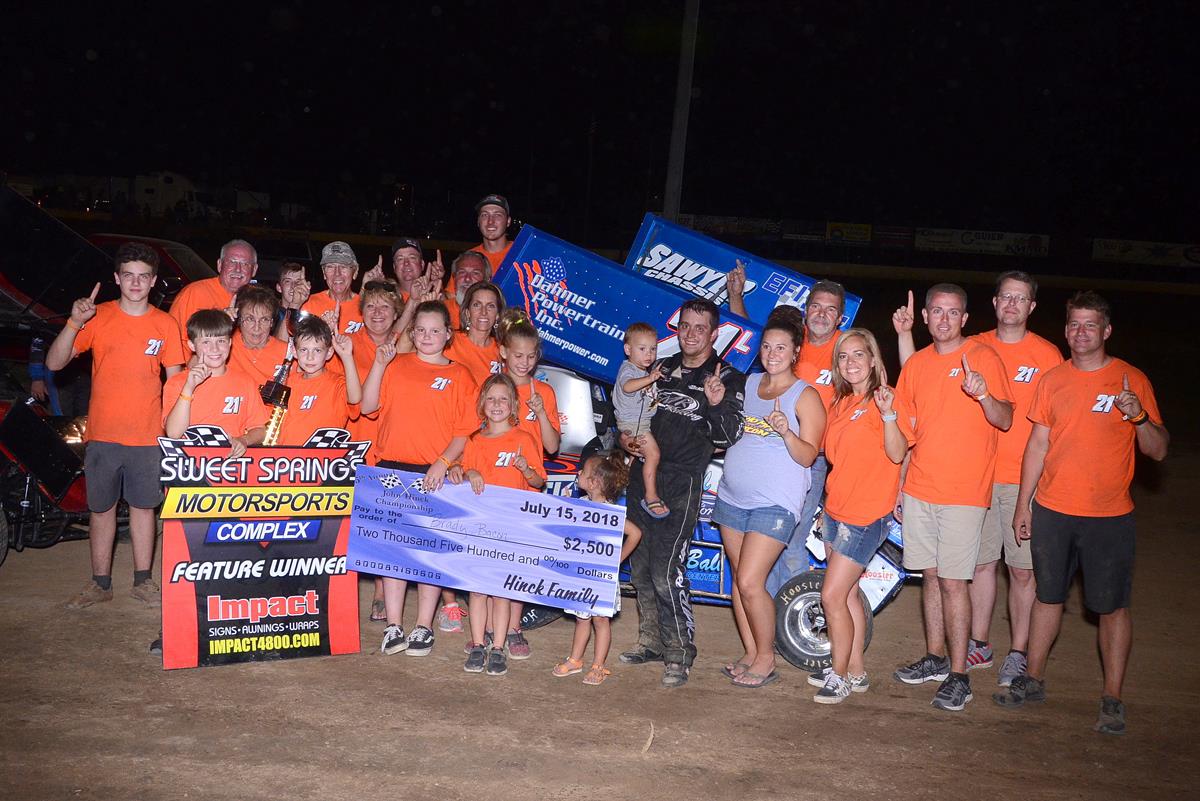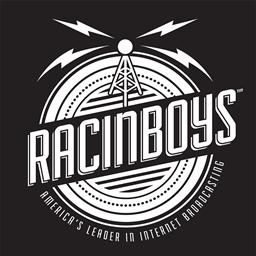 ---
Bacon tops Outlaw class during John Hinck Championship at Sweet Springs
By Chris Hale (Sweet Springs, MO) -- Two-time USAC sprint car champion Brady Bacon scored a win for the Hinck family by taking their Outlaw micro to the $2500 victory at the 5th annual John Hinck Championship.
PHOTO CREDIT: Chris Hale
Bacon started 4th on the grid and after 2 red flags before the first lap could be completed Bacon moved to the outside front row. When the green flag dropped he took off to a big lead. While Bacon battled lapped traffic, Garrett Williamson, Tom Curran and Kameron Key raced hard behind him. All 4 of these drivers are Sweet Springs veterans with Williamson and Curran still racing there often.
Williamson and Curran rounded out the Podium. Key came in 4th in another Hinck family-owned car.
The micro's will take next Saturday off to make room for a tractor pull at the Sweet Springs Motorsports Complex.
Our regular show of micro's will return on Saturday July 28th
See you there!
7/15/2018 at Sweet Springs Motorsports Complex
Outlaw
A Feature 1 (25 Laps): 1. 21L-Brady Bacon, 23:27.027[4]; 2. 3G-Garet Williamson, 23:32.249[1]; 3. 11-Tom Curran, 23:32.734[6]; 4. 21J-Kameron Key, 23:33.379[8]; 5. 93X-Matt Carr, 23:33.655[3]; 6. 71S-Austin Schaeffer, 23:34.502[7]; 7. 98P-Miles Paulus, 23:35.024[9]; 8. 11G-Riley Goodno, 23:35.610[5]; 9. 12-Frank Galusha, 23:36.271[20]; 10. 2-Chase Porter, 23:36.771[10]; 11. 4-Nathan Benson, 23:37.545[11]; 12. 14H-Harley Hollan, 23:38.056[16]; 13. 51B-Joe B. Miller, 23:39.058[21]; 14. 9P-Daison Pursley, 23:39.152[13]; 15. 17-Quinn Jones, 23:39.526[14]; 16. 28-Gunner Ramey, 23:40.314[12]; 17. 73J-Jack Wagner, 23:42.949[19]; 18. 4C-Brendon Clark, 23:27.890[24]; 19. 88K-Kelsey Gray, 23:30.718[15]; 20. 99A-Alex Owen, 23:31.040[22]; 21. 3J-Jordan Howell, 23:31.603[18]; 22. (DNF) 47R-Tyler Rennison, 22:08.170[23]; 23. (DNF) 2S-Cooper Smith, 21:56.221[17]; 24. (DNF) 44K-Tucker Klaasmeyer, 18:26.728[2]
B Feature 1 (12 Laps): 1. 2S-Cooper Smith, [2]; 2. 73J-Jack Wagner, [4]; 3. 51B-Joe B. Miller, [3]; 4. 47R-Tyler Rennison, [16]; 5. 26B-Nick Rasa, [1]; 6. 47B-Kyle Bellm, [7]; 7. 14T-Trey Schleicher, [5]; 8. 44T-Trevin Littleton, [15]; 9. 73S-Samuel Wagner, [11]; 10. 25-Logan Berthelson, [14]; 11. 35-Aubrey Smith, [10]; 12. 29-David Pyatt, [13]; 13. (DNF) 21-Dylan Kadous, [9]; 14. (DNF) 00-Cole Tinsley, [8]; 15. (DNF) 1S-Dustin Shaner, [12]; (DNS) 14-Tim Koch,
B Feature 2 (12 Laps): 1. 3J-Jordan Howell, 09:39.528[1]; 2. 12-Frank Galusha, 09:40.178[7]; 3. 99A-Alex Owen, 09:40.351[2]; 4. 4C-Brendon Clark, 09:41.021[4]; 5. 38-Jackson Frisbie, 09:42.242[8]; 6. 15U-Willie Urish, 09:42.591[6]; 7. 1-Matthew Howard, 09:43.222[10]; 8. 21H-Keegan Brewer, 09:43.715[12]; 9. 32K-Jamie Keltz, 09:44.065[13]; 10. 44-Branigan Roark, 09:44.065[9]; 11. 14X-Christian Ray, 09:44.065[3]; 12. (DNF) 88G-Garrett Hulsey, 09:44.065[5]; 13. (DNF) 88J-Tyler Key, 09:44.065[11]; (DNS) 93-John Simpson, 09:44.065; (DNS) 27N-Nathan Brookshier, 09:44.065
Heat 1 (8 Laps): 1. 21J-Kameron Key, [1]; 2. 9P-Daison Pursley, [3]; 3. 93X-Matt Carr, [8]; 4. 27N-Nathan Brookshier, [5]; 5. 51B-Joe B. Miller, [7]; 6. 73J-Jack Wagner, [9]; 7. 35-Aubrey Smith, [6]; 8. 73S-Samuel Wagner, [2]; 9. 88J-Tyler Key, [10]; 10. 25-Logan Berthelson, [4]
Heat 2 (8 Laps): 1. 98P-Miles Paulus, [1]; 2. 71S-Austin Schaeffer, [4]; 3. 4-Nathan Benson, [6]; 4. 11G-Riley Goodno, [10]; 5. 4C-Brendon Clark, [2]; 6. 00-Cole Tinsley, [5]; 7. 12-Frank Galusha, [8]; 8. 1-Matthew Howard, [3]; 9. 21H-Keegan Brewer, [9]; 10. 32K-Jamie Keltz, [7]
Heat 3 (8 Laps): 1. 2-Chase Porter, [1]; 2. 17-Quinn Jones, [2]; 3. 28-Gunner Ramey, [6]; 4. 99A-Alex Owen, [3]; 5. 2S-Cooper Smith, [8]; 6. 15U-Willie Urish, [4]; 7. 47B-Kyle Bellm, [9]; 8. 1S-Dustin Shaner, [7]; 9. 29-David Pyatt, [5]
Heat 4 (8 Laps): 1. 44K-Tucker Klaasmeyer, [3]; 2. 88K-Kelsey Gray, [1]; 3. 11-Tom Curran, [7]; 4. 26B-Nick Rasa, [6]; 5. 14-Tim Koch, [2]; 6. 14X-Christian Ray, [8]; 7. 21-Dylan Kadous, [5]; 8. (DNF) 44T-Trevin Littleton, [9]; 9. (DNF) 93-John Simpson, [4]
Heat 5 (8 Laps): 1. 21L-Brady Bacon, [2]; 2. 3G-Garet Williamson, [6]; 3. 3J-Jordan Howell, [3]; 4. 14H-Harley Hollan, [7]; 5. 88G-Garrett Hulsey, [4]; 6. 14T-Trey Schleicher, [8]; 7. 38-Jackson Frisbie, [5]; 8. 44-Branigan Roark, [1]; 9. (DNF) 47R-Tyler Rennison, [9]
Powered by MyRacePass
---
Submitted By: Kirk Elliott
Back to News