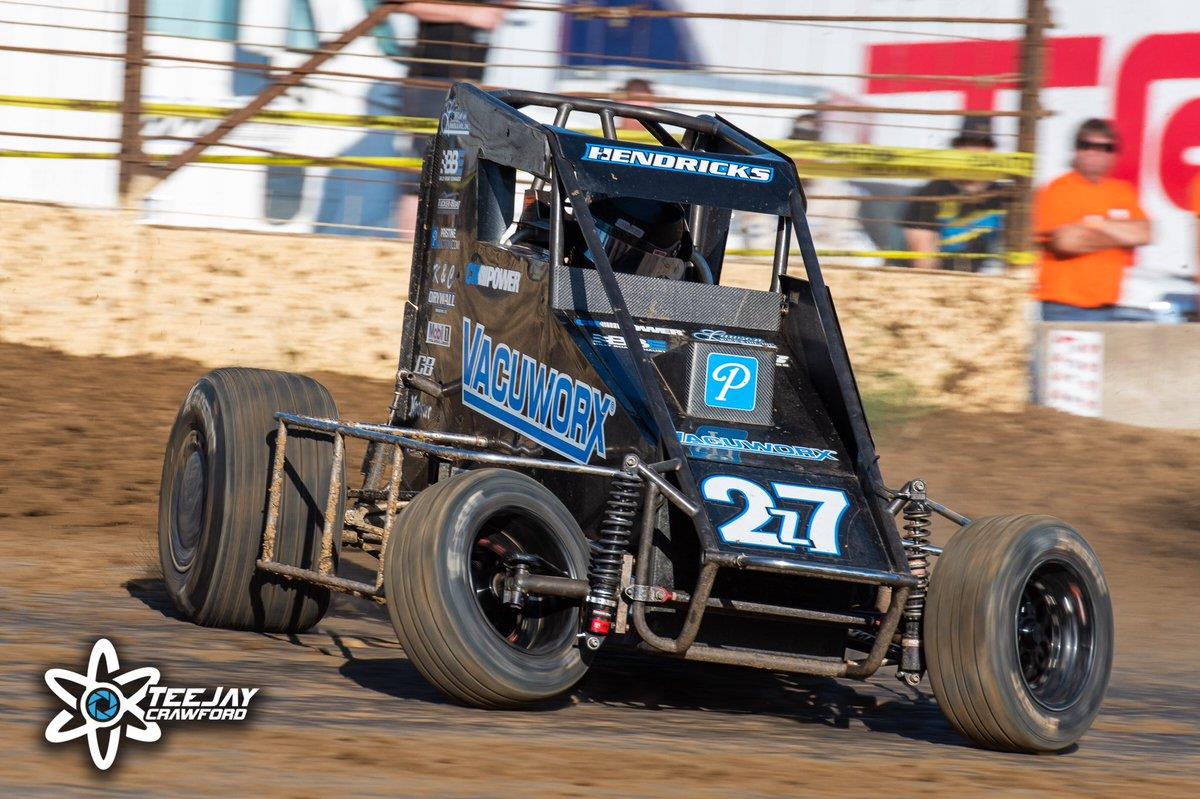 7/18/2018
Inside Line Promotions
---
Hendricks Shows Improvement During Four Nights of USAC Racing
(Photo by TeeJay Crawford)
Inside Line Promotions – SWEET SPRINGS, Mo. (July 18, 2018) – Zane Hendricks showed improvement throughout four nights of action with the USAC P1 Insurance National Midgets during the last week when the 18-year-old qualified for the main event each night and displayed speed in his Tucker-Boat Motorsports ride.
"Overall, it was a pretty good week," said Hendricks, who competed at three tracks for the first time during Mid-America Midget Week. "I didn't have the finishes I wanted, but we made the feature every night and I didn't tear a whole lot up.
"I've always struggled a bit on slick tracks and we had a slick track each night last week so I need to get better on those. And I need to qualify a little better, which would make the feature easier. But we're definitely moving in the right direction."
The only track of the four that Hendricks had previously raced on was Red Dirt Raceway in Meeker, Okla. – the site of a race a week ago Tuesday.
"Red Dirt is about 30 minutes from home," he said. "I've raced there three or four times and it was definitely a big help in qualifying when I qualified third.
"But in the heat race a car spun out in front of me. I couldn't see him until it was too late due to the dust and sun in my eyes. My car was too damaged to continue. We qualified for the A Main through the B Main. I struggled to find grip anywhere on the track and lost my brakes about halfway through the race so I just tried to the save the car and we finished 19th."
Hendricks started on the front row of his heat race and won it the following night at Solomon Valley Raceway in Beloit, Kan.
"It was good to win the heat, but I didn't qualify real well (17th of 27) so I started 16th in the feature," he said. "I was running pretty well until I hit a rut. I managed to save it, but it broke a shock and I ended up finishing 16th."
Hendricks got off to a difficult start Saturday night at Jefferson County Speedway in Fairbury, Neb.
"I had a mechanical issue on my first lap of qualifying and the car died," he said. "We were able to fix it, but we had to go out last and only got one lap. Then the track was really slick in the heat race. I spun out, but I was still able to finish fifth and transfer to the A.
"The track was a lot better in the feature. I started 13th and clipped a tractor tire on the inside of the track and tipped over, but the car was fine. I drove back up to 11th and then clipped another tire and bent the steering, ending our night. It was unfortunate because that was the best car we had all week. I made a couple of mistakes and it cost us some parts and a good finish."
The busy week wrapped up on Sunday at Sweet Springs Motorsports Complex, where Hendricks qualified 19th, finished third in a heat race and started 15th in the A Main.
"I qualified okay for going out late," he said. "The A Main got really slick. My right rear bleeder stuck and the brakes didn't work all the time. I started out decent, but faded toward the end with the brake issues while the car got really loose due to the bleeder not working. It wasn't the result I wanted, but I didn't tear anything up either. It was good to make it through four nights of racing with some better results and luck than we had earlier this year."
QUICK RESULTS –
July 10 – Red Dirt Raceway in Meeker, Okla. – Qualifying: 3; Heat race: DNF (-); B Main: 5 (-); Feature: 19 (8).
July 11 – Solomon Valley Raceway in Beloit, Kan. – Qualifying: 17; Heat race: 1 (-); Feature: 16 (16).
July 14 – Jefferson County Speedway in Fairbury, Neb. – Qualifying: 13; Heat race: 5 (-); Feature: 20 (13).
July 15 – Sweet Springs Motorsports Complex in Sweet Springs, Mo. – Qualifying: 19; Heat race: 3 (-); Feature: 20 (15).
SEASON STATS –
16 races, 0 wins, 1 top five, 2 top 10s, 2 top 15s, 7 top 20s
UP NEXT –
TBD
MEDIA LINKS –
Website: http://www.ZaneHendricks.com
Twitter: https://twitter.com/hendricks_zane
Facebook: https://www.facebook.com/Zanehendricksracing/
SPONSOR SPOTLIGHT – Momentum Racing Suspensions
Momentum Racing Suspensions is a racing suspension company that specializes in building and rebuilding shocks for the racing industry. The company is owned by Brad Benic, a leader in the industry who has been around racing his entire life and in the suspension business since 1995. For more information, visit http://www.MomentumRacingSuspensions.com.
"Brad Benic's customer service is one of the best out there," Hendricks said. "He's always open to any questions, trying something new, helping with setups. His turn-around times are great."
Hendricks would also like to thank Vacuworx, CK Power, Shorty's Machine Shop, BP Fab, Esslinger, Keizer Aluminum Wheels, Walker Performance Filtration, Eagle Motorsports, Intruder Chassis and Outlaw Wings for their continued support.
INSIDE LINE PROMOTIONS –
Inside Line Promotions specializes in affordable public relations and media management for motor sports drivers, teams, sponsors, tracks, series, events, organizations and manufacturers. ILP Founder Shawn Miller leverages professional journalism with new media technologies and social networking to improve your exposure and the return on investment for your sponsors.
To meet the media relations needs of your program by joining Team ILP, contact Shawn at 541-510-3663 or Shawn@InsideLinePromotions.com. For more information on Inside Line Promotions, visit http://www.InsideLinePromotions.com.
---
Article Credit: Inside Line Promotions
Submitted By: Shawn Miller
Back to News