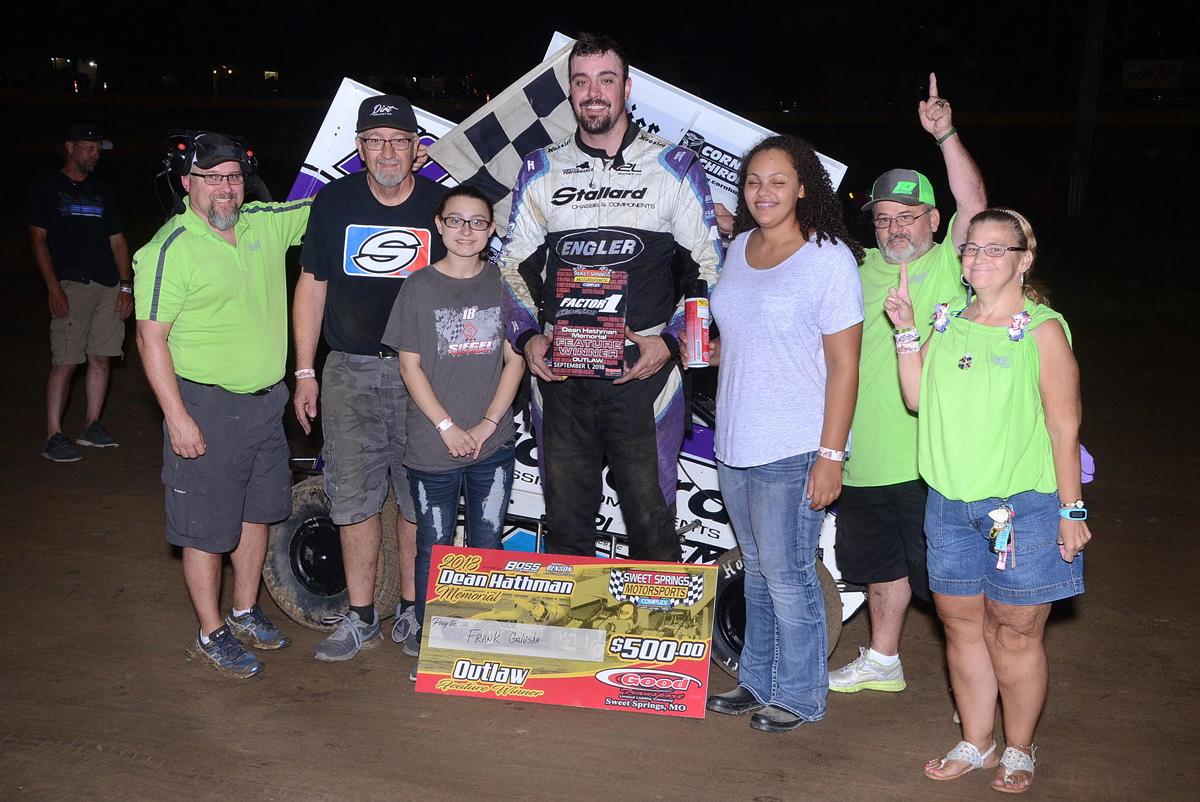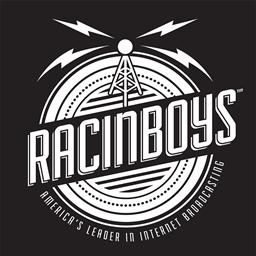 ---
Galusha wins Dean Hathman Memorial at Sweet Springs
By Chris Hale (Sweet Springs, MO) -- Once again the fans of the Sweet Springs Motorsports Complex were the winners. The first annual Dean Hathman Memorial was a huge success! With the pits full of some of the top Micro Sprint drivers in the country and prizes for the kids including 2 bicycles, the stage was set for an exciting night. SSMC would like to thank the entire Hathman family for their participation and support.
PHOTO: Outlaw winner Frank Galusha--CREDIT: Chris Hale
Delaney Jost and Tyler Rennison started on the front row of the Winged Outlaw main and set a torrid pace. Rennison was in the lead when he tangled with a lap car sending him to the pits. Jost took over the lead with Riley Goodno right on her bumper. While they put on great show, the star was coming fast. 10th-place-starting Frank Galusha was bringing the 11th-place-starter Jack Wagner through the field. Galusha caught and past Goodno and Jost for the win. Goodno got second and Wagner was third.
Braden Knipmeyer just edged out a surging Shawn Mahaffey at the line for the win in the Restrictor race. Chase Brown was a close third.
Tom Curran and Jackson Frisbie had a fun battle in the A class with Curran getting the win. Frisbie got second after repairing his car from a hard flip in his heat race. Garrett Hulsey rounded out the podium.
Tom Curran got his second win of the night by beating Dwayne Benson and Nathan Brookshier who also had to repair his car after a hard flip earlier in the night.
Garrett Benson overcame several caution flags to take the Junior main. Freddy Rowland and Chevy Boyer raced hard for the 2nd position with Boyer getting the spot.
Jarmey Martin got his 3rd win in a row in the Sportsman class. Eric Perkins and Daryl Perkins rounded out the podium.
Racing continues next Saturday with our weekly Micro Sprint show.
Go to http://www.sweetspringsracway.com for more information.
RESULTS
9/1/2018 at Sweet Springs Motorsports Complex
Outlaw
A Feature 1 (30 Laps): 1. 12-Frank Galusha, [10]; 2. 11G-Riley Goodno, [4]; 3. 73J-Jack Wagner, [11]; 4. 3J-Jordan Howell, [6]; 5. 28-Gunner Ramey, [9]; 6. 44-Branigan Roark, [7]; 7. 88G-Garrett Hulsey, [21]; 8. 99A-Alex Owen, [5]; 9. 38-Jackson Frisbie, [23]; 10. 26B-Nick Rasa, [20]; 11. 23C-Weston Miller, [12]; 12. 14T-Trey Schleicher, [19]; 13. 5K-Nathan Killion, [22]; 14. 1G-Garet Williamson, [14]; 15. 02-Austin Crane, [24]; 16. (DNF) 82-Jared Klubunde, [18]; 17. (DNF) 23T-Travis Rewerts, [3]; 18. (DNF) 35-Aubrey Smith, [8]; 19. (DNF) 14-Tim Koch, [13]; 20. (DNF) 2S-Cooper Smith, [15]; 21. (DNF) 17-Quinn Jones, [17]; 22. (DNF) 47R-Tyler Rennison, [1]; 23. (DNF) 56H-Dean Hathman, [16]; (DQ) 25J-Delaney Jost, [2]
B Feature 1: 1. 88G-Garrett Hulsey, [2]; 2. 5K-Nathan Killion, [3]; 3. 38-Jackson Frisbie, [7]; 4. 02-Austin Crane, [1]; 5. 1S-Dustin Shaner, [6]; 6. 27J-Justin Johnson, [4]; 7. 73S-Samuel Wagner, [5]
Heat 1 (10 Laps): 1. 23T-Travis Rewerts, [1]; 2. 35-Aubrey Smith, [2]; 3. 23C-Weston Miller, [3]; 4. 14-Tim Koch, [4]; 5. 28-Gunner Ramey, [9]; 6. 17-Quinn Jones, [6]; 7. 26B-Nick Rasa, [5]; 8. 88G-Garrett Hulsey, [7]; 9. 73S-Samuel Wagner, [8]
Heat 2 (10 Laps): 1. 25J-Delaney Jost, [2]; 2. 99A-Alex Owen, [3]; 3. 12-Frank Galusha, [4]; 4. 11G-Riley Goodno, [8]; 5. 2S-Cooper Smith, [5]; 6. 82-Jared Klubunde, [1]; 7. 56H-Dean Hathman, [9]; 8. 27J-Justin Johnson, [6]; 9. (DNF) 38-Jackson Frisbie, [7]
Heat 3 (10 Laps): 1. 47R-Tyler Rennison, [6]; 2. 3J-Jordan Howell, [3]; 3. 44-Branigan Roark, [5]; 4. 1G-Garet Williamson, [4]; 5. 73J-Jack Wagner, [8]; 6. 14T-Trey Schleicher, [1]; 7. 02-Austin Crane, [2]; 8. 5K-Nathan Killion, [7]; 9. (DNF) 1S-Dustin Shaner, [9]
Restrictor
A Feature 1 (25 Laps): 1. 17K-Braden Knipmeyer, [1]; 2. 11K-Shawn Mahaffey, [4]; 3. 55-Chase Brown, [5]; 4. 18-Wyatt Siegel, [2]; 5. 3D-Xavier Doney, [11]; 6. 14B-Ace Bodenhamer, [3]; 7. 33T-Madelyn Fritz, [6]; 8. 33K-Landen Danuser, [13]; 9. 8K-Tyler Kuykendall, [12]; 10. 49-Tyler Devenport, [9]; 11. 94-Sophie Frazier, [10]; 12. 7A-Aaron Jesina, [14]; 13. 88-Aimery Turner, [8]; 14. 10-Chasity Younger, [7]; 15. 62K-Kaden Fritz, [15]
Heat 1 (10 Laps): 1. 11K-Shawn Mahaffey, [1]; 2. 14B-Ace Bodenhamer, [4]; 3. 33T-Madelyn Fritz, [2]; 4. 10-Chasity Younger, [3]; 5. 94-Sophie Frazier, [5]; 6. 49-Tyler Devenport, [8]; 7. 33K-Landen Danuser, [7]; 8. (DNF) 62K-Kaden Fritz, [6]
Heat 2 (10 Laps): 1. 55-Chase Brown, [1]; 2. 17K-Braden Knipmeyer, [5]; 3. 18-Wyatt Siegel, [7]; 4. 88-Aimery Turner, [2]; 5. 3D-Xavier Doney, [4]; 6. 8K-Tyler Kuykendall, [3]; 7. 7A-Aaron Jesina, [6]
A Class
A Feature 1 (25 Laps): 1. 11X-Tom Curran, [1]; 2. 38-Jackson Frisbie, [5]; 3. 88G-Garrett Hulsey, [3]; 4. 11G-Riley Goodno, [2]; 5. 48S-Trey Schleicher, [13]; 6. 25M-Dustin March, [4]; 7. 47R-Tyler Rennison, [10]; 8. 15S-Cale Schaaf, [7]; 9. 22-Dylan Pendergrass, [9]; 10. 7K-Kenton Brewer, [6]; 11. 24K-Sean Killion, [8]; 12. 6T-Mark Tracy, [12]; 13. (DNF) 16W-Weston Miller, [11]
Heat 1 (10 Laps): 1. 88G-Garrett Hulsey, [1]; 2. 11G-Riley Goodno, [4]; 3. 15S-Cale Schaaf, [2]; 4. 38-Jackson Frisbie, [6]; 5. 22-Dylan Pendergrass, [3]; 6. 47R-Tyler Rennison, [5]; 7. 16W-Weston Miller, [7]
Heat 2 (10 Laps): 1. 11X-Tom Curran, [6]; 2. 25M-Dustin March, [2]; 3. 7K-Kenton Brewer, [3]; 4. 24K-Sean Killion, [4]; 5. (DNF) 6T-Mark Tracy, [1]; (DNS) 48S-Trey Schleicher,
Non-Wing
A Feature 1 (30 Laps): 1. 11X-Tom Curran, [2]; 2. 35-Dwayne Benson, [3]; 3. 27N-Nathan Brookshier, [21]; 4. 41-Allan Koch, [5]; 5. 7K-Kenton Brewer, [10]; 6. 15-Kyran Keith, [15]; 7. 8-Brian Lunsford, [4]; 8. 94-Chris Koch, [9]; 9. 17K-Quinton Benson, [8]; 10. 35D-Dylan Sillman, [20]; 11. 44-Branigan Roark, [16]; 12. 27J-Justin Johnson, [17]; 13. 12N-Jacob McFarlin, [19]; 14. 25A-Morgan Dennis, [18]; 15. (DNF) 32K-Jamie Keltz, [7]; 16. (DNF) 56H-Dean Hathman, [6]; 17. (DNF) 1G-Garet Williamson, [1]; 18. (DNF) 1-Dustin Shaner, [14]; 19. (DNF) 11-Danny Billings, [13]; 20. (DNF) 52S-Jeremiah Sillman, [12]; (DNS) 47R-Tyler Rennison, ; (DNS) 27-Greg Dennis,
Heat 1 (10 Laps): 1. 11X-Tom Curran, [4]; 2. 32K-Jamie Keltz, [2]; 3. 41-Allan Koch, [5]; 4. 7K-Kenton Brewer, [6]; 5. 52S-Jeremiah Sillman, [7]; 6. (DNF) 27N-Nathan Brookshier, [3]; 7. (DNF) 35D-Dylan Sillman, [8]; (DNS) 27-Greg Dennis,
Heat 2 (10 Laps): 1. 8-Brian Lunsford, [1]; 2. 17K-Quinton Benson, [2]; 3. 94-Chris Koch, [4]; 4. 56H-Dean Hathman, [7]; 5. 15-Kyran Keith, [5]; 6. 44-Branigan Roark, [6]; 7. 12N-Jacob McFarlin, [3]
Heat 3 (10 Laps): 1. 1G-Garet Williamson, [5]; 2. 35-Dwayne Benson, [4]; 3. 47R-Tyler Rennison, [2]; 4. 1-Dustin Shaner, [1]; 5. 11-Danny Billings, [6]; 6. 27J-Justin Johnson, [3]; 7. 25A-Morgan Dennis, [7]
Jr. Sprint
A Feature 1 (17 Laps): 1. 2-Garrett Benson, [1]; 2. 25B-Chevy Boyer, [3]; 3. 5F-Freddy Rowland, [13]; 4. 17-Natalie Doney, [12]; 5. 10T-Talin Turner, [2]; 6. 2R-Remmington Butolph, [6]; 7. 97-Ashlyn Piburn, [4]; 8. 5L-Landon Jesina, [8]; 9. 8-Logun Lunsford, [14]; 10. 14L-Landon Muehlberger, [9]; 11. 99J-Jackson Atherton, [7]; 12. 87-Brody McClelland, [5]; 13. 9-Abigayle Lett, [10]; 14. (DNF) 46-Peyton White, [11]
Heat 1 (8 Laps): 1. 10T-Talin Turner, [3]; 2. 25B-Chevy Boyer, [5]; 3. 87-Brody McClelland, [4]; 4. 14L-Landon Muehlberger, [2]; 5. 5L-Landon Jesina, [6]; 6. 46-Peyton White, [7]; 7. 8-Logun Lunsford, [1]
Heat 2 (8 Laps): 1. 2-Garrett Benson, [7]; 2. 97-Ashlyn Piburn, [1]; 3. 99J-Jackson Atherton, [2]; 4. 2R-Remmington Butolph, [6]; 5. 9-Abigayle Lett, [4]; 6. 17-Natalie Doney, [3]; 7. 5F-Freddy Rowland, [5]
Sportsman
A Feature 1 (20 Laps): 1. 76-Jarmey Martin, [1]; 2. 55P-Eric Perkins, [3]; 3. 07P-Daryl Perkins, [2]; 4. 7X-KR Stolfus, [5]; 5. 9-Bill Killion, [7]; 6. 3D-Justin Dick, [8]; 7. (DNF) 32K-Noah Killion, [6]; 8. (DNF) 80R-Roger Newcomber, [4]
Heat 1 (10 Laps): 1. 76-Jarmey Martin, [1]; 2. 07P-Daryl Perkins, [2]; 3. 80R-Roger Newcomber, [3]; 4. 55P-Eric Perkins, [6]; 5. 7X-KR Stolfus, [7]; 6. 32K-Noah Killion, [5]; 7. 9-Bill Killion, [8]; 8. 3D-Justin Dick, [4]
Powered by MyRacePass
---
Submitted By: Kirk Elliott
Back to News