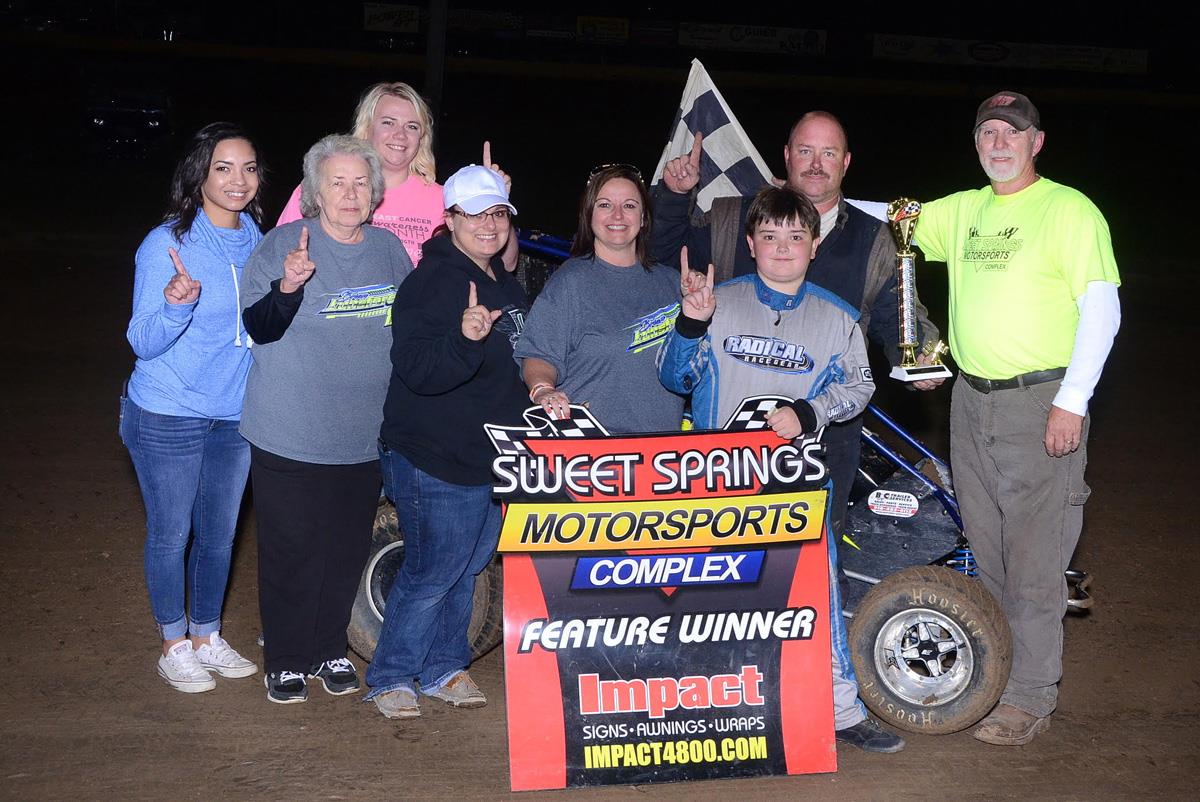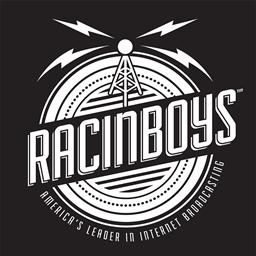 ---
Galusha, Lunsford among weekend winners at Sweet Springs
By Chris Hale (Sweet Springs, MO) -- Frank Galusha out of Lincoln Nebraska won the Winged Outlaw main but it wasn't an easy run. Late in the race Galusha's brakes went away with heavy lapped traffic ahead. This allowed Tyler Rennison, Willie Urish and Cooper Smith to close the gap. Smith got by Rennison and Urish to run down Galusha for one of the closest finishes of the season. Smith secured second place with Rennison coming in third.
PHOTO: Saturday Non-Wing winner Bob Lunsford--CREDIT: Chris Hale
Xavier Doney won the Restrictor main by taking advantage of first and second place Chase Brown and Braden Knipmeyer coming together. Knipmeyer was able to continue from the rear of the field but Brown was done for the night. Tyler Devenport and Tyler Kuykendall rounded out the podium.
Riley Goodno won the Winged A class main. A hard-charging Dustin March who started eleventh ran second. Tyler Rennison continued his good night with another third place finish.
Brian Lunsford won the Non Winged main. Coming to the checkered flag, second place Garrett Hulsey jumped the cushion in turn three and took a wild tumble. Hulsey was OK but disappointed. On the restart Chris Koch, coming from the last row, passed Nathan Brookshier at the line to get second. Brookshier ran third.
Garrett Benson and Levi Hinck continued there dominance in the Junior Sprint class with Benson getting the win and Hinck getting second. Freddy Rowland was third.
Jarmey Martin was unstoppable in the Sportsman main getting his sixth win of the season. Daryl Perkins and Eric Perkins rounded out the podium.
SSMC finished the points season with 109 entries in the pits! Don't forget that October 11,12 and 13 is the Show-Me Showdown!
SATURDAY RESULTS
9/29/2018 at Sweet Springs Motorsports Complex
Outlaw
A Feature 1 (30 Laps): 1. 12-Frank Galusha, [1]; 2. 2S-Cooper Smith, [13]; 3. 47R-Tyler Rennison, [3]; 4. 99A-Alex Owen, [9]; 5. 15U-Willie Urish, [2]; 6. 17-Quinn Jones, [8]; 7. 23T-Travis Rewerts, [7]; 8. 35-Aubrey Smith, [16]; 9. 99-Robbie Johnson, [14]; 10. 27N-Nathan Brookshier, [19]; 11. 5K-Nathan Killion, [24]; 12. 27W-Matthew Watkins, [5]; 13. 2H-Luke Howard, [23]; 14. 27J-Justin Johnson, [15]; 15. 77W-Tyler Watkins, [12]; 16. (DNF) 12C-Jesse Crank, [6]; 17. (DNF) 82-Jared Klubunde, [10]; 18. (DNF) 11G-Riley Goodno, [11]; 19. (DNF) 44-Branigan Roark, [4]; 20. (DNF) 76-Kale Mueller, [17]; 21. (DNF) 14T-Trey Schleicher, [20]; 22. (DNF) 4R-Randy Roberts, [21]; 23. (DNF) 23P-David Pruett, [18]; (DNS) 15S-Cale Schaaf,
B Feature 1 (6 Laps): 1. 4R-Randy Roberts, [1]; 2. 15S-Cale Schaaf, [2]; 3. 2H-Luke Howard, [4]; 4. 5K-Nathan Killion, [6]; 5. 321-Chad Winfrey, [5]; 6. 29-David Pyatt, [3]
Heat 1 (10 Laps): 1. 47R-Tyler Rennison, 03:06.140[4]; 2. 82-Jared Klubunde, 03:09.605[2]; 3. 27W-Matthew Watkins, 03:10.004[6]; 4. 2S-Cooper Smith, 03:10.237[5]; 5. 11G-Riley Goodno, 03:10.617[9]; 6. 27N-Nathan Brookshier, 03:13.882[3]; 7. 14T-Trey Schleicher, 03:14.503[7]; 8. 2H-Luke Howard, 03:15.379[1]; 9. 15S-Cale Schaaf, 03:15.379[8]
Heat 2 (10 Laps): 1. 12-Frank Galusha, 06:56.747[9]; 2. 44-Branigan Roark, 06:57.609[5]; 3. 12C-Jesse Crank, 06:58.027[6]; 4. 99A-Alex Owen, 06:58.646[7]; 5. 77W-Tyler Watkins, 06:58.646[8]; 6. 23P-David Pruett, 06:58.646[4]; 7. 4R-Randy Roberts, 06:58.646[2]; 8. (DNF) 321-Chad Winfrey, 06:58.646[3]; 9. (DNF) 5K-Nathan Killion, 06:58.646[1]
Heat 3 (10 Laps): 1. 15U-Willie Urish, 02:27.584[6]; 2. 23T-Travis Rewerts, 02:28.665[3]; 3. 17-Quinn Jones, 02:30.175[5]; 4. 99-Robbie Johnson, 02:31.632[1]; 5. 27J-Justin Johnson, 02:32.125[4]; 6. 35-Aubrey Smith, 02:32.853[7]; 7. 76-Kale Mueller, 02:34.773[8]; 8. 29-David Pyatt, 02:36.869[2]
Restrictor
A Feature 1 (25 Laps): 1. 3D-Xavier Doney, 11:21.166[3]; 2. 49-Tyler Devenport, 11:26.541[4]; 3. 8K-Tyler Kuykendall, 11:26.738[9]; 4. 17K-Braden Knipmeyer, 11:26.824[2]; 5. 18-Wyatt Siegel, 11:28.245[5]; 6. 7A-Aaron Jesina, 11:29.063[8]; 7. 48-Hunter Creason, 11:29.839[7]; 8. 14B-Ace Bodenhamer, 11:30.613[12]; 9. 94-Sophie Frazier, 11:31.653[6]; 10. 84-Max Roseland, 11:32.401[10]; 11. 10-Chasity Younger, 11:21.545[11]; 12. (DNF) 55-Chase Brown, 01:54.473[1]
Heat 1 (10 Laps): 1. 3D-Xavier Doney, [1]; 2. 49-Tyler Devenport, [3]; 3. 94-Sophie Frazier, [2]; 4. 48-Hunter Creason, [4]; 5. 7A-Aaron Jesina, [6]; 6. 10-Chasity Younger, [5]
Heat 2 (10 Laps): 1. 55-Chase Brown, 05:03.747[4]; 2. 17K-Braden Knipmeyer, 05:04.571[6]; 3. 18-Wyatt Siegel, 05:07.465[3]; 4. 8K-Tyler Kuykendall, 05:07.879[1]; 5. 84-Max Roseland, 05:09.641[5]; 6. (DNF) 14B-Ace Bodenhamer, [2]
A Class
A Feature 1 (30 Laps): 1. 11G-Riley Goodno, 23:04.206[1]; 2. 25M-Dustin March, 23:05.342[11]; 3. 47R-Tyler Rennison, 23:05.439[2]; 4. 7K-Kenton Brewer, 23:06.759[9]; 5. 5-Brody Bay, 23:07.559[13]; 6. 48S-Trey Schleicher, 23:08.095[8]; 7. 2H-Luke Howard, 23:08.971[14]; 8. 20K-Kevin Ulmer, 23:09.107[16]; 9. 17A-Ernest Gonzales, 23:09.956[15]; 10. 24K-Sean Killion, 23:10.521[7]; 11. 4J-Jury Ellis, 23:11.119[12]; 12. 6T-Mark Tracy, 23:10.338[18]; 13. (DNF) 35-Aubrey Smith, 19:47.737[10]; 14. (DNF) 88G-Garrett Hulsey, 17:52.341[4]; 15. (DNF) 8-Gunner Bowden, 11:48.215[3]; 16. (DNF) 15S-Cale Schaaf, 01:16.539[5]; 17. (DNF) 41B-Shawn Holt, 01:21.038[17]; 18. (DNF) 21H-Keegan Brewer, 01:03.252[6]
Heat 1 (10 Laps): 1. 47R-Tyler Rennison, 03:54.503[1]; 2. 8-Gunner Bowden, 03:57.010[3]; 3. 48S-Trey Schleicher, 03:58.197[2]; 4. 15S-Cale Schaaf, 03:59.416[6]; 5. 4J-Jury Ellis, 04:00.949[4]; 6. 25M-Dustin March, 04:01.205[8]; 7. 2H-Luke Howard, 04:01.650[5]; 8. 5-Brody Bay, 04:02.499[9]; 9. 41B-Shawn Holt, 04:03.575[7]
Heat 2 (10 Laps): 1. 11G-Riley Goodno, 05:35.096[7]; 2. 88G-Garrett Hulsey, 05:35.639[2]; 3. 7K-Kenton Brewer, 05:36.813[1]; 4. 21H-Keegan Brewer, 05:38.564[6]; 5. 24K-Sean Killion, 05:42.299[8]; 6. 35-Aubrey Smith, 05:42.468[9]; 7. 17A-Ernest Gonzales, 05:43.335[4]; 8. 20K-Kevin Ulmer, 05:43.960[5]; 9. 6T-Mark Tracy, 05:46.159[3]
Non-Wing
A Feature 1 (30 Laps): 1. 8-Brian Lunsford, [14]; 2. 94-Chris Koch, [22]; 3. 27N-Nathan Brookshier, [10]; 4. 17K-Quinton Benson, [2]; 5. 7K-Kenton Brewer, [9]; 6. 41-Allan Koch, [16]; 7. 22-Jesse Pate, [4]; 8. 32K-Tyler Rennison, [8]; 9. 81B-Blake Bennington, [13]; 10. 27J-Justin Johnson, [6]; 11. 8B-Gunner Bowden, [11]; 12. 44-Branigan Roark, [17]; 13. 1-Charlie Crawford, [7]; 14. 35A-Aubrey Smith, [12]; 15. 15-Kyran Keith, [15]; 16. (DNF) 88G-Garrett Hulsey, [5]; 17. (DNF) 7JR-Gregory Bledsoe, [18]; 18. (DNF) 5-Brody Bay, [21]; 19. (DNF) 12N-Jacob McFarlin, [19]; 20. (DNF) 35-Dwayne Benson, [3]; 21. (DNF) 321-Chad Winfrey, [1]; 22. (DNF) 29-David Pyatt, [20]
Heat 1 (10 Laps): 1. 22-Jesse Pate, 04:21.215[1]; 2. 27J-Justin Johnson, 04:24.205[2]; 3. 321-Chad Winfrey, 04:24.405[8]; 4. 81B-Blake Bennington, 04:26.630[3]; 5. 8-Brian Lunsford, 04:26.815[6]; 6. 44-Branigan Roark, 04:27.418[5]; 7. 29-David Pyatt, 04:27.840[4]; 8. 11-Danny Billings, 02:55.949[7]
Heat 2 (10 Laps): 1. 17K-Quinton Benson, 02:40.861[2]; 2. 35-Dwayne Benson, 02:43.301[4]; 3. 27N-Nathan Brookshier, 02:45.115[1]; 4. 7K-Kenton Brewer, 02:45.762[5]; 5. 8B-Gunner Bowden, 02:49.016[7]; 6. 75-Travis Arnold, 02:22.976[8]; 7. 7JR-Gregory Bledsoe, 01:41.709[6]; (DQ) 94-Chris Koch, 01:41.709[3]
Heat 3 (10 Laps): 1. 88G-Garrett Hulsey, 02:37.147[1]; 2. 1-Charlie Crawford, 02:42.321[2]; 3. 32K-Tyler Rennison, 02:43.484[3]; 4. 35A-Aubrey Smith, 02:44.223[4]; 5. 15-Kyran Keith, 02:44.682[6]; 6. 41-Allan Koch, 02:46.026[8]; 7. 12N-Jacob McFarlin, 02:46.465[5]; 8. 5-Brody Bay, 01:17.074[7]
Jr. Sprint
A Feature 1 (20 Laps): 1. 2-Garrett Benson, 12:24.589[3]; 2. 21H-Levi Hinck, 12:25.245[6]; 3. 5F-Freddy Rowland, 12:25.667[8]; 4. 25B-Chevy Boyer, 12:27.276[5]; 5. 10T-Talin Turner, 12:27.560[7]; 6. 3P-Dane Palmer, 12:28.362[10]; 7. 2R-Remmington Butolph, 12:28.589[2]; 8. 5L-Landon Jesina, 12:29.326[11]; 9. 97-Ashlyn Piburn, 12:30.200[14]; 10. 72-Fisher Creason, 12:30.592[9]; 11. 8-Logun Lunsford, 12:31.081[15]; 12. 9-Abigayle Lett, 12:32.032[12]; 13. 14JR-Adam Paul, 12:34.095[13]; 14. 14L-Landon Muehlberger, 12:34.426[17]; 15. 74-Waylon Phillips, 12:35.382[18]; 16. (DNF) 46-Peyton White, 04:29.175[4]; 17. (DNF) 17-Natalie Doney, 04:12.666[1]; 18. (DNF) 75-Azalee Elliott, 01:02.441[16]
Heat 1 (8 Laps): 1. 21H-Levi Hinck, 02:23.937[1]; 2. 10T-Talin Turner, 02:29.829[3]; 3. 2R-Remmington Butolph, 02:32.279[8]; 4. 46-Peyton White, 02:32.279[9]; 5. 72-Fisher Creason, 02:32.279[4]; 6. 5L-Landon Jesina, 02:32.279[6]; 7. 97-Ashlyn Piburn, 02:32.279[5]; 8. 14L-Landon Muehlberger, 02:32.279[2]; 9. 74-Waylon Phillips, 02:32.279[7]
Heat 2 (8 Laps): 1. 2-Garrett Benson, [2]; 2. 17-Natalie Doney, [7]; 3. 25B-Chevy Boyer, [6]; 4. 5F-Freddy Rowland, [5]; 5. 3P-Dane Palmer, [1]; 6. 9-Abigayle Lett, [4]; 7. 8-Logun Lunsford, [3]; 8. 14JR-Adam Paul, [9]; 9. 75-Azalee Elliott, [8]
Sportsman
A Feature 1 (25 Laps): 1. 76-Jarmey Martin, 06:13.847[2]; 2. 07P-Daryl Perkins, 06:17.600[1]; 3. 55P-Eric Perkins, 06:18.399[4]; 4. 6-Robert Bledsoe, 06:19.024[6]; 5. 9-Bill Killion, 06:19.024[3]; 6. 32K-Noah Killion, 06:19.024[5]; 7. 80R-Roger Newcomber, 06:19.024[8]; 8. 31C-Shawn Holt, 06:19.024[7]; 9. 3D-Zachary Dick, 06:19.024[9]; 10. (DNF) 4E-Marcus Mendez, 06:19.024[10]; 11. (DNF) 69-Vince Williams, 06:19.024[11]
Heat 1 (10 Laps): 1. 07P-Daryl Perkins, [2]; 2. 9-Bill Killion, [3]; 3. 6-Robert Bledsoe, [1]; 4. 31C-Shawn Holt, [4]; 5. 80R-Roger Newcomber, [5]; 6. 3D-Zachary Dick, [6]
Heat 2 (10 Laps): 1. 76-Jarmey Martin, 05:57.517[1]; 2. 55P-Eric Perkins, 05:58.530[2]; 3. 32K-Noah Killion, 05:58.530[4]; 4. (DNF) 4E-Marcus Mendez, 05:58.530[5]; (DNS) 69-Vince Williams, 05:58.530
Powered by MyRacePass
FRIDAY RESULTS
9/28/2018 at Sweet Springs Motorsports Complex
Outlaw
A Feature 1 (25 Laps): 1. 15U-Willie Urish, [1]; 2. 11G-Riley Goodno, [5]; 3. 2S-Cooper Smith, [9]; 4. 47R-Tyler Rennison, [6]; 5. 12-Frank Galusha, [12]; 6. 17-Quinn Jones, [7]; 7. 14T-Trey Schleicher, [2]; 8. 12C-Jesse Crank, [3]; 9. 35-Aubrey Smith, [10]; 10. 82-Jared Klubunde, [11]; 11. 99-Robbie Johnson, [13]; 12. 27J-Justin Johnson, [4]; 13. (DNF) 23T-Travis Rewerts, [8]; (DNS) 4R-Randy Roberts, ; (DNS) 44-Branigan Roark,
Heat 1 (10 Laps): 1. 12C-Jesse Crank, [2]; 2. 11G-Riley Goodno, [3]; 3. 47R-Tyler Rennison, [4]; 4. 23T-Travis Rewerts, [1]; 5. 17-Quinn Jones, [6]; 6. 2S-Cooper Smith, [5]; 7. 35-Aubrey Smith, [7]; 8. 82-Jared Klubunde, [8]
Heat 2 (10 Laps): 1. 15U-Willie Urish, [7]; 2. 14T-Trey Schleicher, [5]; 3. 27J-Justin Johnson, [6]; 4. (DNF) 12-Frank Galusha, [3]; 5. (DNF) 99-Robbie Johnson, [2]; 6. (DNF) 4R-Randy Roberts, [1]; 7. (DNF) 44-Branigan Roark, [4]
Restrictor
A Feature 1 (25 Laps): 1. 17K-Braden Knipmeyer, [1]; 2. 55-Chase Brown, [7]; 3. 18-Wyatt Siegel, [3]; 4. 22M-Rees Moran, [4]; 5. 7A-Aaron Jesina, [6]; 6. 8K-Tyler Kuykendall, [12]; 7. 14B-Ace Bodenhamer, [9]; 8. 3D-Xavier Doney, [2]; 9. 94-Sophie Frazier, [11]; 10. 10-Chasity Younger, [8]; 11. 48-Hunter Creason, [5]; 12. (DNF) 49-Tyler Devenport, [10]
Heat 1 (10 Laps): 1. 3D-Xavier Doney, [1]; 2. 17K-Braden Knipmeyer, [4]; 3. 55-Chase Brown, [3]; 4. 10-Chasity Younger, [2]; 5. 14B-Ace Bodenhamer, [5]; 6. 94-Sophie Frazier, [6]
Heat 2 (10 Laps): 1. 18-Wyatt Siegel, [1]; 2. 22M-Rees Moran, [2]; 3. 48-Hunter Creason, [4]; 4. 7A-Aaron Jesina, [6]; 5. 49-Tyler Devenport, [3]; 6. 8K-Tyler Kuykendall, [5]
A Class
A Feature 1 (25 Laps): 1. 11G-Riley Goodno, [1]; 2. 88G-Garrett Hulsey, [2]; 3. 47R-Tyler Rennison, [3]; 4. 21H-Keegan Brewer, [9]; 5. 15S-Cale Schaaf, [11]; 6. 5-Brody Bay, [4]; 7. 35-Aubrey Smith, [15]; 8. 48S-Trey Schleicher, [6]; 9. 6T-Mark Tracy, [13]; 10. (DNF) 49-Tyler Devenport, [7]; 11. (DNF) 41B-Mackenzie Borchers, [14]; 12. (DNF) 14B-Willie Urish, [5]; 13. (DNF) 38-Kevin Frisbie, [12]; (DNS) 7K-Kenton Brewer, ; (DQ) 20K-Kevin Ulmer, [8]
Heat 1 (10 Laps): 1. 11G-Riley Goodno, [7]; 2. 47R-Tyler Rennison, [1]; 3. 14B-Willie Urish, [4]; 4. 21H-Keegan Brewer, [3]; 5. 48S-Trey Schleicher, [8]; 6. 38-Kevin Frisbie, [2]; 7. 6T-Mark Tracy, [5]; 8. (DNF) 35-Aubrey Smith, [6]
Heat 2 (10 Laps): 1. 88G-Garrett Hulsey, [2]; 2. 5-Brody Bay, [1]; 3. 49-Tyler Devenport, [3]; 4. 20K-Kevin Ulmer, [4]; 5. 7K-Kenton Brewer, [6]; 6. 15S-Cale Schaaf, [7]; 7. 41B-Mackenzie Borchers, [5]
Non-Wing
A Feature 1 (30 Laps): 1. 17K-Quinton Benson, [7]; 2. 88G-Garrett Hulsey, [4]; 3. 35-Dwayne Benson, [9]; 4. 8-Brian Lunsford, [2]; 5. 27N-Nathan Brookshier, [10]; 6. 81B-Blake Bennington, [3]; 7. 32K-Tyler Rennison, [1]; 8. 94-Chris Koch, [5]; 9. 75-Travis Arnold, [11]; 10. 15-Kyran Keith, [8]; 11. 12N-Jacob McFarlin, [14]; 12. 27J-Justin Johnson, [6]; 13. (DNF) 25-Logan Berthelson, [13]; 14. (DNF) 7JR-Gregory Bledsoe, [18]; 15. (DNF) 5-Brody Bay, [15]; 16. (DNF) 22-Jesse Pate, [12]; (DNS) 7K-Kenton Brewer, ; (DNS) 44-Branigan Roark,
Heat 1: 1. 8-Brian Lunsford, [2]; 2. 88G-Garrett Hulsey, [3]; 3. 32K-Tyler Rennison, [7]; 4. 15-Kyran Keith, [5]; 5. 27J-Justin Johnson, [9]; 6. 25-Logan Berthelson, [4]; 7. 12N-Jacob McFarlin, [6]; 8. (DNF) 44-Branigan Roark, [1]; 9. (DNF) 7K-Kenton Brewer, [8]
Heat 2: 1. 81B-Blake Bennington, [1]; 2. 94-Chris Koch, [3]; 3. 17K-Quinton Benson, [2]; 4. 35-Dwayne Benson, [5]; 5. 27N-Nathan Brookshier, [7]; 6. 75-Travis Arnold, [6]; 7. 22-Jesse Pate, [8]; 8. 5-Brody Bay, [9]; 9. (DNF) 7JR-Gregory Bledsoe, [4]
Jr. Sprint
A Feature 1 (17 Laps): 1. 2-Garrett Benson, [3]; 2. 25B-Chevy Boyer, [8]; 3. 17-Natalie Doney, [5]; 4. 2R-Remmington Butolph, [10]; 5. 3P-Dane Palmer, [7]; 6. 10T-Talin Turner, [6]; 7. 8-Logun Lunsford, [11]; 8. 46-Peyton White, [2]; 9. 72-Fisher Creason, [9]; 10. 14L-Landon Muehlberger, [14]; 11. 5L-Landon Jesina, [12]; 12. 9-Abigayle Lett, [15]; 13. 74-Waylon Phillips, [13]; 14. (DNF) 97-Ashlyn Piburn, [4]; 15. (DNF) 21H-Levi Hinck, [1]; (DNS) 99J-Jackson Atherton,
Heat 1 (8 Laps): 1. 21H-Levi Hinck, [6]; 2. 17-Natalie Doney, [4]; 3. 3P-Dane Palmer, [1]; 4. 10T-Talin Turner, [7]; 5. 2R-Remmington Butolph, [3]; 6. 14L-Landon Muehlberger, [2]; 7. 5L-Landon Jesina, [8]; 8. 9-Abigayle Lett, [5]
Heat 2 (8 Laps): 1. 2-Garrett Benson, [3]; 2. 46-Peyton White, [6]; 3. 97-Ashlyn Piburn, [7]; 4. 25B-Chevy Boyer, [2]; 5. 72-Fisher Creason, [4]; 6. 8-Logun Lunsford, [5]; 7. 74-Waylon Phillips, [8]; 8. (DNF) 99J-Jackson Atherton, [1]
Sportsman
A Feature 1 (25 Laps): 1. 76-Jarmey Martin, [1]; 2. 9-Bill Killion, [3]; 3. 55P-Eric Perkins, [2]; 4. 07P-Daryl Perkins, [4]; 5. 6-Robert Bledsoe, [6]; 6. 69-Vince Williams, [5]; 7. 31C-Shawn Holt, [8]; 8. 80R-Roger Newcomber, [9]; 9. (DNF) 4U-Gregory Bledsoe, [10]; 10. (DNF) 32K-Noah Killion, [7]
Heat 1 (10 Laps): 1. 76-Jarmey Martin, [1]; 2. 07P-Daryl Perkins, [2]; 3. 9-Bill Killion, [5]; 4. 55P-Eric Perkins, [8]; 5. 6-Robert Bledsoe, [3]; 6. 69-Vince Williams, [7]; 7. 32K-Noah Killion, [9]; 8. 80R-Roger Newcomber, [4]; 9. 31C-Shawn Holt, [10]; 10. (DNF) 4U-Gregory Bledsoe, [6]
Powered by MyRacePass
---
Submitted By: Kirk Elliott
Back to News