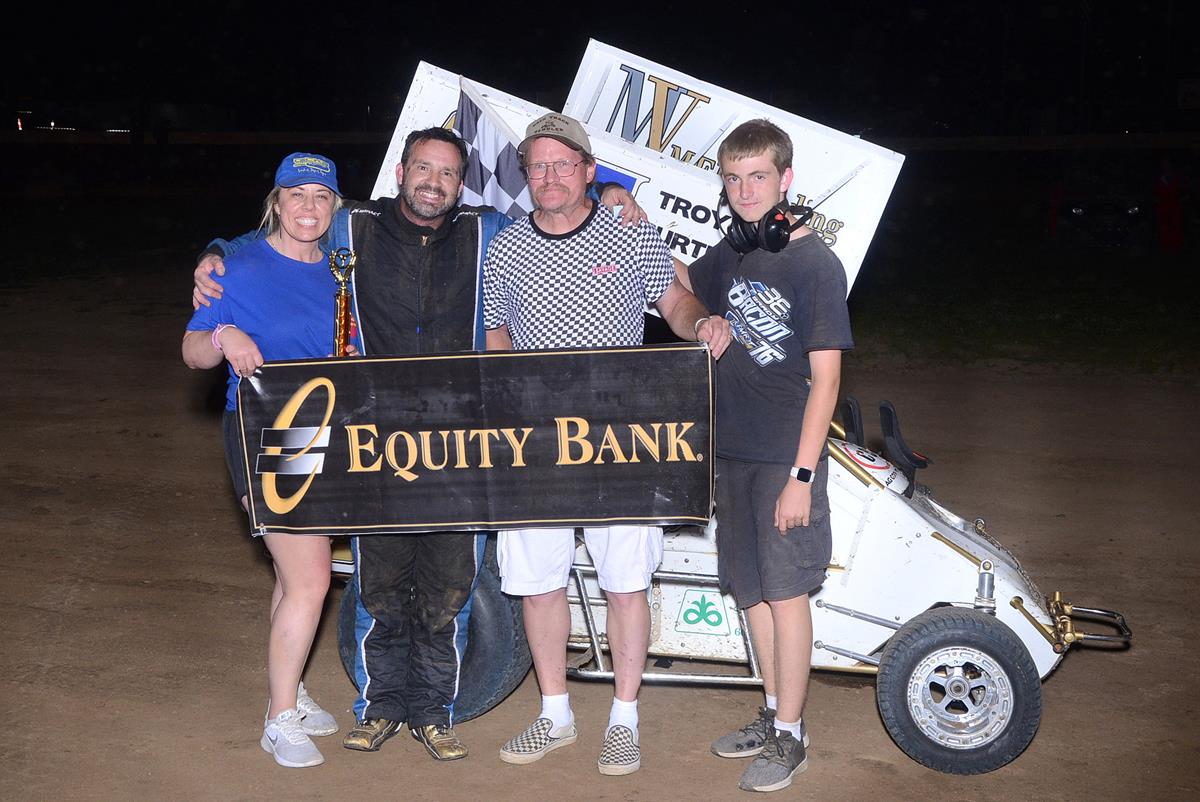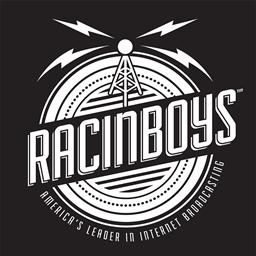 ---
Rennison, Brewer, Dick among Sweet Springs winners
By Chris Hale (Sweet Springs, MO) -- Saturday night Sweet Springs Motorsports Complex overcame several hurdles. Because of the delays, the patient crowd was treated to free popcorn and a trivia quiz thanks to our announcer Dan and free admittance to the next regular night of racing with their wrist band. Our giant shade trees behind the grandstand kept our fans cool.
In the Winged Outlaw class Tyler Rennison won from the pole while Aubrey Smith battled with Quinn Jones for the runner up position. Smith got by Jones and took to the cushion and proceeded to run down Rennison who was on the bottom. Smith came up just short with Jones taking 3rd place.
PHOTO: Justin Dick in Sportsman victory lane victory lane--CREDIT: Chris Hale photo
In the Restrictor class Garrett Benson raced from the 6th starting spot to get the win. A late restart let Sophie Frazier close the gap. Frazier came home a close 2nd with Tyler Kuykendall rounding out the podium.
Garrett Hulsey drove the Devenport number 49 to a win in the Winged Stock class. Chase Brown and Jackson Frisbie were close behind.
Kenton Brewer won a very tedious Non Winged main. Quinton Benson and Brian Lunsford followed Brewer across the line.
Jack Thomas raced hard with Peyton White and Natalie Doney for the Junior class win. White and Doney crossed the line in that order.
Justin Dick got his first win in the Sportsman class in impressive fashion by out-running Vince Williams and Jarmey Martin, both successful past winners in this class. Congratulations, Justin!
Don't forget that this Thursday July 4th through Saturday the 6th is the John Hinck Championship. This is a $20,000 to win Winged Outlaw race!
6/29/2019 at Sweet Springs Motorsports Complex
Outlaw
A Feature 1 (25 Laps): 1. 47R-Tyler Rennison, [1]; 2. 35-Aubrey Smith, [6]; 3. 17-Quinn Jones, [4]; 4. 27W-Matthew Watkins, [12]; 5. 48S-Trey Schleicher, [3]; 6. 15-Chris Koch, [10]; 7. 321-Chad Winfrey, [8]; 8. 26B-Nicholas Rasa, [5]; 9. 3TK-Tyler Key, [7]; 10. (DNF) 22-Jesse Pate, [9]; 11. (DNF) 3D-Mike Doney, [11]; 12. (DNF) 5K-Nathan Killion, [2]
Heat 1 (10 Laps): 1. 5K-Nathan Killion, [2]; 2. 26B-Nicholas Rasa, [1]; 3. 17-Quinn Jones, [5]; 4. 3TK-Tyler Key, [3]; 5. 15-Chris Koch, [4]; 6. 3D-Mike Doney, [6]
Heat 2 (10 Laps): 1. 48S-Trey Schleicher, [2]; 2. 47R-Tyler Rennison, [5]; 3. 35-Aubrey Smith, [4]; 4. 321-Chad Winfrey, [3]; 5. 22-Jesse Pate, [6]; 6. 27W-Matthew Watkins, [1]
Restrictor
A Feature 1 (25 Laps): 1. 2B-Garrett Benson, [6]; 2. 94-Sophie Frazier, [3]; 3. 8K-Tyler Kuykendall, [4]; 4. 45-Megan Thomas, [7]; 5. 14B-Ace Bodenhamer, [8]; 6. 22X-Ava Brown, [11]; 7. 12-Tyler Devenport, [5]; 8. 10-Chasity Younger, [2]; 9. 22-Remmington Butolph, [14]; 10. 9-Abigayle Lett, [12]; 11. 3-Gage Trube, [10]; 12. (DNF) 99D-Tucker Daly, [1]; (DNS) 3P-Dane Palmer, ; (DNS) 57-Cameron Sorrels,
Heat 1 (10 Laps): 1. 99D-Tucker Daly, [2]; 2. 94-Sophie Frazier, [4]; 3. 12-Tyler Devenport, [6]; 4. 2B-Garrett Benson, [5]; 5. 22X-Ava Brown, [3]; 6. 9-Abigayle Lett, [1]; 7. (DNF) 57-Cameron Sorrels, [7]
Heat 2 (10 Laps): 1. 10-Chasity Younger, [2]; 2. 8K-Tyler Kuykendall, [4]; 3. 45-Megan Thomas, [1]; 4. 14B-Ace Bodenhamer, [3]; 5. 3P-Dane Palmer, [5]; 6. 3-Gage Trube, [7]; 7. (DNF) 22-Remmington Butolph, [6]
A Class
A Feature 1 (25 Laps): 1. 49-Garrett Hulsey, [2]; 2. 55-Chase Brown, [5]; 3. 38-Jackson Frisbie, [15]; 4. 7K-Kenton Brewer, [11]; 5. 14B-Willie Urish, [10]; 6. 17K-Braden Knipmeyer, [3]; 7. 21H-Keegan Brewer, [1]; 8. 7A-Aaron Jesina, [14]; 9. 3D-Xavier Doney, [8]; 10. 24K-Sean Killion, [12]; 11. 27J-Justin Johnson, [7]; 12. 39G-Ernest Gonzales, [4]; 13. 15S-Cale Schaaf, [9]; 14. 20-Anthony Salmons, [6]; 15. (DNF) 7-Randy Roberts, [13]
Heat 1 (10 Laps): 1. 21H-Keegan Brewer, [6]; 2. 17K-Braden Knipmeyer, [5]; 3. 39G-Ernest Gonzales, [7]; 4. 14B-Willie Urish, [2]; 5. 20-Anthony Salmons, [8]; 6. (DNF) 7-Randy Roberts, [4]; 7. (DNF) 7A-Aaron Jesina, [3]; (DQ) 38-Jackson Frisbie, [1]
Heat 2 (10 Laps): 1. 55-Chase Brown, [1]; 2. 49-Garrett Hulsey, [7]; 3. 27J-Justin Johnson, [2]; 4. 3D-Xavier Doney, [4]; 5. 15S-Cale Schaaf, [6]; 6. 7K-Kenton Brewer, [5]; 7. 24K-Sean Killion, [3]
Non-Wing
A Feature 1 (30 Laps): 1. 7K-Kenton Brewer, [1]; 2. 17K-Quinton Benson, [6]; 3. 8-Brian Lunsford, [11]; 4. 3D-Xavier Doney, [4]; 5. 27N-Nathan Brookshier, [8]; 6. 81B-Blake Bennington, [5]; 7. 35-Aubrey Smith, [3]; 8. 5-Rudy Reyes, [16]; 9. 48S-Trey Schleicher, [10]; 10. 77-Kalap Pugh, [18]; 11. 41B-Mackenzie Borchers, [13]; 12. 73C-Martin Crabtree, [20]; 13. (DNF) 5B-Brody Bay, [14]; 14. (DNF) 22-Jesse Pate, [23]; 15. (DNF) 15S-Cale Schaaf, [9]; 16. (DNF) 14-Tim Koch, [2]; 17. (DNF) 27J-Justin Johnson, [21]; 18. (DNF) 18-Wyatt Siegel, [17]; 19. (DNF) 11-Danny Billings, [15]; 20. (DNF) 41-Allan Koch, [22]; 21. (DNF) 07G-Devin Gonzales, [19]; 22. (DNF) 321-Chad Winfrey, [7]; (DQ) 351-Dwayne Benson, [12]
Heat 1 (10 Laps): 1. 7K-Kenton Brewer, [5]; 2. 3D-Xavier Doney, [4]; 3. 14-Tim Koch, [8]; 4. 15S-Cale Schaaf, [6]; 5. 5-Rudy Reyes, [3]; 6. 18-Wyatt Siegel, [2]; 7. 27J-Justin Johnson, [1]; 8. 73C-Martin Crabtree, [7]
Heat 2 (10 Laps): 1. 35-Aubrey Smith, [2]; 2. 81B-Blake Bennington, [4]; 3. 48S-Trey Schleicher, [3]; 4. 8-Brian Lunsford, [5]; 5. 41B-Mackenzie Borchers, [6]; 6. 11-Danny Billings, [7]; 7. (DNF) 41-Allan Koch, [1]; (DQ) 22-Jesse Pate, [8]
Heat 3 (10 Laps): 1. 321-Chad Winfrey, [1]; 2. 17K-Quinton Benson, [4]; 3. 27N-Nathan Brookshier, [5]; 4. 351-Dwayne Benson, [3]; 5. 5B-Brody Bay, [6]; 6. 77-Kalap Pugh, [2]; 7. 07G-Devin Gonzales, [7]
Jr. Sprint
A Feature 1 (17 Laps): 1. 63-Jack Thomas, [1]; 2. 46-Peyton White, [4]; 3. 17-Natalie Doney, [3]; 4. 8-Logun Lunsford, [5]; 5. 74-Waylon Phillips, [8]; 6. 14L-Landon Muehlberger, [9]; 7. 99J-Jackson Atherton, [10]; 8. (DNF) 23T-Seth Thomas, [6]; 9. (DNF) 21H-Levi Hinck, [2]; 10. (DNF) 5L-Landon Jesina, [7]
Heat 1 (8 Laps): 1. 63-Jack Thomas, [6]; 2. 21H-Levi Hinck, [4]; 3. 17-Natalie Doney, [5]; 4. 46-Peyton White, [7]; 5. 8-Logun Lunsford, [3]; 6. 5L-Landon Jesina, [2]; 7. 23T-Seth Thomas, [8]; 8. 74-Waylon Phillips, [9]; 9. (DNF) 14L-Landon Muehlberger, [1]; (DQ) 99J-Jackson Atherton, [10]
Sportsman
A Feature 1 (25 Laps): 1. 3D-Justin Dick, [3]; 2. 4-Vince Williams, [1]; 3. 76-Jarmey Martin, [2]; 4. 7X-KR Stolfus, [7]; 5. 45-Zachary Dick, [8]; 6. 32K-Noah Killion, [13]; 7. 3-Jared Bledsoe, [10]; 8. 6-Robert Bledsoe, [4]; 9. 80R-Roger Newcomber, [11]; 10. (DNF) 9-Bill Killion, [5]; 11. (DNF) 00-Jared Corn, [9]; 12. (DNF) 23B-Matt Botts, [6]; (DNS) 09B-Samuel Mendez, ; (DNS) 26-Marcus Mendez,
Heat 1 (10 Laps): 1. 76-Jarmey Martin, [3]; 2. 3D-Justin Dick, [4]; 3. 9-Bill Killion, [6]; 4. 45-Zachary Dick, [1]; 5. 3-Jared Bledsoe, [2]; 6. (DNF) 09B-Samuel Mendez, [7]; (DNS) 26-Marcus Mendez,
Heat 2 (10 Laps): 1. 4-Vince Williams, [5]; 2. 6-Robert Bledsoe, [4]; 3. 7X-KR Stolfus, [2]; 4. 23B-Matt Botts, [6]; 5. 80R-Roger Newcomber, [1]; 6. 00-Jared Corn, [7]; 7. (DNF) 32K-Noah Killion, [3]
Powered by MyRacePass
---
Submitted By: Kirk Elliott
Back to News