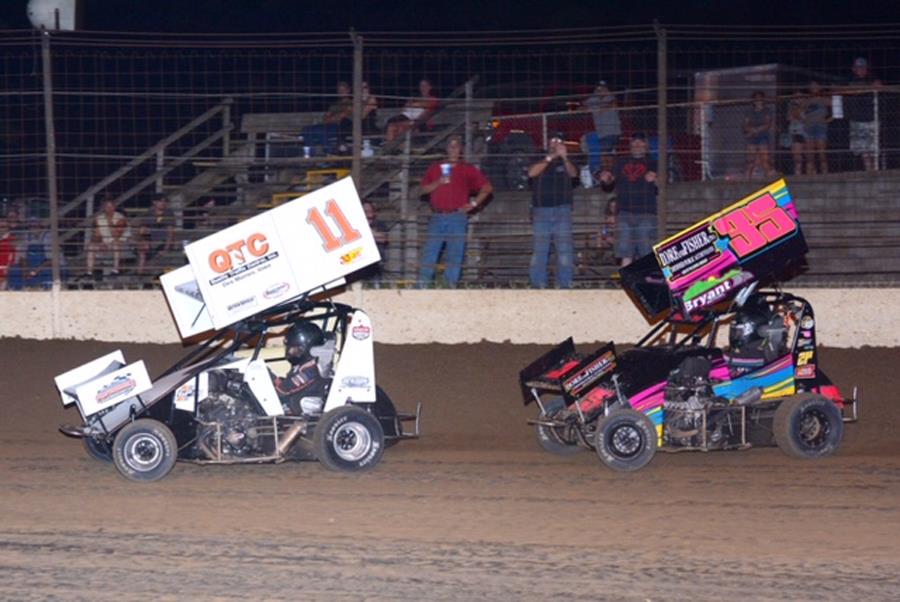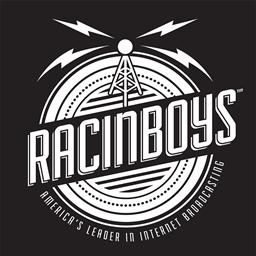 ---
Goodno shows the way at Sweet Springs
By Chris Hale (Sweet Springs, MO) -- W-K Chevrolet night at the races was a big success! The Restrictor class was the featured class on this night. With $250.00 to the winner, you knew the best Restrictor drivers would be on hand. Xavier Doney and Tyler Devenport led the field to the green flag. They barely made it to flag stand when cars began piling up behind them. On the restart Doney took the lead. While Doney was leading, a fierce battle ensued behind him. When the checkered flag flew, 10th-starting Tyler Kuykendall was second and Garrett Benson came up from the back to take third after being involved in the 1st lap tangle. Doney took home the big money.
PHOTO: Riley Goodno leading Aubrey Smith in the Outlaw feature --CREDIT: Liz Hale
Riley Goodno took home the win in the Winged Stock class with Jackson Frisbie and Kenton Brewer following close behind.
Talin Turner got his first win of the season in the Junior class. Jack Thomas was second with Waylon Phillips third. Peyton White appeared to have the race won when mechanical issues forced him into the infield.
Eric Perkins also got his first win of the season in the Sportsman class. Noah Killion, Vince Williams and Robert Bledsoe battled behind Perkins. Killion and Williams rounded out the podium.
The Winged Outlaws put on the show of the night. At the start of the race, Tyler Rennison and Quinn Jones got together and that sent them both to the rear of the field. Meanwhile, Riley Goodno took the low side and Aubrey Smith took to the cushion and the race was on! While these two fought for the lead, Jones and Rennison raced their way up to the front with both of them getting as high as second. When the dust settled it was Goodno with the win, Smith second and Jones third. Rennison came home a very close 4th place.
Don't miss the exciting action next Saturday night at the Sweet Springs Motorsports Complex!
RESULTS
7/27/2019 at Sweet Springs Motorsports Complex
Outlaw
A Feature 1 (30 Laps): 1. 11-Riley Goodno, [2]; 2. 35-Aubrey Smith, [7]; 3. 17-Quinn Jones, [1]; 4. 47R-Tyler Rennison, [3]; 5. 5K-Nathan Killion, [5]; 6. 48S-Trey Schleicher, [16]; 7. 15-Chris Koch, [4]; 8. 1-Dustin Shaner, [14]; 9. 41-Allan Koch, [6]; 10. 44-Branigan Roark, [10]; 11. 27J-Justin Johnson, [13]; 12. (DNF) 12C-Jesse Crank, [9]; 13. (DNF) 94-Toby Mullins, [8]; 14. (DNF) 21W-James Webb, [11]; 15. (DNF) 24K-Sean Killion, [12]; (DNS) 77-Kalap Pugh,
Heat 1 (10 Laps): 1. 11-Riley Goodno, [2]; 2. 47R-Tyler Rennison, [4]; 3. 35-Aubrey Smith, [3]; 4. 48S-Trey Schleicher, [5]; 5. 94-Toby Mullins, [6]; 6. 12C-Jesse Crank, [8]; 7. 24K-Sean Killion, [7]; 8. (DNF) 1-Dustin Shaner, [1]
Heat 2 (10 Laps): 1. 17-Quinn Jones, [5]; 2. 15-Chris Koch, [3]; 3. 5K-Nathan Killion, [4]; 4. 41-Allan Koch, [6]; 5. 44-Branigan Roark, [2]; 6. 27J-Justin Johnson, [1]; 7. 21W-James Webb, [8]; (DNS) 77-Kalap Pugh,
Restrictor
A Feature 1 (30 Laps): 1. 3D-Xavier Doney, [1]; 2. 8K-Tyler Kuykendall, [10]; 3. 2B-Garrett Benson, [6]; 4. 12-Tyler Devenport, [2]; 5. 94-Sophie Frazier, [13]; 6. 25B-Chevy Boyer, [4]; 7. 45-Megan Thomas, [7]; 8. 14B-Ace Bodenhamer, [8]; 9. 32K-Dylan Kelz, [14]; 10. 3P-Dane Palmer, [5]; 11. 49-Kayla Maulsby, [12]; 12. 10-Chasity Younger, [3]; 13. 22-Remmington Butolph, [11]; 14. 48-Hunter Creason, [16]; 15. (DNF) 9-Abigayle Lett, [18]; 16. (DNF) 17K-Braden Knipmeyer, [19]; 17. (DNF) 84-Max Roseland, [9]; 18. (DNF) 14L-Landon Muehlberger, [17]; 19. (DNF) 99D-Tucker Daly, [20]; (DNS) 3-Gage Trube,
Heat 1 (10 Laps): 1. 10-Chasity Younger, [5]; 2. 12-Tyler Devenport, [8]; 3. 3P-Dane Palmer, [7]; 4. 14B-Ace Bodenhamer, [6]; 5. 49-Kayla Maulsby, [1]; 6. 84-Max Roseland, [10]; 7. 32K-Dylan Kelz, [2]; 8. 3-Gage Trube, [4]; 9. (DNF) 99D-Tucker Daly, [3]; 10. (DNF) 17K-Braden Knipmeyer, [9]
Heat 2 (10 Laps): 1. 25B-Chevy Boyer, [4]; 2. 3D-Xavier Doney, [10]; 3. 45-Megan Thomas, [5]; 4. 2B-Garrett Benson, [8]; 5. 22-Remmington Butolph, [2]; 6. 8K-Tyler Kuykendall, [7]; 7. 94-Sophie Frazier, [6]; 8. 48-Hunter Creason, [3]; 9. 9-Abigayle Lett, [1]; 10. 14L-Landon Muehlberger, [9]
A Class
A Feature 1 (30 Laps): 1. 11G-Riley Goodno, [1]; 2. 38-Jackson Frisbie, [2]; 3. 7K-Kenton Brewer, [9]; 4. 88G-Garrett Hulsey, [4]; 5. 35-Aubrey Smith, [3]; 6. 14B-Willie Urish, [8]; 7. 17-Quinton Benson, [7]; 8. 17K-Braden Knipmeyer, [12]; 9. 3D-Xavier Doney, [6]; 10. 44-Branigan Roark, [19]; 11. 48S-Trey Schleicher, [11]; 12. 5-Brody Bay, [15]; 13. 21A-Jimmy Staton, [10]; 14. 24K-Sean Killion, [13]; 15. 21W-James Webb, [16]; 16. (DNF) 7A-Aaron Jesina, [5]; 17. (DNF) 27J-Justin Johnson, [20]; 18. (DNF) 21H-Keegan Brewer, [14]; 19. (DNF) 20-Anthony Salmons, [17]; (DNS) 77-Kalap Pugh,
Heat 1 (10 Laps): 1. 11G-Riley Goodno, [8]; 2. 7A-Aaron Jesina, [4]; 3. 3D-Xavier Doney, [6]; 4. 21A-Jimmy Staton, [3]; 5. 7K-Kenton Brewer, [7]; 6. 17K-Braden Knipmeyer, [5]; 7. 48S-Trey Schleicher, [10]; 8. 5-Brody Bay, [2]; 9. 20-Anthony Salmons, [1]; 10. 21W-James Webb, [9]
Heat 2 (10 Laps): 1. 38-Jackson Frisbie, [4]; 2. 35-Aubrey Smith, [6]; 3. 88G-Garrett Hulsey, [8]; 4. 14B-Willie Urish, [5]; 5. 17-Quinton Benson, [10]; 6. 24K-Sean Killion, [3]; 7. 21H-Keegan Brewer, [7]; 8. (DNF) 77-Kalap Pugh, [9]; 9. (DNF) 44-Branigan Roark, [2]; (DQ) 27J-Justin Johnson, [1]
Jr. Sprint
A Feature 1 (15 Laps): 1. 10T-Talin Turner, [3]; 2. 63-Jack Thomas, [4]; 3. 74-Waylon Phillips, [2]; 4. 5L-Landon Jesina, [8]; 5. 99J-Jackson Atherton, [6]; 6. 8-Logun Lunsford, [7]; 7. 23T-Seth Thomas, [9]; 8. (DNF) 46-Peyton White, [1]; 9. (DNF) 17-Natalie Doney, [5]
Heat 1 (8 Laps): 1. 74-Waylon Phillips, [3]; 2. 46-Peyton White, [9]; 3. 10T-Talin Turner, [6]; 4. 63-Jack Thomas, [8]; 5. 17-Natalie Doney, [7]; 6. 99J-Jackson Atherton, [1]; 7. 8-Logun Lunsford, [5]; 8. 5L-Landon Jesina, [4]; 9. 23T-Seth Thomas, [2]
Sportsman
A Feature 1 (25 Laps): 1. 55P-Eric Perkins, [1]; 2. 32K-Noah Killion, [2]; 3. 4-Vince Williams, [4]; 4. 6-Robert Bledsoe, [3]; 5. 3-Jared Bledsoe, [7]; 6. 00-Jared Corn, [12]; 7. 45-Zachary Dick, [10]; 8. 11-Joey Roberts, [9]; 9. (DNF) 07P-Daryl Perkins, [8]; 10. (DNF) 26-Marcus Mendez, [6]; 11. (DNF) 76-Jarmey Martin, [5]; 12. (DNF) 23B-Matt Botts, [11]; (DNS) 80R-Roger Newcomber,
Heat 1 (10 Laps): 1. 32K-Noah Killion, [3]; 2. 6-Robert Bledsoe, [5]; 3. 4-Vince Williams, [6]; 4. 07P-Daryl Perkins, [4]; 5. 23B-Matt Botts, [1]; 6. 11-Joey Roberts, [7]; (DNS) 80R-Roger Newcomber,
Heat 2 (10 Laps): 1. 55P-Eric Perkins, [4]; 2. 76-Jarmey Martin, [3]; 3. 3-Jared Bledsoe, [1]; 4. 26-Marcus Mendez, [5]; 5. 45-Zachary Dick, [2]; 6. 00-Jared Corn, [6]
Powered by MyRacePass
---
Submitted By: Kirk Elliott
Back to News