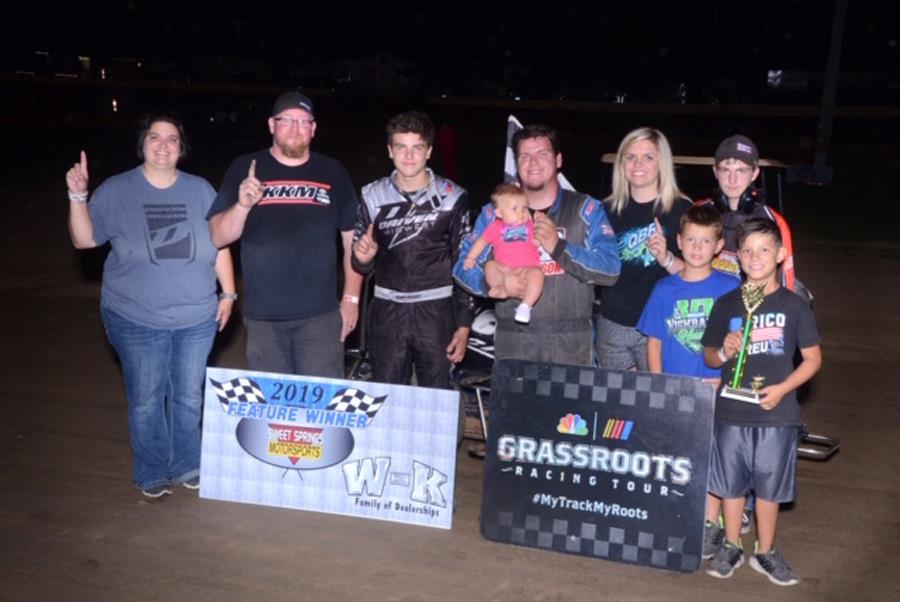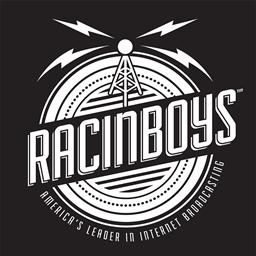 ---
Benson, Rennison headline at Sweet Springs
By Chris Hale (Sweet Springs, MO) -- With over 100 cars in the pits and a cool, humid August evening everyone anticipated a fun night at the race track.
Quinton Benson dominated the 31 car Non-Winged field by winning his heat race and the A feature. Nathan Brookshier ran both the cushion and the bottom but just couldn't get around Benson. Brookshier held off Dwayne Benson and Chris Koch for second. Dwayne Benson was third.
PHOTO: Quinton Benson (holding his new baby) in victory lane--CREDIT: Chris Hale
Once again Peyton White, Talin Turner and Jack Thomas had the cars to beat in the Junior class. White won with Turner second and Thomas third.
Jackson Frisbie won the Winged Stock feature with Tyler Rennison on his rear bumper for most of the race. They both flirted with disaster by running the big cushion all the way around the track. Willie Urish rounded out the podium.
Garrett Benson got out front in the Restrictor feature and didn't look back. Dane Palmer and Ace Bodenhamer had an exciting battle for second exchanging positions several times. Palmer got second with Bodenhamer a close third.
Eric Perkins and Jarmey Martin battled early in the Sportsman feature with Perkins getting the advantage and the win. Martin was second with Robert Bledsoe coming in third.
Tyler Rennison finished his good night of racing with a win in the Winged Outlaw feature after he ran second in the Winged A class. Jesse Crank and Quinn Jones raced hard for the second position with Crank getting the spot and Jones close behind.
Start making plans to come to Sweet Springs Motorsports Complex next Saturday night for more exciting Micro Sprint racing.
RESULTS
8/3/2019 at Sweet Springs Motorsports Complex
Outlaw
A Feature 1 (30 Laps): 1. 47R-Tyler Rennison, [1]; 2. 12C-Jesse Crank, [4]; 3. 17-Quinn Jones, [3]; 4. 48S-Trey Schleicher, [5]; 5. 3TK-Tyler Key, [7]; 6. 44-Branigan Roark, [12]; 7. 27J-Justin Johnson, [17]; 8. 22-Cahle Olsen, [10]; 9. 99-Robbie Johnson, [6]; 10. 23P-David Pruett, [8]; 11. (DNF) 38-Jackson Frisbie, [2]; 12. (DNF) 77W-Watkins Tyler, [11]; 13. (DNF) 5K-Nathan Killion, [9]; 14. (DNF) 27W-Matthew Watkins, [14]; 15. (DNF) 4R-Randy Roberts, [13]; (DNS) 1-Dustin Shaner, ; (DNS) 321-Chad Winfrey,
Heat 1 (10 Laps): 1. 12C-Jesse Crank, 07:18.198[2]; 2. 38-Jackson Frisbie, 07:18.435[7]; 3. 48S-Trey Schleicher, 07:20.099[6]; 4. 99-Robbie Johnson, 07:21.566[8]; 5. 77W-Watkins Tyler, 07:22.424[1]; 6. 44-Branigan Roark, 07:23.244[4]; 7. 22-Cahle Olsen, 07:24.383[9]; 8. 27W-Matthew Watkins, 01:34.866[3]; 9. 321-Chad Winfrey, 01:35.013[5]
Heat 2 (10 Laps): 1. 47R-Tyler Rennison, 07:16.740[7]; 2. 17-Quinn Jones, 07:18.238[6]; 3. 3TK-Tyler Key, 07:18.306[5]; 4. 5K-Nathan Killion, 07:21.509[4]; 5. 23P-David Pruett, 07:25.919[8]; 6. 4R-Randy Roberts, 06:30.567[1]; 7. (DNF) 1-Dustin Shaner, 02:37.777[3]; (DQ) 27J-Justin Johnson, 02:37.777[2]
Restrictor
A Feature 1 (25 Laps): 1. 2B-Garrett Benson, 11:33.836[2]; 2. 3P-Dane Palmer, 11:40.690[7]; 3. 14B-Ace Bodenhamer, 11:41.089[6]; 4. 45-Megan Thomas, 11:41.737[11]; 5. 22-Ava Brown, 11:42.690[9]; 6. 94-Sophie Frazier, 11:44.115[8]; 7. 32K-Dylan Kelz, 11:45.902[10]; 8. 12-Tyler Devenport, 11:46.842[13]; 9. 10-Chasity Younger, 11:48.189[1]; 10. 48-Hunter Creason, 11:48.410[4]; 11. 14L-Landon Muehlberger, 11:34.050[3]; 12. 9-Abigayle Lett, 11:34.547[5]; 13. 49-Kayla Maulsby, 11:40.183[12]
Heat 1 (10 Laps): 1. 14L-Landon Muehlberger, 03:45.945[1]; 2. 48-Hunter Creason, 03:46.239[3]; 3. 2B-Garrett Benson, 03:46.493[7]; 4. 3P-Dane Palmer, 03:49.542[6]; 5. 22-Ava Brown, 03:51.084[4]; 6. 45-Megan Thomas, 03:51.708[5]; 7. 49-Kayla Maulsby, 03:55.718[2]
Heat 2 (10 Laps): 1. 10-Chasity Younger, 03:41.509[3]; 2. 9-Abigayle Lett, 03:42.474[1]; 3. 14B-Ace Bodenhamer, 03:43.533[4]; 4. 94-Sophie Frazier, 03:44.996[5]; 5. 32K-Dylan Kelz, 03:46.689[2]; 6. (DNF) 12-Tyler Devenport, 03:30.013[6]
A Class
A Feature 1 (30 Laps): 1. 38-Jackson Frisbie, [1]; 2. 47R-Tyler Rennison, [2]; 3. 14B-Willie Urish, [3]; 4. 7K-Kenton Brewer, [5]; 5. 88G-Garrett Hulsey, [7]; 6. 2-Chase Porter, [4]; 7. 25M-Dustin March, [6]; 8. 7A-Aaron Jesina, [15]; 9. 3D-Xavier Doney, [11]; 10. 44-Samuel Holt, [18]; 11. 39G-Ernest Gonzales, [17]; 12. 15S-Cale Schaaf, [8]; 13. 21H-Keegan Brewer, [21]; 14. 21A-Jimmy Staton, [16]; 15. 20-Anthony Salmons, [20]; 16. 77-Kalap Pugh, [13]; 17. (DNF) 7-Tyler Key, [14]; 18. (DNF) 5-Brody Bay, [19]; 19. (DNF) 17K-Braden Knipmeyer, [12]; (DQ) 24K-Sean Killion, [9]; (DQ) 20K-Kevin Ulmer, [10]
Heat 1 (10 Laps): 1. 38-Jackson Frisbie, 06:27.399[5]; 2. 47R-Tyler Rennison, 06:27.932[7]; 3. 88G-Garrett Hulsey, 06:28.454[6]; 4. 3D-Xavier Doney, 06:28.988[4]; 5. 7A-Aaron Jesina, 06:29.123[3]; 6. 44-Samuel Holt, 06:29.853[1]; 7. 5-Brody Bay, 04:14.396[2]
Heat 2 (10 Laps): 1. 14B-Willie Urish, 04:33.483[4]; 2. 2-Chase Porter, 04:34.265[6]; 3. 25M-Dustin March, 04:37.635[7]; 4. 20K-Kevin Ulmer, 04:38.370[5]; 5. 21A-Jimmy Staton, 04:39.371[2]; 6. 39G-Ernest Gonzales, 04:40.276[3]; 7. 20-Anthony Salmons, 04:46.430[1]
Heat 3 (10 Laps): 1. 15S-Cale Schaaf, 03:55.530[1]; 2. 7K-Kenton Brewer, 03:56.144[5]; 3. 24K-Sean Killion, 03:57.974[2]; 4. 17K-Braden Knipmeyer, 03:58.967[3]; 5. 77-Kalap Pugh, 04:02.773[6]; 6. 7-Tyler Key, 04:02.773[7]; 7. (DNF) 21H-Keegan Brewer, 04:02.773[4]
Non-Wing
A Feature 1 (30 Laps): 1. 17K-Quinton Benson, [1]; 2. 27N-Nathan Brookshier, [2]; 3. 351-Dwayne Benson, [8]; 4. 15-Chris Koch, [15]; 5. 48S-Trey Schleicher, [9]; 6. 81B-Blake Bennington, [21]; 7. 75-Travis Arnold, [3]; 8. 7K-Kenton Brewer, [10]; 9. 27J-Justin Johnson, [14]; 10. 11K-Jamie Keltz, [11]; 11. 3D-Xavier Doney, [22]; 12. 41-Allan Koch, [19]; 13. 1-Charlie Crawford, [4]; 14. 15S-Cale Schaaf, [7]; 15. 10B-Rocky Bower, [24]; 16. 44-Branigan Roark, [17]; 17. (DNF) 5-Brody Bay, [23]; 18. (DNF) 18-Wyatt Siegel, [6]; 19. (DNF) 10-Thomas Hassler, [16]; 20. (DNF) 8-Brian Lunsford, [18]; 21. (DNF) 321-Chad Winfrey, [12]; 22. (DNF) 94-Toby Mullins, [20]; (DQ) 2-Chase Porter, [5]; (DQ) 88G-Garrett Hulsey, [13]
B Feature 1 (11 Laps): 1. 81B-Blake Bennington, 13:31.044[2]; 2. 3D-Xavier Doney, 13:32.197[1]; 3. 5-Brody Bay, 13:33.388[4]; 4. 10B-Rocky Bower, 13:34.369[5]; 5. 29-David Pyatt, 13:35.227[8]; 6. 21-James Webb, 13:40.485[11]; 7. 73C-Martin Crabtree, 13:33.426[7]; 8. (DNF) 6E-Shawn Holt, 10:32.637[6]; 9. (DNF) 24K-Sean Killion, 02:24.741[3]; 10. (DNF) 07G-Devin Gonzales, 02:26.467[9]; (DNS) 7JR-Gregory Bledsoe, 02:26.467
Heat 1 (10 Laps): 1. 75-Travis Arnold, 03:47.182[4]; 2. 11K-Jamie Keltz, 03:47.663[1]; 3. 351-Dwayne Benson, 03:48.639[6]; 4. 7K-Kenton Brewer, 03:48.639[7]; 5. 88G-Garrett Hulsey, 03:48.639[8]; 6. 5-Brody Bay, 03:48.639[3]; 7. 07G-Devin Gonzales, 03:48.639[2]; 8. 7JR-Gregory Bledsoe, 03:48.639[5]
Heat 2 (10 Laps): 1. 18-Wyatt Siegel, 04:22.716[2]; 2. 15S-Cale Schaaf, 04:23.082[4]; 3. 48S-Trey Schleicher, 04:23.485[5]; 4. 41-Allan Koch, 04:23.669[1]; 5. 15-Chris Koch, 04:24.031[7]; 6. 3D-Xavier Doney, 04:24.846[6]; 7. 6E-Shawn Holt, 04:26.111[3]; 8. 29-David Pyatt, 04:29.770[8]
Heat 3 (10 Laps): 1. 1-Charlie Crawford, [3]; 2. 27N-Nathan Brookshier, [7]; 3. 27J-Justin Johnson, [1]; 4. 10-Thomas Hassler, [4]; 5. 8-Brian Lunsford, [6]; 6. 81B-Blake Bennington, [5]; 7. 24K-Sean Killion, [8]; 8. (DNF) 21-James Webb, [2]
Heat 4 (10 Laps): 1. 17K-Quinton Benson, 02:44.666[6]; 2. 321-Chad Winfrey, 02:45.630[1]; 3. 2-Chase Porter, 02:45.845[7]; 4. 44-Branigan Roark, 02:47.476[4]; 5. 94-Toby Mullins, 02:49.664[5]; 6. 10B-Rocky Bower, 02:56.128[2]; 7. 73C-Martin Crabtree, 02:54.780[3]
Jr. Sprint
A Feature 1 (17 Laps): 1. 46-Peyton White, 20:54.496[2]; 2. 10T-Talin Turner, 20:55.057[4]; 3. 63-Jack Thomas, 20:59.171[1]; 4. 8-Logun Lunsford, 20:59.743[3]; 5. 5L-Landon Jesina, 21:00.787[6]; 6. 4-Hayden Alberson, 21:09.547[11]; 7. (DNF) 72-Fisher Creason, 20:35.695[9]; 8. (DNF) 17-Natalie Doney, 13:28.591[5]; 9. (DNF) 99J-Jackson Atherton, 13:36.261[8]; 10. (DNF) 23T-Seth Thomas, 12:47.624[10]; 11. (DNF) 5-Colton Crane, 02:04.524[7]
Heat 1 (8 Laps): 1. 63-Jack Thomas, 02:27.451[5]; 2. 8-Logun Lunsford, 02:32.037[3]; 3. 17-Natalie Doney, 02:32.460[4]; 4. 99J-Jackson Atherton, 02:33.626[2]; 5. 72-Fisher Creason, 02:37.626[1]; 6. 4-Hayden Alberson, 02:45.185[6]
Heat 2 (8 Laps): 1. 46-Peyton White, 02:29.987[4]; 2. 10T-Talin Turner, 02:31.706[3]; 3. 5L-Landon Jesina, 02:33.462[2]; 4. 5-Colton Crane, 02:35.843[5]; 5. 23T-Seth Thomas, 00:28.838[1]
Sportsman
A Feature 1 (25 Laps): 1. 55P-Eric Perkins, 14:58.206[1]; 2. 76-Jarmey Martin, 14:58.759[3]; 3. 6-Robert Bledsoe, 14:59.698[4]; 4. 07P-Daryl Perkins, 14:59.974[6]; 5. 45-Zachary Dick, 15:01.107[12]; 6. 00-Jared Corn, 15:01.965[13]; 7. 80R-Roger Newcomber, 15:02.521[9]; 8. 11-Joey Roberts, 15:02.918[8]; 9. 3-Jared Bledsoe, 15:03.279[11]; 10. (DNF) 23B-Matt Botts, 09:09.334[10]; 11. (DNF) 9-Nathan Killion, 05:18.517[2]; (DNS) 7X-KR Stolfus, 05:18.517; (DNS) 4-Vince Williams, 05:18.517; (DQ) 16B-Mackenzie Borchers, 05:18.517[5]
Heat 1 (18 Laps): 1. 16B-Mackenzie Borchers, 12:53.025[1]; 2. 76-Jarmey Martin, 12:54.237[5]; 3. 6-Robert Bledsoe, 12:54.648[6]; 4. 11-Joey Roberts, 12:56.764[4]; 5. 4-Vince Williams, 11:31.205[7]; 6. 3-Jared Bledsoe, 04:52.326[3]; 7. 00-Jared Corn, [2]
Heat 2 (18 Laps): 1. 55P-Eric Perkins, 04:13.470[6]; 2. 9-Nathan Killion, 04:15.038[7]; 3. 07P-Daryl Perkins, 04:15.515[5]; 4. 80R-Roger Newcomber, 04:16.457[2]; 5. 23B-Matt Botts, 04:16.606[1]; 6. 45-Zachary Dick, 04:16.913[3]; (DNS) 7X-KR Stolfus,
Powered by MyRacePass
---
Submitted By: Kirk Elliott
Back to News