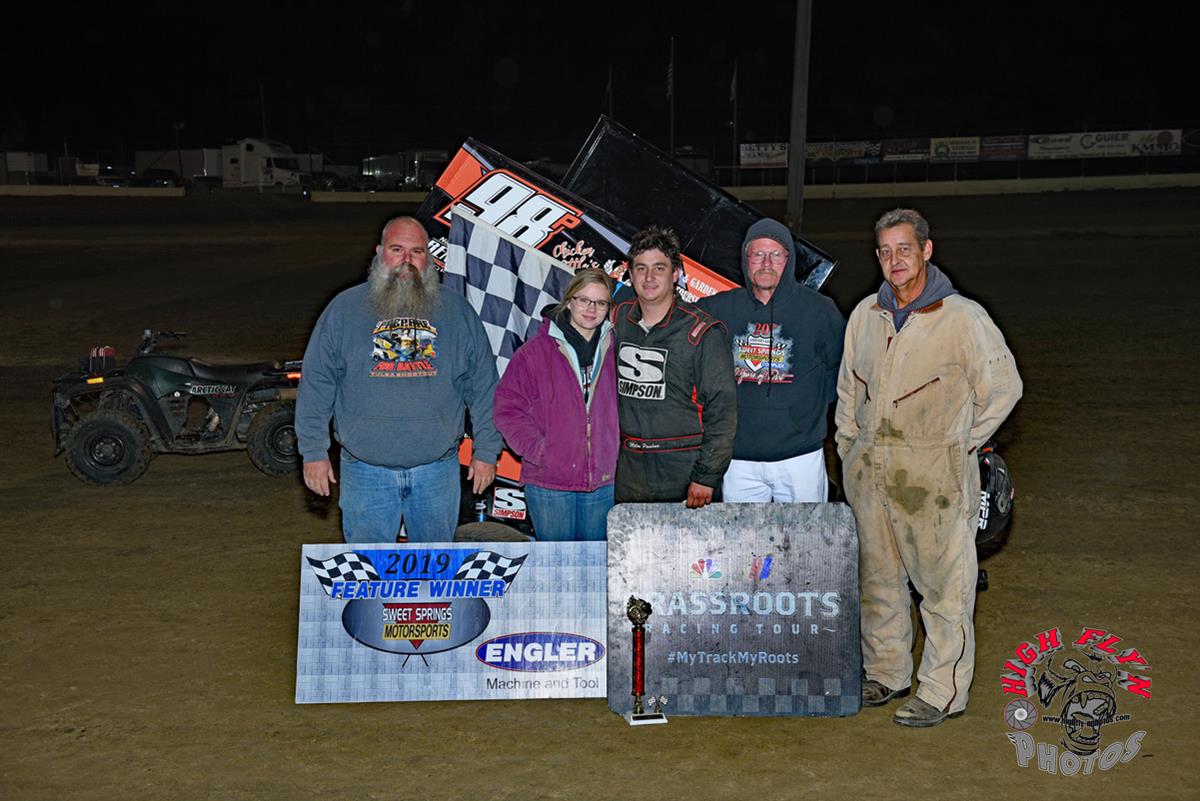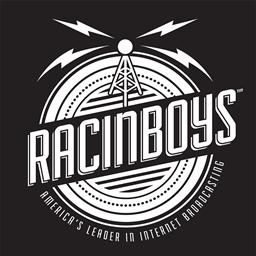 ---
Paulus, Koch shine during Sweet Springs Show-Me Showdown opener
(Sweet Springs, MO) -- Miles Paulus topped the opening night Outlaw main of the Show-Me Showdown at Sweet Springs Motorsports Complex.
Chris Koch captured top honors in the both Outlaw Non-Wing and non-wing
classes. Other preliminary winners were Xavier Doneyin Restrictor, Jackson Frisbie in A Class, Garrett Benson in Junior Sprints, Thomas Hassler in Sportsman.
Action continues on Sunday with hot laps beginning at 3:00 p.m.
10/12/2019 at Sweet Springs Motorsports Complex
Outlaw
A Feature 1 (25 Laps): 1. 98P-Miles Paulus, 10:33.526[5]; 2. 2B-Matthew Howard, 10:35.116[6]; 3. 2P-Chase Porter, 10:35.579[7]; 4. 47R-Tyler Rennison, 10:36.651[3]; 5. 17-Quinn Jones, 10:40.016[1]; 6. 1-Bryan Grimes, 10:40.921[11]; 7. 15-Jake Galusha, 10:41.544[12]; 8. 15U-Willie Urish, 10:42.891[8]; 9. 11-Riley Goodno, 10:43.657[13]; 10. 76-Kale Mueller, 10:45.235[16]; 11. 12-Frank Galusha, 10:45.376[2]; 12. 38-Jackson Frisbie, 10:45.668[10]; 13. 21G-Garth Kasiner, 10:46.077[9]; 14. 44-Branigan Roark, 10:46.786[14]; 15. 27W-David Pyatt, 10:40.520[20]; 16. 48S-Trey Schleicher, 10:48.195[17]; 17. 77W-Tyler Watkins, 10:39.182[21]; 18. 2-Ashley Williams, 10:37.427[23]; 19. (DNF) 5K-Nathan Killion, 09:22.976[19]; 20. (DNF) 18-Wyatt Siegel, 09:03.691[15]; 21. (DNF) 35-Aubrey Smith, 04:53.352[18]; 22. (DNF) 3TK-Tyler Key, 04:25.639[4]; (DNS) 5A-Alex Vande Voort, 04:25.639
B Feature 1 (15 Laps): 1. 11-Riley Goodno, 07:22.431[14]; 2. 44-Branigan Roark, 07:23.895[3]; 3. 18-Wyatt Siegel, 07:25.004[4]; 4. 76-Kale Mueller, 07:25.251[7]; 5. 48S-Trey Schleicher, 07:25.458[8]; 6. 35-Aubrey Smith, 07:25.667[2]; 7. 5K-Nathan Killion, 07:25.812[6]; 8. 27W-David Pyatt, 07:26.638[11]; 9. 77W-Tyler Watkins, 07:28.010[5]; 10. 5A-Alex Vande Voort, 07:29.201[13]; 11. 2-Ashley Williams, 07:29.662[12]
Heat 1 (8 Laps): 1. 3TK-Tyler Key, 03:38.153[5]; 2. 17-Quinn Jones, 03:38.482[7]; 3. 1-Bryan Grimes, 03:39.690[4]; 4. 2B-Matthew Howard, 03:40.267[6]; 5. 48S-Trey Schleicher, 03:44.510[2]; 6. 27W-David Pyatt, 03:46.234[1]; (DNS) 2S-Cooper Smith, 03:46.234
Heat 2 (8 Laps): 1. 18-Wyatt Siegel, 03:20.964[2]; 2. 21G-Garth Kasiner, 03:22.945[4]; 3. 98P-Miles Paulus, 03:23.367[6]; 4. 2P-Chase Porter, 03:24.197[5]; 5. 5K-Nathan Killion, 03:27.715[3]; 6. 2-Ashley Williams, 03:31.233[1]; (DNS) 1H-Nick Howard, 03:31.233
Heat 3 (8 Laps): 1. 12-Frank Galusha, 05:28.323[7]; 2. 76-Kale Mueller, 05:31.791[2]; 3. 44-Branigan Roark, 05:32.258[3]; 4. 38-Jackson Frisbie, 05:32.914[5]; 5. 35-Aubrey Smith, 05:33.578[4]; 6. 5A-Alex Vande Voort, 05:38.490[1]; (DNS) 11-Riley Goodno,
Heat 4 (8 Laps): 1. 47R-Tyler Rennison, 06:47.359[6]; 2. 15-Jake Galusha, 06:48.650[3]; 3. 77W-Tyler Watkins, 06:50.690[2]; 4. 7-Tyler Lee, 06:57.229[1]; 5. (DNF) 15U-Willie Urish, 01:52.761[5]; 6. (DNF) 40-Shain Kaiser, 01:51.208[4]
Qualifying 1: 1. 17-Quinn Jones, 00:11.494[13]; 2. 1H-Nick Howard, 00:11.571[8]; 3. 12-Frank Galusha, 00:11.595[20]; 4. 47R-Tyler Rennison, 00:11.640[22]; 5. 2B-Matthew Howard, 00:11.741[2]; 6. 98P-Miles Paulus, 00:11.753[3]; 7. 11-Riley Goodno, 00:11.811[12]; 8. 15U-Willie Urish, 00:11.867[15]; 9. 3TK-Tyler Key, 00:11.882[7]; 10. 2P-Chase Porter, 00:11.948[19]; 11. 38-Jackson Frisbie, 00:11.983[10]; 12. 40-Shain Kaiser, 00:12.000[1]; 13. 1-Bryan Grimes, 00:12.013[5]; 14. 21G-Garth Kasiner, 00:12.053[11]; 15. 35-Aubrey Smith, 00:12.141[14]; 16. 15-Jake Galusha, 00:12.161[18]; 17. 2S-Cooper Smith, 00:12.165[16]; 18. 5K-Nathan Killion, 00:12.205[4]; 19. 44-Branigan Roark, 00:12.270[24]; 20. 77W-Tyler Watkins, 00:12.288[23]; 21. 48S-Trey Schleicher, 00:12.321[27]; 22. 18-Wyatt Siegel, 00:12.379[9]; 23. 76-Kale Mueller, 00:12.457[21]; 24. 7-Tyler Lee, 00:12.622[17]; 25. 27W-David Pyatt, 00:12.701[25]; 26. 2-Ashley Williams, 00:12.781[6]; 27. 5A-Alex Vande Voort, 00:13.087[26]
Restrictor
A Feature 1 (25 Laps): 1. 3D-Xavier Doney, 48:06.502[1]; 2. 59M-Brody Mclaughlin, 48:07.265[4]; 3. 8K-Tyler Kuykendall, 48:07.545[18]; 4. 2B-Garrett Benson, 48:09.549[3]; 5. 94-Sophie Frazier, 48:10.309[5]; 6. 91-Jaxon Brenning, 48:11.329[11]; 7. 08E-Elizabeth Phillips, 48:11.423[6]; 8. 3P-Dane Palmer, 48:11.580[9]; 9. 45-Megan Thomas, 48:12.265[10]; 10. 17K-Braden Knipmeyer, 48:13.054[19]; 11. 78-Ethan Ayars, 48:08.463[2]; 12. 13-Evie Dean, 48:12.856[16]; 13. 25B-Chevy Boyer, 48:14.412[12]; 14. 49-Kayla Maulsby, 48:13.118[15]; 15. 9-Abigayle Lett, 48:14.397[22]; 16. (DNF) 14B-Ace Bodenhamer, 39:29.820[14]; 17. (DNF) 82H-Hunter Pruitt, 38:54.773[7]; 18. (DNF) 22-Remmington Butolph, 37:31.088[21]; 19. (DNF) 23K-Jordan Kluver, 24:29.605[8]; 20. (DNF) 14L-Landon Muehlberger, 20:18.800[17]; 21. (DNF) 66-Jayden Clay, 24:30.086[23]; 22. (DNF) 59-Evan Semerad, 20:11.876[25]; 23. (DNF) 4X-Kyan Hanson, 19:03.167[24]; 24. (DNF) 12-Tyler Devenport, [13]; (DNS) 46-Peyton White,
Heat 1 (8 Laps): 1. 3P-Dane Palmer, 05:48.512[4]; 2. 2B-Garrett Benson, 05:48.848[6]; 3. 59M-Brody Mclaughlin, 05:48.999[7]; 4. 8K-Tyler Kuykendall, 05:49.250[3]; 5. 91-Jaxon Brenning, 05:50.933[5]; 6. 66-Jayden Clay, 05:55.197[2]; 7. 59-Evan Semerad, 05:56.120[1]
Heat 2 (8 Laps): 1. 12-Tyler Devenport, 02:17.513[2]; 2. 08E-Elizabeth Phillips, 02:17.716[5]; 3. 45-Megan Thomas, 02:20.493[4]; 4. 49-Kayla Maulsby, 02:21.547[3]; 5. 9-Abigayle Lett, 02:24.276[1]; 6. (DNF) 23K-Jordan Kluver, 01:11.824[6]
Heat 3 (8 Laps): 1. 78-Ethan Ayars, 04:06.287[5]; 2. 3D-Xavier Doney, 04:06.797[6]; 3. 22-Remmington Butolph, 04:07.829[1]; 4. 25B-Chevy Boyer, 04:08.177[4]; 5. 14L-Landon Muehlberger, 04:08.346[3]; 6. 46-Peyton White, 04:10.546[2]
Heat 4 (8 Laps): 1. 82H-Hunter Pruitt, 03:30.090[5]; 2. 17K-Braden Knipmeyer, 03:32.858[2]; 3. 94-Sophie Frazier, 03:33.454[6]; 4. 13-Evie Dean, 03:34.289[3]; 5. 14B-Ace Bodenhamer, 03:35.028[4]; 6. (DNF) 4X-Kyan Hanson, 01:59.568[1]
Qualifying 1: 1. 59M-Brody Mclaughlin, 00:12.768[6]; 2. 23K-Jordan Kluver, 00:12.772[19]; 3. 3D-Xavier Doney, 00:12.788[12]; 4. 94-Sophie Frazier, 00:12.868[11]; 5. 2B-Garrett Benson, 00:12.879[15]; 6. 08E-Elizabeth Phillips, 00:12.895[5]; 7. 78-Ethan Ayars, 00:12.936[3]; 8. 82H-Hunter Pruitt, 00:13.024[25]; 9. 91-Jaxon Brenning, 00:13.037[8]; 10. 45-Megan Thomas, 00:13.076[14]; 11. 25B-Chevy Boyer, 00:13.085[24]; 12. 14B-Ace Bodenhamer, 00:13.282[4]; 13. 3P-Dane Palmer, 00:13.291[13]; 14. 49-Kayla Maulsby, 00:13.299[1]; 15. 14L-Landon Muehlberger, 00:13.331[9]; 16. 13-Evie Dean, 00:13.408[10]; 17. 8K-Tyler Kuykendall, 00:13.470[17]; 18. 12-Tyler Devenport, 00:13.477[7]; 19. 46-Peyton White, 00:13.561[18]; 20. 17K-Braden Knipmeyer, 00:13.640[2]; 21. 66-Jayden Clay, 00:13.653[23]; 22. 9-Abigayle Lett, 00:13.666[21]; 23. 22-Remmington Butolph, 00:13.925[16]; 24. 4X-Kyan Hanson, 00:14.087[20]; 25. 59-Evan Semerad, 00:14.170[22]
A Class
A Feature 1 (25 Laps): 1. 38-Jackson Frisbie, 15:22.103[2]; 2. 2B-Matthew Howard, 15:22.105[6]; 3. 2P-Chase Porter, 15:22.537[9]; 4. 12-Frank Galusha, 15:23.028[12]; 5. 15X-Jake Galusha, 15:23.158[3]; 6. 47R-Tyler Rennison, 15:24.264[11]; 7. 11G-Riley Goodno, 15:25.691[5]; 8. 55-Chase Brown, 15:26.671[4]; 9. 35-Aubrey Smith, 15:26.956[8]; 10. 11K-Shawn Mahaffey, 15:27.324[18]; 11. 7K-Kenton Brewer, 15:27.699[10]; 12. 18-Wyatt Siegel, 15:28.592[15]; 13. 17K-Braden Knipmeyer, 15:29.420[20]; 14. 21H-Keegan Brewer, 15:29.707[17]; 15. 8K-Riley Kreisel, 15:31.149[23]; 16. 3TK-Tyler Key, 15:31.967[14]; 17. 15S-Cale Schaaf, 15:33.866[22]; 18. 56-Jace Park, 15:34.373[7]; 19. 7A-Aaron Jesina, 15:34.942[24]; 20. (DNF) 81B-Blake Bennington, 14:52.263[21]; 21. (DNF) 14B-Willie Urish, 07:36.547[1]; 22. (DNF) 1-Nick Howard, 07:43.791[16]; 23. (DNF) 88G-Garrett Hulsey, 05:28.372[13]; 24. (DNF) O7-Owen Carlson, 05:18.278[19]
B Feature 1 (15 Laps): 1. 88G-Garrett Hulsey, 14:24.789[1]; 2. 18-Wyatt Siegel, 14:27.228[3]; 3. 21H-Keegan Brewer, [2]; 4. O7-Owen Carlson, 14:28.190[4]; 5. 81B-Blake Bennington, 14:28.690[6]; 6. 8K-Riley Kreisel, 14:29.357[5]; 7. 22-Jesse Pate, 14:30.576[11]; 8. 15-Kalap Pugh, 14:33.633[8]; 9. 31-Lonnie Nunley, 14:32.675[12]; 10. (DNF) 4R-Randy Roberts, 14:05.241[9]; 11. (DNF) 20-Anthony Salmons, 09:51.496[10]; 12. (DNF) 24K-Sean Killion, [7]
B Feature 2 (15 Laps): 1. 3TK-Tyler Key, 09:33.552[3]; 2. 1-Nick Howard, 09:33.722[6]; 3. 11K-Shawn Mahaffey, 09:35.023[2]; 4. 17K-Braden Knipmeyer, 09:36.440[1]; 5. 15S-Cale Schaaf, 09:38.321[4]; 6. 7A-Aaron Jesina, 09:38.687[5]; 7. 07-Zack Nelson, 09:42.167[7]; 8. 5A-Alex Vande Voort, 09:45.796[10]; 9. 2-Ashley Williams, 09:37.263[12]; 10. 6T-Mark Tracy, 09:42.206[8]; 11. (DNF) 21A-Jimmy Staton, 03:43.190[9]; (DNS) 7-Tyler Lee, 03:43.190
Heat 1 (8 Laps): 1. 1-Nick Howard, 02:52.119[1]; 2. 15X-Jake Galusha, 02:53.405[8]; 3. O7-Owen Carlson, 02:56.354[4]; 4. 88G-Garrett Hulsey, 02:56.703[6]; 5. 47R-Tyler Rennison, 02:57.044[7]; 6. 3TK-Tyler Key, 02:57.394[5]; 7. 21A-Jimmy Staton, 02:59.136[3]; 8. 2-Ashley Williams, 03:01.959[2]
Heat 2 (8 Laps): 1. 2P-Chase Porter, 04:44.607[5]; 2. 11K-Shawn Mahaffey, 04:45.965[4]; 3. 56-Jace Park, 04:47.279[6]; 4. 8K-Riley Kreisel, 04:48.136[3]; 5. 6T-Mark Tracy, 04:51.128[2]; 6. (DNF) 35-Aubrey Smith, 01:24.616[7]; 7. (DNF) 22-Jesse Pate, [1]
Heat 3 (8 Laps): 1. 14B-Willie Urish, 02:08.766[6]; 2. 18-Wyatt Siegel, 02:10.842[4]; 3. 55-Chase Brown, 02:10.936[7]; 4. 21H-Keegan Brewer, 01:01.284[5]; 5. 81B-Blake Bennington, 02:14.108[3]; 6. 5A-Alex Vande Voort, 02:19.559[1]; 7. 20-Anthony Salmons, 01:01.284[2]
Heat 4 (8 Laps): 1. 38-Jackson Frisbie, 05:16.258[7]; 2. 12-Frank Galusha, 05:16.862[5]; 3. 7K-Kenton Brewer, 05:18.139[6]; 4. 15-Kalap Pugh, 05:18.592[2]; 5. 24K-Sean Killion, 02:06.175[3]; 6. 15S-Cale Schaaf, 05:21.576[4]; 7. (DNF) 7-Tyler Lee, 02:06.175[1]
Heat 5 (8 Laps): 1. 2B-Matthew Howard, 04:03.593[6]; 2. 17K-Braden Knipmeyer, 04:05.267[5]; 3. 11G-Riley Goodno, 04:05.563[7]; 4. 4R-Randy Roberts, 04:07.319[1]; 5. 07-Zack Nelson, 04:08.278[3]; 6. 7A-Aaron Jesina, 04:08.336[4]; 7. (DNF) 31-Lonnie Nunley, 01:22.866[2]
Qualifying 1: 1. 15X-Jake Galusha, 00:11.793[15]; 2. 35-Aubrey Smith, 00:11.868[27]; 3. 55-Chase Brown, 00:11.889[29]; 4. 38-Jackson Frisbie, 00:11.916[20]; 5. 11G-Riley Goodno, 00:11.933[13]; 6. 47R-Tyler Rennison, 00:11.954[3]; 7. 56-Jace Park, 00:11.964[2]; 8. 14B-Willie Urish, 00:11.989[12]; 9. 7K-Kenton Brewer, 00:12.007[33]; 10. 2B-Matthew Howard, 00:12.013[23]; 11. 88G-Garrett Hulsey, 00:12.020[28]; 12. 2P-Chase Porter, 00:12.022[11]; 13. 21H-Keegan Brewer, 00:12.028[34]; 14. 12-Frank Galusha, 00:12.095[17]; 15. 17K-Braden Knipmeyer, 00:12.144[1]; 16. 3TK-Tyler Key, 00:12.248[26]; 17. 11K-Shawn Mahaffey, 00:12.293[6]; 18. 18-Wyatt Siegel, 00:12.312[31]; 19. 15S-Cale Schaaf, 00:12.366[16]; 20. 7A-Aaron Jesina, 00:12.385[18]; 21. O7-Owen Carlson, 00:12.398[24]; 22. 8K-Riley Kreisel, 00:12.481[7]; 23. 81B-Blake Bennington, 00:12.483[35]; 24. 24K-Sean Killion, 00:12.508[4]; 25. 07-Zack Nelson, 00:12.572[5]; 26. 21A-Jimmy Staton, 00:12.572[21]; 27. 6T-Mark Tracy, 00:12.797[10]; 28. 20-Anthony Salmons, 00:12.798[36]; 29. 15-Kalap Pugh, 00:12.802[30]; 30. 31-Lonnie Nunley, 00:12.816[22]; 31. 2-Ashley Williams, 00:12.858[9]; 32. 22-Jesse Pate, 00:13.311[32]; 33. 5A-Alex Vande Voort, 00:13.336[14]; 34. 7-Tyler Lee, 00:13.860[25]; 35. 4R-Randy Roberts, 06:54.084[8]; 36. 1-Nick Howard, 10:06.895[19]
Non-Wing
A Feature 1 (25 Laps): 1. 41-Chris Koch, 20:58.345[9]; 2. 17K-Quinton Benson, 20:58.775[6]; 3. 8-Brian Lunsford, 20:59.509[15]; 4. 2-Chase Porter, 20:59.913[10]; 5. 27N-Nathan Brookshier, 21:01.084[11]; 6. 7K-Kenton Brewer, 21:02.462[1]; 7. 8K-Riley Kreisel, 21:05.435[16]; 8. 47R-Tyler Rennison, 21:05.871[8]; 9. 88G-Garrett Hulsey, 21:06.375[4]; 10. 81B-Blake Bennington, 21:06.611[7]; 11. 3D-Xavier Doney, 21:07.282[12]; 12. 18-Wyatt Siegel, 21:09.154[17]; 13. 5R-Rudy Reyes, 21:11.901[13]; 14. 5KV-Kelbie Volkman, 21:11.951[18]; 15. 98P-Miles Paulus, 21:12.270[2]; 16. 22-Jesse Pate, 21:13.224[5]; 17. 27J-Justin Johnson, 20:55.131[14]; 18. 31-Shad Getz, 21:12.919[23]; 19. 25-Logan Berthelson, 20:55.083[24]; 20. 47-Ed Griggs, 20:59.227[21]; 21. 14X-Kyle Kugel, 19:25.574[19]; 22. 48S-Trey Schleicher, 15:27.790[22]; 23. 10-Thomas Hassler, 15:21.731[20]; 24. 23T-Travis Rewerts, 14:43.474[3]
B Feature 1 (15 Laps): 1. 5R-Rudy Reyes, 05:52.404[9]; 2. 8-Brian Lunsford, 05:53.126[3]; 3. 18-Wyatt Siegel, 05:53.317[6]; 4. 14X-Kyle Kugel, 05:54.285[2]; 5. 47-Ed Griggs, 05:55.042[4]; 6. 31-Shad Getz, 05:56.038[10]; 7. 7-Will Guthrie, 05:56.558[11]; (DNS) O7-Owen Carlson, 05:56.558; (DNS) 15S-Cale Schaaf, 05:56.558; (DQ) 1-Nick Howard, 05:56.558[5]; (DQ) 35-Aubrey Smith, 05:56.558[1]
B Feature 2 (15 Laps): 1. 27J-Justin Johnson, 13:24.454[5]; 2. 8K-Riley Kreisel, 13:25.079[1]; 3. 5KV-Kelbie Volkman, 13:26.150[8]; 4. 10-Thomas Hassler, 13:26.309[4]; 5. 48S-Trey Schleicher, 13:28.690[6]; 6. 25-Logan Berthelson, 13:30.586[3]; 7. (DNF) 44-Branigan Roark, 08:10.561[2]; 8. (DNF) 56-Jace Park, 02:57.781[7]; 9. (DNF) 24-Scott Anderson, 02:58.151[10]; 10. (DNF) 07-Zack Nelson, 03:00.590[9]
Heat 1 (8 Laps): 1. 81B-Blake Bennington, 04:33.492[5]; 2. 98P-Miles Paulus, 04:33.847[6]; 3. 8K-Riley Kreisel, 04:34.621[4]; 4. 18-Wyatt Siegel, 04:35.408[3]; 5. 07-Zack Nelson, 04:37.201[1]; 6. 5KV-Kelbie Volkman, 04:38.285[2]; 7. (DNF) 2-Chase Porter, 00:47.702[7]
Heat 2 (8 Laps): 1. 48S-Trey Schleicher, 02:19.224[2]; 2. 23T-Travis Rewerts, 02:20.671[6]; 3. 14X-Kyle Kugel, 02:21.419[4]; 4. 3D-Xavier Doney, 02:22.972[5]; 5. 22-Jesse Pate, 02:23.302[7]; 6. 24-Scott Anderson, 02:24.819[1]; 7. O7-Owen Carlson, 02:25.655[3]
Heat 3 (8 Laps): 1. 7K-Kenton Brewer, 02:23.565[7]; 2. 27J-Justin Johnson, 02:23.884[3]; 3. 41-Chris Koch, 02:24.989[6]; 4. 35-Aubrey Smith, 02:25.893[5]; 5. 10-Thomas Hassler, 02:27.134[4]; 6. 5R-Rudy Reyes, 02:28.067[2]; 7. 7-Will Guthrie, 02:29.333[1]
Heat 4 (8 Laps): 1. 1-Nick Howard, 02:22.414[2]; 2. 47R-Tyler Rennison, 02:22.666[5]; 3. 56-Jace Park, 02:25.036[1]; 4. 47-Ed Griggs, 02:25.436[3]; 5. 44-Branigan Roark, 02:26.875[4]; 6. 27N-Nathan Brookshier, 02:27.453[6]
Heat 5 (8 Laps): 1. 17K-Quinton Benson, 04:01.241[5]; 2. 8-Brian Lunsford, 04:01.775[3]; 3. 88G-Garrett Hulsey, 04:02.001[6]; 4. 15S-Cale Schaaf, 04:02.458[2]; 5. 31-Shad Getz, 04:03.821[1]; 6. 25-Logan Berthelson, 04:03.889[4]
Qualifying 1: 1. 2-Chase Porter, 00:12.589[24]; 2. 22-Jesse Pate, 00:12.608[1]; 3. 7K-Kenton Brewer, 00:12.638[11]; 4. 27N-Nathan Brookshier, 00:12.712[16]; 5. 88G-Garrett Hulsey, 00:12.773[8]; 6. 98P-Miles Paulus, 00:12.810[17]; 7. 23T-Travis Rewerts, 00:12.823[22]; 8. 41-Chris Koch, 00:12.824[28]; 9. 47R-Tyler Rennison, 00:12.885[19]; 10. 17K-Quinton Benson, 00:12.888[32]; 11. 81B-Blake Bennington, 00:12.983[20]; 12. 3D-Xavier Doney, 00:13.002[33]; 13. 35-Aubrey Smith, 00:13.006[5]; 14. 44-Branigan Roark, 00:13.010[2]; 15. 25-Logan Berthelson, 00:13.016[15]; 16. 8K-Riley Kreisel, 00:13.139[27]; 17. 14X-Kyle Kugel, 00:13.150[26]; 18. 10-Thomas Hassler, 00:13.172[12]; 19. 47-Ed Griggs, 00:13.183[13]; 20. 8-Brian Lunsford, 00:13.198[14]; 21. 18-Wyatt Siegel, 00:13.203[7]; 22. O7-Owen Carlson, 00:13.231[6]; 23. 27J-Justin Johnson, 00:13.244[25]; 24. 1-Nick Howard, 00:13.248[18]; 25. 15S-Cale Schaaf, 00:13.253[3]; 26. 5KV-Kelbie Volkman, 00:13.316[10]; 27. 48S-Trey Schleicher, 00:13.335[9]; 28. 5R-Rudy Reyes, 00:13.401[29]; 29. 56-Jace Park, 00:13.439[31]; 30. 31-Shad Getz, 00:13.449[23]; 31. 07-Zack Nelson, 00:13.559[4]; 32. 24-Scott Anderson, 00:13.814[30]; 33. 7-Will Guthrie, 00:13.893[21]
Jr. Sprint
A Feature 1 (20 Laps): 1. 2-Garrett Benson, 26:41.736[4]; 2. 63-Jack Thomas, 26:42.929[1]; 3. 10T-Talin Turner, 26:43.375[5]; 4. 8-Logun Lunsford, 26:44.546[9]; 5. 33-Jett Nunley, 26:45.653[6]; 6. 46-Peyton White, 26:59.065[8]; 7. 49-Abbigale Johnson, 26:52.938[14]; 8. 99J-Jackson Atherton, 22:59.168[10]; 9. 5L-Landon Jesina, 22:42.916[12]; 10. 4-Hayden Alberson, 21:06.243[11]; 11. 21H-Levi Hinck, 13:58.282[3]; 12. 74-Natalie Doney, 11:20.713[7]; 13. (DNF) 59-Evan Semerad, [13]; (DQ) 71-Jaxton Wiggs, [2]
Heat 1 (8 Laps): 1. 71-Jaxton Wiggs, 04:40.366[7]; 2. 63-Jack Thomas, 04:41.469[6]; 3. 10T-Talin Turner, 04:42.408[4]; 4. 4-Hayden Alberson, 04:42.220[2]; 5. (DNF) 99J-Jackson Atherton, 02:12.575[3]; 6. (DNF) 46-Peyton White, 01:40.441[5]; 7. (DNF) 59-Evan Semerad, 00:55.070[1]
Heat 2 (8 Laps): 1. 2-Garrett Benson, 04:01.449[7]; 2. 21H-Levi Hinck, 04:02.258[6]; 3. 33-Jett Nunley, 04:03.362[4]; 4. 8-Logun Lunsford, 04:04.095[3]; 5. 74-Natalie Doney, 04:07.908[5]; 6. 5L-Landon Jesina, 04:09.824[2]; (DNS) 49-Abbigale Johnson, 04:09.824
Qualifying 1: 1. 71-Jaxton Wiggs, 00:14.582[14]; 2. 2-Garrett Benson, 00:14.707[9]; 3. 63-Jack Thomas, 00:14.711[5]; 4. 21H-Levi Hinck, 00:14.715[8]; 5. 46-Peyton White, 00:14.756[4]; 6. 74-Natalie Doney, 00:14.794[13]; 7. 10T-Talin Turner, 00:14.831[10]; 8. 33-Jett Nunley, 00:14.866[7]; 9. 99J-Jackson Atherton, 00:15.231[6]; 10. 8-Logun Lunsford, 00:15.309[11]; 11. 4-Hayden Alberson, 00:15.331[1]; 12. 5L-Landon Jesina, 00:15.347[3]; 13. 59-Evan Semerad, 00:15.754[12]; 14. 49-Abbigale Johnson, 00:17.003[2]
Sportsman
A Feature 1 (20 Laps): 1. 3D-Thomas Hassler, 07:18.811[1]; 2. 6-Robert Bledsoe, 07:20.771[3]; 3. 23B-Matt Botts, 07:24.473[5]; 4. 7X-KR Stolfus, 07:26.156[6]; 5. 45-Zachary Dick, 07:28.315[7]; 6. 31C-Martin Crabtree, 07:31.945[8]; 7. 3-Jared Bledsoe, 07:32.118[10]; 8. 11-Joey Roberts, 07:32.662[9]; 9. 2V-Josh Voorhees, 07:28.986[4]; 10. (DNF) 9-Nathan Killion, 04:33.676[2]
Heat 1 (8 Laps): 1. 3D-Thomas Hassler, 02:23.080[5]; 2. 6-Robert Bledsoe, 02:24.824[4]; 3. 23B-Matt Botts, 02:25.757[3]; 4. 11-Joey Roberts, 02:27.760[1]; 5. 45-Zachary Dick, 02:30.077[2]
Heat 2 (8 Laps): 1. 9-Nathan Killion, 02:32.526[5]; 2. 2V-Josh Voorhees, 02:34.798[4]; 3. 31C-Martin Crabtree, 02:37.306[1]; 4. 7X-KR Stolfus, 02:37.353[3]; 5. 3-Jared Bledsoe, 02:37.866[2]
Qualifying 1: 1. 3D-Thomas Hassler, 00:13.314[2]; 2. 9-Nathan Killion, 00:13.400[9]; 3. 6-Robert Bledsoe, 00:13.600[11]; 4. 2V-Josh Voorhees, 00:13.621[8]; 5. 23B-Matt Botts, 00:13.799[3]; 6. 7X-KR Stolfus, 00:13.937[1]; 7. 45-Zachary Dick, 00:14.083[5]; 8. 3-Jared Bledsoe, 00:14.142[6]; 9. 11-Joey Roberts, 00:14.159[7]; 10. 31C-Martin Crabtree, 00:14.462[10]; (DNS) 00-Jared Corn, 00:14.462
Outlaw Non-Wing
A Feature 1 (25 Laps): 1. 14-Chris Koch, 13:35.480[6]; 2. 27-Nathan Brookshier, 13:36.726[5]; 3. 8-Brian Lunsford, 13:37.068[11]; 4. 98P-Miles Paulus, 13:38.977[3]; 5. 88G-Garrett Hulsey, 13:39.236[7]; 6. 2-Chase Porter, 13:39.252[1]; 7. 81B-Blake Bennington, 13:39.728[14]; 8. 48S-Trey Schleicher, 13:41.207[12]; 9. 8K-Riley Kreisel, 13:41.906[21]; 10. 27J-Justin Johnson, 13:42.155[18]; 11. 7K-Kenton Brewer, 13:42.879[10]; 12. 44-Branigan Roark, 13:40.491[4]; 13. 22-Jesse Pate, 13:40.961[8]; 14. 25-Logan Berthelson, 13:42.713[9]; 15. 24-Scott Anderson, 13:43.414[20]; 16. 47-Ed Griggs, 13:44.425[17]; 17. 31-Shad Getz, 13:44.884[19]; 18. 93-Joseph Sutton, 13:47.853[22]; 19. (DNF) 23T-Travis Rewerts, 09:09.119[2]; 20. (DNF) 14X-Kyle Kugel, 09:14.139[13]; 21. (DNF) 5KV-Kelbie Volkman, 02:57.012[16]; 22. (DNF) 18-Wyatt Siegel, 01:56.803[15]; (DNS) 1-Charlie Crawford, 01:56.803; (DNS) 76-Kale Mueller, 01:56.803
Heat 1 (8 Laps): 1. 27-Nathan Brookshier, 04:14.626[5]; 2. 98P-Miles Paulus, 04:15.218[7]; 3. 88G-Garrett Hulsey, 04:15.433[6]; 4. 2-Chase Porter, 04:15.576[8]; 5. 47-Ed Griggs, 04:16.240[2]; 6. 31-Shad Getz, 04:16.677[1]; 7. 81B-Blake Bennington, 04:16.827[4]; (DNS) 8K-Riley Kreisel, 04:16.827
Heat 2 (8 Laps): 1. 18-Wyatt Siegel, 04:47.338[1]; 2. 7K-Kenton Brewer, 04:49.079[5]; 3. 25-Logan Berthelson, 04:51.091[6]; 4. 14-Chris Koch, 04:51.607[7]; 5. 23T-Travis Rewerts, 04:51.669[8]; 6. 14X-Kyle Kugel, 04:55.313[4]; 7. 76-Kale Mueller, 04:54.069[3]; 8. 24-Scott Anderson, 04:55.313[2]
Heat 3 (8 Laps): 1. 8-Brian Lunsford, 05:23.834[3]; 2. 22-Jesse Pate, 05:24.438[6]; 3. 1-Charlie Crawford, 02:03.211[7]; 4. 27J-Justin Johnson, 05:25.432[2]; 5. 44-Branigan Roark, 05:25.851[8]; 6. 48S-Trey Schleicher, 05:25.887[5]; 7. 5KV-Kelbie Volkman, 05:26.446[4]; 8. 93-Joseph Sutton, 02:03.211[1]
Qualifying 1: 1. 2-Chase Porter, 00:12.394[3]; 2. 23T-Travis Rewerts, 00:12.612[22]; 3. 44-Branigan Roark, 00:12.702[10]; 4. 98P-Miles Paulus, 00:12.751[19]; 5. 14-Chris Koch, 00:12.761[13]; 6. 1-Charlie Crawford, 00:12.764[14]; 7. 88G-Garrett Hulsey, 00:12.765[15]; 8. 25-Logan Berthelson, 00:12.802[9]; 9. 22-Jesse Pate, 00:12.865[18]; 10. 27-Nathan Brookshier, 00:12.974[21]; 11. 7K-Kenton Brewer, 00:12.979[7]; 12. 48S-Trey Schleicher, 00:12.990[5]; 13. 81B-Blake Bennington, 00:12.992[24]; 14. 14X-Kyle Kugel, 00:13.025[1]; 15. 5KV-Kelbie Volkman, 00:13.122[16]; 16. 8K-Riley Kreisel, 00:13.152[8]; 17. 76-Kale Mueller, 00:13.209[2]; 18. 8-Brian Lunsford, 00:13.213[6]; 19. 47-Ed Griggs, 00:13.232[23]; 20. 24-Scott Anderson, 00:13.254[20]; 21. 27J-Justin Johnson, 00:13.352[12]; 22. 31-Shad Getz, 00:13.364[11]; 23. 18-Wyatt Siegel, 00:13.443[4]; 24. 93-Joseph Sutton, 00:14.584[17]
Powered by MyRacePass
---
Submitted By: Kirk Elliott
Back to News