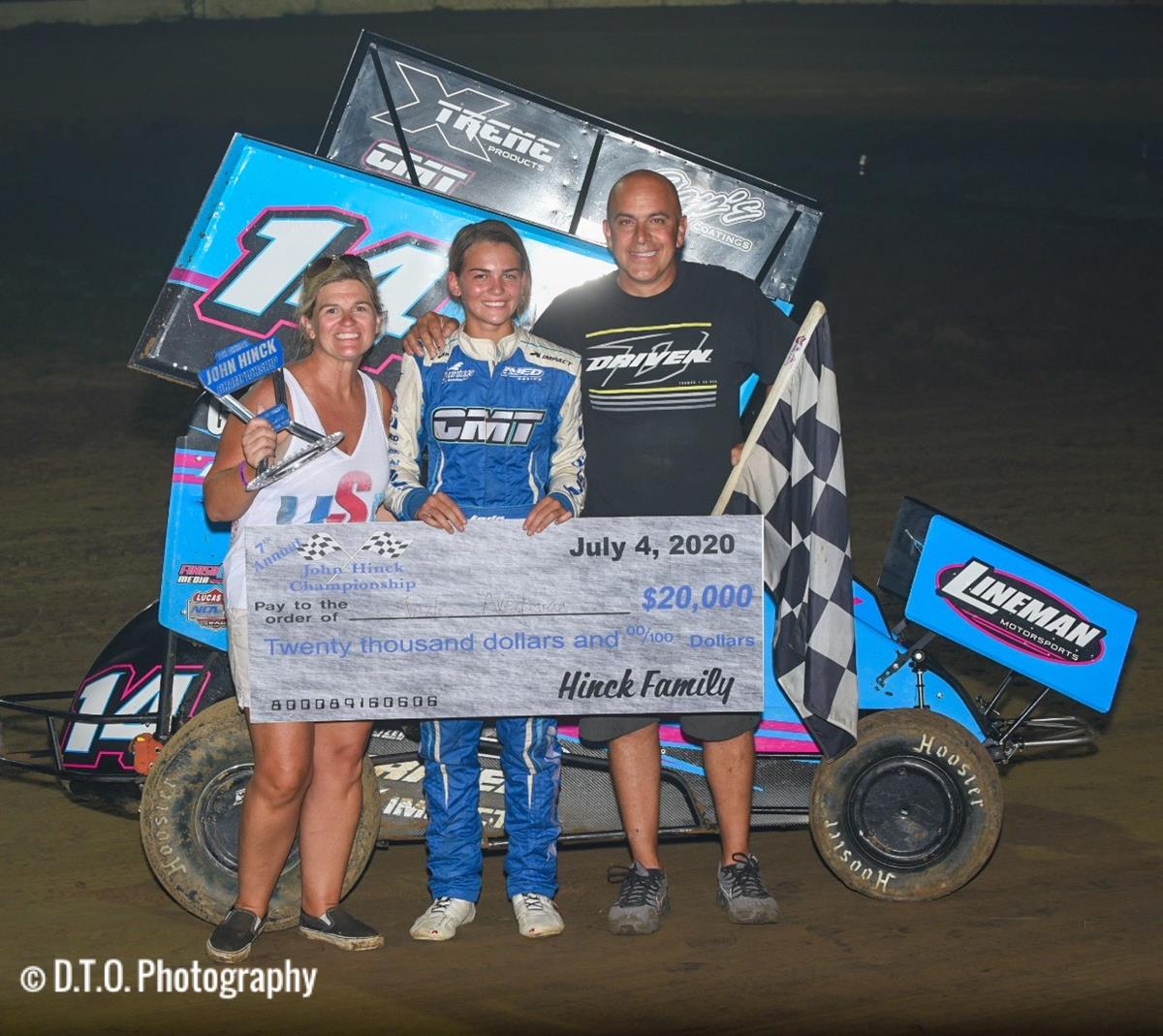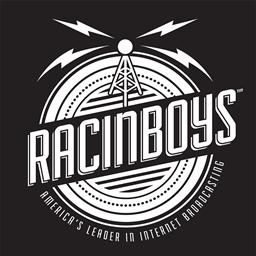 ---
Jade Avedisian pockets $20,000 John Hinck Championship
(Sweet Springs, MO) -- Jade Avedisian made big time history at Sweet Springs Motorsports Complex early Sunday morning. The young lady from Clovis, California walked away with the $20,000 winner's check after a thrilling John Hinck Championship which was delayed by nearly two hours following a rain shower just prior to the start of Saturday night's race program.
PHOTO CREDIT: Ryan Black of D.T.O. Photography
Starting sixth, Avedisian quickly charged into contention from the opening green flag and secured second behind Andrew Peters, who maintained the point through much of the 40-lap race. Meanwhile drivers throughout the field were slicing and dicing and sliding each other for position as Avedisian was staying close to the race lead plotting her big move.
Lap 32 was that moment as she dove low on Peters coming out of turn four and made it stick for a lead she would not give up, then sped away from there as Ryan Timms moved his way into second followed by Cody Christensen. The two maintained those positions to the checkers followed by the hard-charging Jake Hagopian, who came from 15th to fourth, with Cody Day rounding out the top-five.
"I can't believe I won," said an excited Avedisian in victory circle. "I didn't even think I would make the A-Main this week, so this is better than what I thought.
On how she found herself in the lead? "I knew I couldn't get him (Peters) in clean air because I was a little tight, and when I got in traffic, that was my only chance so I slid him and was able to get the lead."
RESULTS
Outlaw
A Feature 1 (40 Laps): 1. 14J-Jade Avedisian[6]; 2. 5T-Ryan Timms[3]; 3. 12C-Cody Christensen[1]; 4. 88-Jake Hagopian[15]; 5. 41-Corey Day[11]; 6. 1C-Brenham Crouch[20]; 7. 94P-Andrew Peters[2]; 8. 81-Frank Flud[7]; 9. 41C-Brian Carber[9]; 10. 51B-Joe B Miller[8]; 11. 8X-Chris Andrews[4]; 12. 12-Frank Galusha[14]; 13. 20-Alex Bright[10]; 14. 14-Craig Ronk[12]; 15. 12T-Trey Robb[17]; 16. R7-Brenden Bright[21]; 17. 47R-Tyler Rennison[23]; 18. 12G-Gage Robb[18]; 19. 44D-Daniel Robinson[22]; 20. (DNF) 21J-Kameron Key[13]; 21. (DNF) 21L-Dylan Kadous[24]; 22. (DNF) 23-Jermeny Camp[16]; 23. (DNF) 91M-Chris Cochran[19]; 24. (DNF) 37-Aiden Purdue[5]
B Feature 1 (15 Laps): 1. 44D-Daniel Robinson[1]; 2. 18-Wyatt Siegel[3]; 3. 44T-Trevin Littleton[2]; 4. 3J-Jordan Howell[5]; 5. 93-Matt Carr[12]; 6. 17K-Braden Knipmeyer[4]; 7. 74-Xavier Doney[6]; 8. 97D-Dale Day[8]; 9. K10-Kole Kirkman[13]
B Feature 2 (15 Laps): 1. 21L-Dylan Kadous[1]; 2. 14H-Harley Hollan[3]; 3. 28-Austin Quick[4]; 4. 14B-Samuel Wagner[5]; 5. 35-Aubrey Smith[6]; 6. 08K-Elizabeth Phillips[7]; 7. 14R-Jake Nail[8]; 8. 2TK-Todd Kirkman[9]; 9. 7-Tyler Lee[12]; 10. 20S-Anthony Salmons[13]; 11. 22P-Kalap Pugh[10]; 12. 2E-Jake Galusha[2]
B Feature 3 (15 Laps): 1. 47R-Tyler Rennison[3]; 2. 29X-Scott Sawyer[2]; 3. 11-Trey Marcham[4]; 4. 1F-Jason Friesen[7]; 5. 17-Quinn Jones[12]; 6. 1K-Kortland Stephens[8]; 7. 24S-Colby Sokol[6]; 8. 21A-Jimmy Staton[10]; 9. 25S-Justis Sokol[9]; 10. 21-Eli Harris[5]; 11. 21B-Mike Barton[13]; 12. 6-Christopher Townsend[1]
B Feature 4 (15 Laps): 1. R7-Brenden Bright[1]; 2. 2B-Nathan Benson[2]; 3. 32-Austin Schaeffer[3]; 4. 44-Cory Kelly[6]; 5. 10-Brock Berreth[4]; 6. 12U-Tyler Devenport[9]; 7. 8B-Mickey Bullock[8]; 8. 27N-Nathan Brookshier[10]; 9. 4-Mariah Ede[11]; 10. 44X-Zac Taylor[7]; 11. 92-Drew Sawyer[12]; 12. 88G-Garrett Hulsey[5]
B Feature 5 (15 Laps): 1. 97-Scotty Milan[2]; 2. 2-Chase Porter[3]; 3. 1-Matthew Howard[1]; 4. 95-Jim Radney[4]; 5. 27-Devin Feger[10]; 6. 17B-Blake Mahoney[8]; 7. 12S-Adyn Schmidt[7]; 8. 75-Junior Thompson[13]; 9. 1B-Bryant Wiedeman[6]; 10. 84-Molly Day[11]; 11. 34C-Blane Culp[5]; 12. 27J-Justin Johnson[12]
Qualifier 1 (12 Laps): 1. 41C-Brian Carber[1]; 2. 88-Jake Hagopian[3]; 3. 44D-Daniel Robinson[5]; 4. 2E-Jake Galusha[2]; 5. 47R-Tyler Rennison[6]; 6. 10-Brock Berreth[8]; 7. 34C-Blane Culp[4]; 8. 1X-Stan Yockey[16]; 9. 14R-Jake Nail[7]; 10. 25S-Justis Sokol[11]; 11. 27N-Nathan Brookshier[10]; 12. 84-Molly Day[14]; 13. 27J-Justin Johnson[9]; 14. 75-Junior Thompson[12]; 15. (DNS) 11J-Joey Starnes; 16. (DNS) 27F-Jesse Frazier
Qualifier 2 (12 Laps): 1. 20-Alex Bright[1]; 2. 23-Jermeny Camp[4]; 3. 21L-Dylan Kadous[3]; 4. 29X-Scott Sawyer[2]; 5. 32-Austin Schaeffer[5]; 6. 95-Jim Radney[9]; 7. 74-Xavier Doney[12]; 8. 08K-Elizabeth Phillips[11]; 9. 1K-Kortland Stephens[14]; 10. 12U-Tyler Devenport[8]; 11. 27-Devin Feger[15]; 12. 22C-Curtis Jones[7]; 13. (DNF) 42B-Andy Bishop[6]; 14. (DNF) 93-Matt Carr[10]; 15. (DNF) 73-Jaxon Bishop[13]
Qualifier 3 (12 Laps): 1. 41-Corey Day[2]; 2. 12T-Trey Robb[4]; 3. 6-Christopher Townsend[1]; 4. 2B-Nathan Benson[5]; 5. 2-Chase Porter[8]; 6. 3J-Jordan Howell[3]; 7. 35-Aubrey Smith[7]; 8. 1F-Jason Friesen[10]; 9. 8B-Mickey Bullock[6]; 10. 32T-Tim Ottenbacher[11]; 11. 93X-Chris Brockway[12]; 12. 7-Tyler Lee[14]; 13. 20S-Anthony Salmons[13]; 14. (DNF) 65E-Chad Elliott[9]; 15. (DNS) 82H-Hunter Pruitt
Qualifier 4 (12 Laps): 1. 14-Craig Ronk[1]; 2. 12G-Gage Robb[4]; 3. R7-Brenden Bright[2]; 4. 97-Scotty Milan[10]; 5. 17K-Braden Knipmeyer[6]; 6. 14B-Samuel Wagner[8]; 7. 24S-Colby Sokol[9]; 8. 44X-Zac Taylor[3]; 9. 17B-Blake Mahoney[7]; 10. 97D-Dale Day[13]; 11. 11B-Kaylee Bryson[11]; 12. (DNF) 17-Quinn Jones[5]; 13. (DNF) 21B-Mike Barton[14]; 14. (DNF) 96S-Brandon Sampson[15]; 15. (DNF) 23T-Travis Rewerts[12]
Qualifier 5 (12 Laps): 1. 21J-Kameron Key[3]; 2. 91M-Chris Cochran[1]; 3. 1-Matthew Howard[6]; 4. 18-Wyatt Siegel[4]; 5. 28-Austin Quick[5]; 6. 21-Eli Harris[8]; 7. 44-Cory Kelly[7]; 8. 12S-Adyn Schmidt[11]; 9. 71-Jake Cheatham[9]; 10. 22P-Kalap Pugh[12]; 11. (DNF) 48S-Trey Schleicher[10]; 12. (DNS) 25J-Delaney Jost; 13. (DNS) 2F-Jadyn Friesen; 14. (DNS) 40-Shain Kaiser
Qualifier 6 (12 Laps): 1. 12-Frank Galusha[2]; 2. 1C-Brenham Crouch[4]; 3. 44T-Trevin Littleton[5]; 4. 14H-Harley Hollan[3]; 5. 11-Trey Marcham[1]; 6. 88G-Garrett Hulsey[9]; 7. 1B-Bryant Wiedeman[10]; 8. K10-Kole Kirkman[7]; 9. 2TK-Todd Kirkman[12]; 10. 21A-Jimmy Staton[11]; 11. 4-Mariah Ede[8]; 12. 92-Drew Sawyer[13]; 13. (DNF) 21R-Robbie Smith[6]; 14. (DNS) 38-Jackson Frisbie
Heat 1 (8 Laps): 1. 88-Jake Hagopian[2]; 2. 42B-Andy Bishop[1]; 3. 2E-Jake Galusha[10]; 4. 12U-Tyler Devenport[3]; 5. 24S-Colby Sokol[5]; 6. 48S-Trey Schleicher[6]; 7. 22P-Kalap Pugh[4]; 8. 12S-Adyn Schmidt[9]; 9. 84-Molly Day[7]; 10. 7-Tyler Lee[8]
Heat 2 (8 Laps): 1. 29X-Scott Sawyer[3]; 2. 8B-Mickey Bullock[1]; 3. 25J-Delaney Jost[7]; 4. 18-Wyatt Siegel[8]; 5. 27N-Nathan Brookshier[4]; 6. 22C-Curtis Jones[10]; 7. 32T-Tim Ottenbacher[6]; 8. 21A-Jimmy Staton[9]; 9. 21B-Mike Barton[2]; 10. (DNF) 96S-Brandon Sampson[5]
Heat 3 (8 Laps): 1. 14H-Harley Hollan[1]; 2. R7-Brenden Bright[5]; 3. 21J-Kameron Key[6]; 4. 17-Quinn Jones[7]; 5. 93-Matt Carr[4]; 6. 44-Cory Kelly[9]; 7. 11J-Joey Starnes[3]; 8. 73-Jaxon Bishop[8]; 9. (DQ) 1X-Stan Yockey[2]
Heat 4 (8 Laps): 1. 34C-Blane Culp[1]; 2. 1C-Brenham Crouch[3]; 3. 35-Aubrey Smith[2]; 4. 21R-Robbie Smith[6]; 5. 17B-Blake Mahoney[7]; 6. 4-Mariah Ede[8]; 7. 93X-Chris Brockway[5]; 8. 75-Junior Thompson[9]; 9. (DNS) 40-Shain Kaiser
Heat 5 (8 Laps): 1. 21L-Dylan Kadous[2]; 2. 17K-Braden Knipmeyer[1]; 3. 1-Matthew Howard[4]; 4. 3J-Jordan Howell[9]; 5. 71-Jake Cheatham[5]; 6. 27J-Justin Johnson[8]; 7. 11B-Kaylee Bryson[6]; 8. 2F-Jadyn Friesen[3]; 9. (DNF) 27-Devin Feger[7]
Heat 6 (8 Laps): 1. 23-Jermeny Camp[1]; 2. 28-Austin Quick[2]; 3. 14R-Jake Nail[3]; 4. 10-Brock Berreth[4]; 5. 88G-Garrett Hulsey[5]; 6. K10-Kole Kirkman[9]; 7. 1B-Bryant Wiedeman[8]; 8. (DNF) 27F-Jesse Frazier[7]; 9. (DNF) 82H-Hunter Pruitt[6]
Heat 7 (8 Laps): 1. 12T-Trey Robb[1]; 2. 44D-Daniel Robinson[3]; 3. 32-Austin Schaeffer[5]; 4. 44X-Zac Taylor[9]; 5. 1F-Jason Friesen[4]; 6. 25S-Justis Sokol[2]; 7. 08K-Elizabeth Phillips[7]; 8. 97D-Dale Day[6]; 9. 92-Drew Sawyer[8]
Heat 8 (8 Laps): 1. 41-Corey Day[3]; 2. 44T-Trevin Littleton[2]; 3. 12-Frank Galusha[7]; 4. 65E-Chad Elliott[1]; 5. 14B-Samuel Wagner[6]; 6. 95-Jim Radney[8]; 7. 23T-Travis Rewerts[5]; 8. 74-Xavier Doney[9]; 9. 1K-Kortland Stephens[4]
Heat 9 (8 Laps): 1. 12G-Gage Robb[1]; 2. 47R-Tyler Rennison[2]; 3. 2B-Nathan Benson[5]; 4. 2-Chase Porter[3]; 5. 21-Eli Harris[6]; 6. 97-Scotty Milan[7]; 7. 2TK-Todd Kirkman[4]; 8. 20S-Anthony Salmons[8]; 9. (DNS) 38-Jackson Frisbie
Coin Toss determines line up Small Town Throw Down (10 Laps): 1. 81-Frank Flud[1]; 2. 51B-Joe B Miller[2]; 3. 41C-Brian Carber[6]; 4. 20-Alex Bright[3]; 5. 6-Christopher Townsend[5]; 6. 14-Craig Ronk[4]; 7. 91M-Chris Cochran[8]; 8. 11-Trey Marcham[7]
LCQ (15 Laps): 1. R7-Brenden Bright[4]; 2. 44D-Daniel Robinson[1]; 3. 47R-Tyler Rennison[3]; 4. 21L-Dylan Kadous[2]; 5. 2B-Nathan Benson[9]; 6. 2-Chase Porter[10]; 7. 14H-Harley Hollan[7]; 8. 29X-Scott Sawyer[8]; 9. 44T-Trevin Littleton[11]; 10. 3J-Jordan Howell[16]; 11. 97-Scotty Milan[5]; 12. 18-Wyatt Siegel[6]; 13. 1-Matthew Howard[15]; 14. 32-Austin Schaeffer[14]; 15. 1F-Jason Friesen[18]; 16. 11-Trey Marcham[13]; 17. 28-Austin Quick[12]; 18. 95-Jim Radney[20]; 19. 14B-Samuel Wagner[17]; 20. 44-Cory Kelly[19]
Powered by MyRacePass
---
Submitted By: Kirk Elliott
Back to News