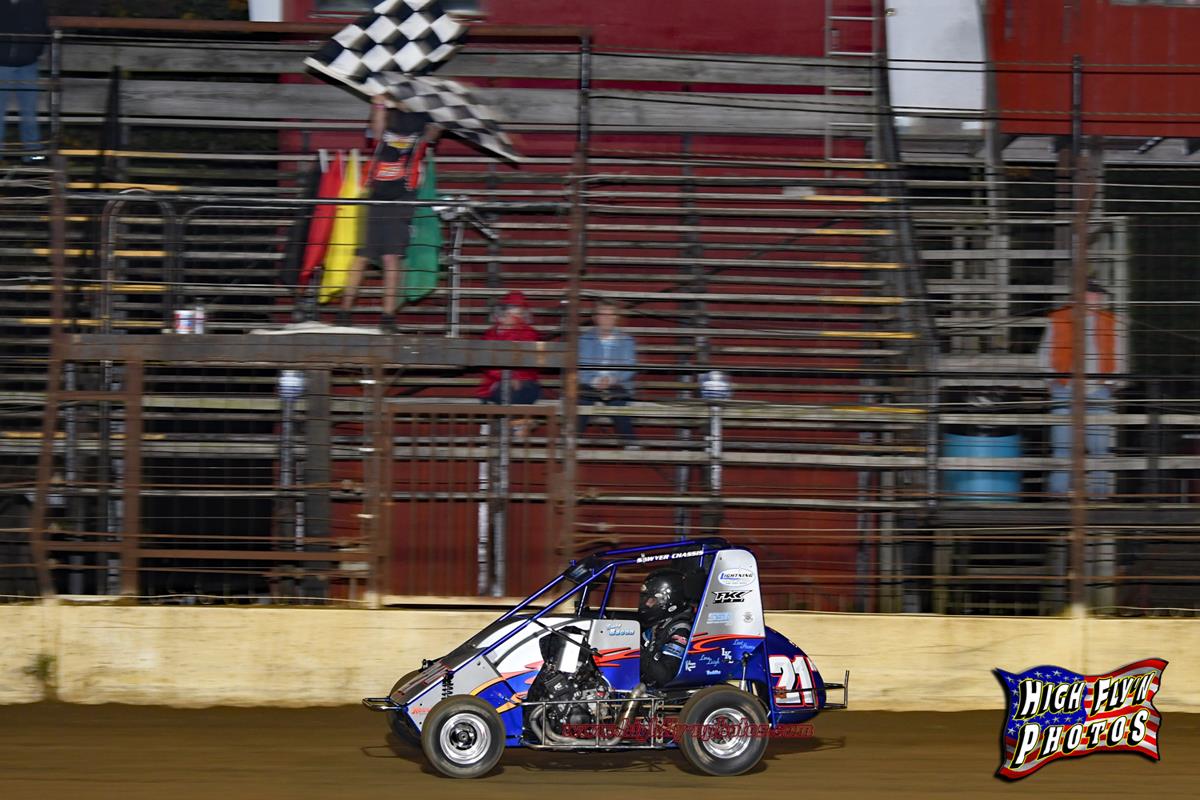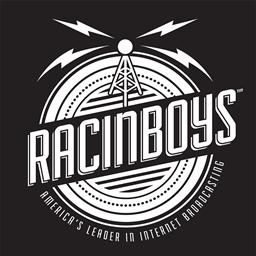 ---
Key, Flud, Killion headline Show Me Showdown opening night
(Sweet Springs, MO) -- Kameron Key captured the Outlaw Non-Wing feature on the opening night of the Show Me Show Down in honor of Dean Hathman Thursday night at Sweet Springs Motorsports Complex.
Frank Flud topped the Outlaw A Class while Nathan Killion triumphed in the Sportsman class.
Action continues on Friday night. Grandstands open at 4:00 p.m. CT. with Hot laps at 6:30 and Racing at 7:00.
PHOTO: Kameron Key-- CREDIT: John Lee of High-Fly'n Photos -- http://www.highfly-nphotos.com
THURSDAY RESULTS
10/8/2020 at Sweet Springs Motorsports Complex
A-Class
A Feature 1 (25 Laps): 1. 81-Frank Flud[3]; 2. 35-Aubrey Smith[6]; 3. 13P-Chase Porter[1]; 4. 11-Riley Goodno[2]; 5. 2E-Jake Galusha[5]; 6. 222-Miles Paulus[4]; 7. 22M-Rees Moran[15]; 8. 5-Gavan Boschele[13]; 9. 14B-Willie Urish[7]; 10. 21H-Keegan Brewer[14]; 11. 1F-Jason Friesen[8]; 12. 47R-Tyler Rennison[18]; 13. 74-Xavier Doney[24]; 14. 21G-Garth Kasiner[11]; 15. 56-Jace Park[16]; 16. G5-Gunnar Setser[10]; 17. 88G-Garrett Hulsey[12]; 18. 8K-Tyler Kuykendall[20]; 19. 51W-Quinn Jones[17]; 20. 4-Brett Combs[22]; 21. (DNF) 11K-Shawn Mahaffey[9]; 22. (DNF) 12U-Tyler Devenport[23]; 23. (DNF) 17K-Braden Knipmeyer[21]; 24. (DNF) 59-Brody Mclaughlin[19]
B Feature 1 (12 Laps): 1. 5-Gavan Boschele[2]; 2. 56-Jace Park[1]; 3. 59-Brody Mclaughlin[3]; 4. 4-Brett Combs[4]; 5. 2F-Jadyn Friesen[10]; 6. 15S-Cale Schaaf[11]; 7. 48-Hunter Creason[12]; 8. 2N-Dawson Nunnenkamp[5]; 9. 5A-Alex Vande Voort[14]; 10. 51-Kelsey Houston[8]; 11. 10-Thomas Hassler[9]; 12. 17-Tret Loesing[13]; 13. (DNF) 78-Ethan Ayars[6]; 14. (DNS) 27-Nathan Brookshier
B Feature 2 (12 Laps): 1. 21H-Keegan Brewer[1]; 2. 51W-Quinn Jones[4]; 3. 8K-Tyler Kuykendall[6]; 4. 12U-Tyler Devenport[8]; 5. 24S-Colby Sokol[10]; 6. 24-Tristan Ullstrom[2]; 7. 99D-Tucker Daly[9]; 8. 19X-Marcus Kennedy[11]; 9. 7A-Aaron Jesina[12]; 10. 7-Tyler Lee[7]; 11. (DNF) 7K-Kenton Brewer[3]; 12. (DNF) 67-Greg Berry[14]; 13. (DNS) 1H-Connor Lee; 14. (DNS) 4R-Randy Roberts
B Feature 3 (12 Laps): 1. 22M-Rees Moran[1]; 2. 47R-Tyler Rennison[2]; 3. 17K-Braden Knipmeyer[3]; 4. 74-Xavier Doney[8]; 5. 28-Austin Ullstrom[6]; 6. 29-Trevor Cohn[5]; 7. 85J-Logan Julien[12]; 8. 17E-Kaylee Esgar[4]; 9. 44-Branigan Roark[11]; 10. 21A-Jimmy Staton[13]; 11. 20-Anthony Salmons[7]; 12. 25S-Heath Shannon[10]; 13. 6T-Mark Tracy[14]; 14. 77E-Cole Esgar[9]
Heat 1 (8 Laps): 1. 24-Tristan Ullstrom[2]; 2. 22M-Rees Moran[5]; 3. 4-Brett Combs[4]; 4. 11K-Shawn Mahaffey[6]; 5. 7K-Kenton Brewer[8]; 6. 48-Hunter Creason[1]; 7. 21G-Garth Kasiner[7]; 8. 67-Greg Berry[3]
Heat 2 (8 Laps): 1. 17E-Kaylee Esgar[1]; 2. 88G-Garrett Hulsey[6]; 3. 7-Tyler Lee[2]; 4. 11-Riley Goodno[8]; 5. 20-Anthony Salmons[5]; 6. 19X-Marcus Kennedy[3]; 7. 2N-Dawson Nunnenkamp[7]; 8. 21A-Jimmy Staton[4]
Heat 3 (8 Laps): 1. 81-Frank Flud[8]; 2. G5-Gunnar Setser[6]; 3. 1H-Connor Lee[2]; 4. 8K-Tyler Kuykendall[5]; 5. 17K-Braden Knipmeyer[7]; 6. 44-Branigan Roark[3]; 7. 85J-Logan Julien[4]; 8. 6T-Mark Tracy[1]
Heat 4 (8 Laps): 1. 29-Trevor Cohn[2]; 2. 78-Ethan Ayars[3]; 3. 5-Gavan Boschele[8]; 4. 21H-Keegan Brewer[6]; 5. 25S-Heath Shannon[1]; 6. 2F-Jadyn Friesen[5]; 7. 7A-Aaron Jesina[4]; 8. 10-Thomas Hassler[7]
Heat 5 (8 Laps): 1. 222-Miles Paulus[6]; 2. 28-Austin Ullstrom[2]; 3. 2E-Jake Galusha[8]; 4. 74-Xavier Doney[3]; 5. 51-Kelsey Houston[5]; 6. 51W-Quinn Jones[7]; 7. 4R-Randy Roberts[1]; 8. 5A-Alex Vande Voort[4]
Heat 6 (8 Laps): 1. 13P-Chase Porter[4]; 2. 1F-Jason Friesen[6]; 3. 27-Nathan Brookshier[2]; 4. 77E-Cole Esgar[1]; 5. 24S-Colby Sokol[3]; 6. 12U-Tyler Devenport[5]; 7. 56-Jace Park[7]
Heat 7 (8 Laps): 1. 59-Brody Mclaughlin[4]; 2. 14B-Willie Urish[5]; 3. 35-Aubrey Smith[7]; 4. 99D-Tucker Daly[2]; 5. 47R-Tyler Rennison[6]; 6. 15S-Cale Schaaf[3]; 7. 17-Tret Loesing[1]
Qualifying 1 (2 Laps): 1. 22M-Rees Moran[30]; 2. 47R-Tyler Rennison[27]; 3. 17K-Braden Knipmeyer[26]; 4. 74-Xavier Doney[25]; 5. 28-Austin Ullstrom[6]; 6. 29-Trevor Cohn[17]; 7. 85J-Logan Julien[41]; 8. 17E-Kaylee Esgar[2]; 9. 44-Branigan Roark[49]; 10. 21A-Jimmy Staton[16]; 11. 20-Anthony Salmons[5]; 12. 25S-Heath Shannon[42]; 13. 6T-Mark Tracy[40]; 14. 77E-Cole Esgar[24]
Qualifier 1 (12 Laps): 1. 14B-Willie Urish[1]; 2. 222-Miles Paulus[3]; 3. 81-Frank Flud[6]; 4. 35-Aubrey Smith[4]; 5. 2E-Jake Galusha[5]; 6. 88G-Garrett Hulsey[2]; 7. 21H-Keegan Brewer[9]; 8. 22M-Rees Moran[7]; 9. 47R-Tyler Rennison[11]; 10. 17K-Braden Knipmeyer[8]; 11. 51W-Quinn Jones[13]; 12. 2N-Dawson Nunnenkamp[15]; 13. 78-Ethan Ayars[12]; 14. 28-Austin Ullstrom[14]; 15. 29-Trevor Cohn[10]
Qualifier 2 (12 Laps): 1. 13P-Chase Porter[2]; 2. 11-Riley Goodno[5]; 3. 1F-Jason Friesen[3]; 4. 11K-Shawn Mahaffey[8]; 5. G5-Gunnar Setser[7]; 6. 21G-Garth Kasiner[14]; 7. 56-Jace Park[11]; 8. 24-Tristan Ullstrom[9]; 9. 59-Brody Mclaughlin[1]; 10. 4-Brett Combs[12]; 11. 17E-Kaylee Esgar[10]; 12. 1H-Connor Lee[15]; 13. 8K-Tyler Kuykendall[13]; 14. (DNF) 5-Gavan Boschele[6]; 15. (DNF) 7K-Kenton Brewer[4]
Sportsman
A Feature 1 (25 Laps): 1. 9K-Nathan Killion[3]; 2. 4-KR Stolfus[4]; 3. 6-Robert Bledsoe[5]; 4. 3D-Justin Dick[17]; 5. 23B-Matt Botts[7]; 6. 5-Bob Seleska[2]; 7. 07P-Daryl Perkins[10]; 8. 3-Jared Bledsoe[9]; 9. 94-Brian Morales[14]; 10. 9-Ray Bledsoe[13]; 11. 69-Tom Loesing[16]; 12. (DNF) 32K-Noah Killion[8]; 13. (DNF) 7JR-Gregory Bledsoe[12]; 14. (DNF) 55P-Eric Perkins[6]; 15. (DNF) 00-Jared Corn[15]; 16. (DNF) 33-Lake Imm[1]; 17. (DNF) 24-Jesse Edwards[11]; 18. (DNS) 8S-Shanon Vaught
Heat 1 (8 Laps): 1. 6-Robert Bledsoe[4]; 2. 5-Bob Seleska[6]; 3. 23B-Matt Botts[5]; 4. 24-Jesse Edwards[3]; 5. 9-Ray Bledsoe[2]; 6. 69-Tom Loesing[1]
Heat 2 (8 Laps): 1. 4-KR Stolfus[5]; 2. 9K-Nathan Killion[6]; 3. 3-Jared Bledsoe[3]; 4. 07P-Daryl Perkins[4]; 5. 94-Brian Morales[2]; 6. 3D-Justin Dick[1]
Heat 3 (8 Laps): 1. 55P-Eric Perkins[5]; 2. 33-Lake Imm[6]; 3. 32K-Noah Killion[4]; 4. 7JR-Gregory Bledsoe[3]; 5. 00-Jared Corn[2]; 6. (DNS) 8S-Shanon Vaught
Qualifying 1 (2 Laps):
Outlaw Non-Wing
A Feature 1 (25 Laps): 1. 21H-Kameron Key[2]; 2. 17B-Quinton Benson[4]; 3. 1F-Jason Friesen[5]; 4. 74-Xavier Doney[18]; 5. 47-Cory Kelly[3]; 6. 48S-Trey Schleicher[16]; 7. 35-Aubrey Smith[8]; 8. 00-Daniel Shaffer[17]; 9. 27-Nathan Brookshier[20]; 10. 93-Greg Emeterio Jr[24]; 11. 23T-Travis Rewerts[19]; 12. 88G-Garrett Hulsey[21]; 13. 5KV-Kelbie Volkman[23]; 14. 56-Jace Park[12]; 15. 98-Tyler Utz[22]; 16. (DNF) 2N-Dawson Nunnenkamp[15]; 17. (DNF) 21L-Dylan Kadous[14]; 18. (DNF) 24-Garet Williamson[10]; 19. (DNF) 18-Wyatt Siegel[11]; 20. (DNF) 13P-Chase Porter[13]; 21. (DNF) 44-Branigan Roark[9]; 22. (DNF) 2F-Jadyn Friesen[6]; 23. (DNF) 17-Quinn Jones[1]; 24. (DNS) 7K-Kenton Brewer
B Feature 1 (10 Laps): 1. 13P-Chase Porter[1]; 2. 2N-Dawson Nunnenkamp[2]; 3. 00-Daniel Shaffer[7]; 4. 23T-Travis Rewerts[6]; 5. 88G-Garrett Hulsey[4]; 6. 5KV-Kelbie Volkman[5]; 7. 1H-Connor Lee[3]; 8. 1-Charlie Crawford[9]; 9. 97-Nathan Johnson[11]; 10. 29-Dallas Darnell[8]; 11. (DNF) 35B-Dwayne Benson[10]
B Feature 2 (10 Laps): 1. 21L-Dylan Kadous[2]; 2. 48S-Trey Schleicher[4]; 3. 74-Xavier Doney[5]; 4. 27-Nathan Brookshier[3]; 5. 98-Tyler Utz[1]; 6. 93-Greg Emeterio Jr[6]; 7. 32T-Tim Ottenbacher[7]; 8. 14-Allan Koch[9]; 9. (DNF) 88-Cale Crawford[10]; 10. (DNS) 8-Brian Lunsford
Heat 1 (8 Laps): 1. 17-Quinn Jones[6]; 2. 21H-Kameron Key[9]; 3. 2N-Dawson Nunnenkamp[4]; 4. 93-Greg Emeterio Jr[3]; 5. 74-Xavier Doney[5]; 6. 24-Garet Williamson[8]; 7. 23T-Travis Rewerts[7]; 8. 35B-Dwayne Benson[2]; 9. 97-Nathan Johnson[1]
Heat 2 (8 Laps): 1. 17B-Quinton Benson[6]; 2. 44-Branigan Roark[4]; 3. 1F-Jason Friesen[7]; 4. 5KV-Kelbie Volkman[3]; 5. 27-Nathan Brookshier[5]; 6. (DNF) 32T-Tim Ottenbacher[2]; 7. (DNF) 1-Charlie Crawford[1]; 8. (DNF) 21L-Dylan Kadous[8]
Heat 3 (8 Laps): 1. 47-Cory Kelly[8]; 2. 1H-Connor Lee[2]; 3. 35-Aubrey Smith[6]; 4. 7K-Kenton Brewer[7]; 5. 88G-Garrett Hulsey[5]; 6. 00-Daniel Shaffer[4]; 7. 29-Dallas Darnell[3]; 8. (DNF) 88-Cale Crawford[1]
Heat 4 (8 Laps): 1. 13P-Chase Porter[2]; 2. 98-Tyler Utz[3]; 3. 56-Jace Park[5]; 4. 2F-Jadyn Friesen[8]; 5. 18-Wyatt Siegel[7]; 6. 48S-Trey Schleicher[6]; 7. 14-Allan Koch[1]; 8. (DNF) 8-Brian Lunsford[4]
Qualifying 1 (2 Laps):
Powered by MyRacePass
---
Submitted By: Kirk Elliott
Back to News